If you're looking for how to be successful in college, it means you're a freshman at college. Right?
College is an exciting time. You get to learn new skills, meet new people, and explore the world around you. But, being a college student comes with its own set of challenges. You need to balance academics, extracurricular activities, and social life.
However, there is nothing to worry about! Having been a college student myself, I know exactly what it takes to succeed. And today, I will be sharing the 10 best tips and resources I've learned from my college experience that will surely make you a successful college student.
Excited?
But before we get going, I want to know how would you define college success.
Does it mean getting the best grades in all your semesters?
Of course not!
Being a successful college student requires more than just getting good grades. It requires developing academic skills that will allow you to perform well in class, build strong networks, and maximize your academic potential.
Read also: 21 Dorm Room Essentials Every Guy Would Need!
Now let's dive into the 10 best tips and resources that you should follow to become successful in college…
How to Be Successful in College?
1. Explore yourself
If you're a college freshman, this tip you must follow first. As you enter college life after finishing school, it is a great time for you to explore yourself.
Since you don't need to study much in your first semester, you may try every new thing possible. For example, you can take a tour of the city where your college is located, you can join your campus club, make friends, and participate in dancing, singing, or any competition that fascinates you.
Exploit all the resources that college provides you. Remember, your first year is the perfect time to showcase your skills and abilities.
I remember, for the first time in college, I read my poem aloud. I had been writing for a long time but never got the exposure to share my words and feelings. This is what you can do as well, maybe it's not writing but whatever you're passionate about just do it and start with your college.
Read also: 12+ Study Gadgets that are worth using this year!
2. Read Books
Books are always one of the best sources of my learning. Even a couple of weeks ago, I published an article on Books for College Students where I listed 19 books that every college student should read.
Now the question is why it's important to read those books.
Well, in that article, I've listed books from getting good grades to winning friends and influencing people in college. Those books can change anyone's life and perspective.
If you've never stepped out of the comfortable confines of your home, you may read The Naked Roommate book. From sharing a bathroom with 40 strangers to sharing lecture notes, this book is a go-to guide for your very best college experience.
Similar to this, you may read 1001 Things Every College Students Need To Know, How to Win at College, and Atomic Habits. These books will guide you better for college life and develop good habits that can make you successful in college.
Read also: 17 Study Table Accessories That Are Useful Also!
3. Work on your skills
During college you can work on many skills you might lack. Here I mean both kinds of skills- soft skills and hard skills. Both skills are equally important to grow personally and professionally.
Hard skills you will definitely adopt once you take classes daily, study effectively, finish your homework on time, and make notes and assignments. Professors are committed to teaching and improving your hard skills, such as subject knowledge.
However, soft skills are something you have to learn and develop on your own in college. You might not believe it, but soft skills are what make you stand out in college, and further help you in your career.
Communication skills, Emotional Intelligence, Creative thinking, Growth Mindset, Leadership, and more are the soft skills that you must learn if you want to succeed in college.
Now college is rarely going to teach you these skills. You have to find a way to embrace these skills in college. Whenever you get an opportunity to come in front of the class and share or explain anything never say 'NO'. Always be eager to participate and lead the groups.
I know, if you're an introvert it won't be easy for you to go in public but besides academic knowledge, you have to learn these skills as well. I've also gone through this phase and I missed lots of opportunities. So don't repeat my mistake.
4. Study SMART, Not Hard
If you want to be good at academics, this tip will surely help you.
College curricula are not only longer than those of school but we also get less time to study. Therefore, to succeed in academic studies, you have to study hard in an easier way.
Now you must be wondering how can you do this. Well, It's possible with some great study techniques and useful study resources.
The techniques that I'm going to introduce here work great to boost your learning, productivity, and focus ability. They provide you with the right approach to studying smart.

This is a 5-step reading comprehension technique that helps you to read your textbook effectively and get the most out of it.
SQ3R is an abbreviation for Survey, Question, Read, Recite, and Review. According to this technique, you take a survey of the chapter that you want to read, and next you circulate the question about the topic like…what is this subject all about, what're the benefits of studying it, how it's related to the real world.
Once you've questions then you read section by section and try to find the answer to your questions. If you get the answer it's good but if not then try to recall it.
Last, review the chapter to understand it more deeply—Quiz yourself on the questions you created and re-read any portions if you need to.
This technique helps you to preserve information that you learn for a longer time. According to this technique, you review and revisit the material in spaced intervals over time:
Day 1: Learn the material in class
Day 2: Revisit and review
Day 3: Revisit and review
After one week: Revisit and review
After two weeks: Revisit and review
This is a time management technique that you can use to study longer. It uses a timer to break your study into intervals traditionally 25 minutes in length, separated by short breaks (5 minutes).
Each 25 minutes study session is called a Pomodoro (an Italian word for Tomato). When you complete four Pomodoros while taking breaks then this technique allows you to take a long break (20 minutes). However, you may tweak the study duration to what suits you.
This technique helps you to learn a concept quickly and effectively. It is a four steps process:
Pick a topic and understand it properly.
Explain to someone that topic in a way that they can easily understand.
Identify your knowledge gap that you can't explain clearly.
Organize + Simplify the concept.
Mind maps use words and images to create strong associations that help you remember what you're studying. It helps you to make and Identify relationships between a different topic that further helps you to make your study more interesting and develops your subject understanding.
You may also read our study tips article to be better at academics.
5. Apply what you learn in college
If you learn anything in college, make sure you do the practical. Whatever you learn if you don't apply, it would be useless to gain information. Just like when we learn a new language, we have to speak that language, If we don't use it in a conversation, we can't succeed at it.
So, implement what you study and what you learn. For example, if you learn how a drone works in any college lecture, try to make a drone with friends. Or, If you're learning to code, you can participate in coding competitions.
You can also take the help of your professor. Doing these activities in college makes you a creative thinker and successful in college.
6. Build your network in college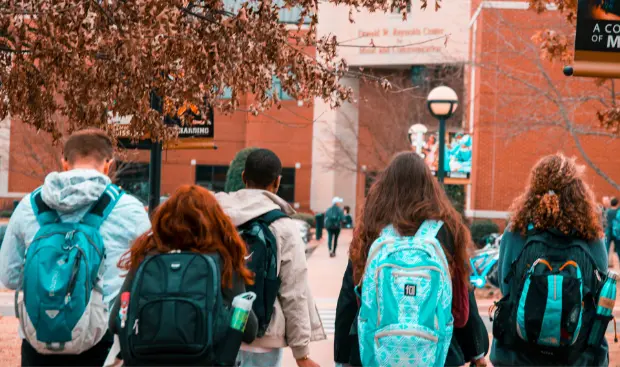 College is the best time for building a good network with your friends, seniors, and instructors. It will not only help you in college, but it will also benefit your career path.
Some of you must have heard stories of entrepreneurs starting their first businesses with friends from college. Have you ever wondered why it happens?
The reason is college is the place where you get like-minded people, who get the same study and same learning. You stay with them for four years. By working jointly, you grow and succeed together.
There is an amazing quote from Jack Ma which says, "I always find people smarter than I am. Then my job is to make sure smart people can work together. Stupid people can work together easily, smart people can't."
Read also: 37+ Study Motivational Quotes for Studying Hard
7. Master the art of time management
Time management is the most essential skill that everyone should master. A successful person is always punctual at the time. They have dedicated time for each and everything.
You should also track your time and be punctual at time. If you make a commitment to finish a task by 5 PM then just do it. Don't let anyone down by being late, not even yourself.
Nevertheless, I'm not saying you should not have fun in college or you should keep studying all the time. But I want you to know exactly how much time you're giving to each task you do.
For example, when you watch any YouTube comedy videos or shorts then you should know when you have to stop and do something else.
If you can make a routine and stick with it, nothing would be better for you but if you can't here I've one simple alternative for you:
Before going to bed or just after waking up, write down your daily goals and when you'll finish them. Especially, focus on studying timing and how long you will be studying. You can also use time-tracking apps like Toggl Tracking or Harvest.
Read also: 17+ Useful things for college students
8. Acquire new knowledge
Besides academic knowledge, you should also gain some additional knowledge. Don't limit yourself when it comes to learning new things.
I remember during my college days I started learning blogging and content writing and here I ended up becoming a blogger.
Here I don't mean you should switch careers but isn't it good to have additional knowledge? Gaining additional knowledge differentiate you from an average student and makes you successful at college.
You can also gain additional knowledge in your course also. For example, If you're learning how to code in college then you can pursue some online courses on Ethical hacking from StationX.
There are many online learning platforms you can try and pursue online courses. Udacity, Udmey, Coursera, and many more are leading in different fields.
If you want to learn some in-demand skills, I highly recommend taking Google UX Design Professional Certificate for designing skills and Meta Social Media Marketing Professional Certificate for learning social media marketing.
9. Do an internship along with your college
An internship is a professional learning experience that offers meaningful, practical work related to a student's field of study or career interest. As a college student, internships are fantastic because you get to brush up on your skills and make some pennies at the same time.
Apart from college, if you get additional time to work with corporates as an intern then you must try it. This might not give you sufficient money, however, you'll get immense knowledge working with seniors and experienced people around you. Remember, always look for remote jobs when you decide to do an internship.
You may also try freelancing or build a start-up with your friends and sell your services. This can teach you how to make money and manage expenses on your own.
Aside from learning about aircraft parts and maintenance in college, I was also involved in aircraft cleaning and earned some peanuts since cleaning plays a vital role in aircraft maintenance.
10. Always remember your goals and where you have to reach
When we enter college we have only one goal in mind and we know exactly where we want to reach. However, we don't know where our life can take us. When I was in college, I dreamed of becoming an Aircraft Maintenance Engineer (AME), but I dropped out and became a blogger instead.
According to educationdata.org, College dropout rates indicate that up to 32.9% of undergraduates do not complete their degree program. You will be surprised to know it happens mostly because they get interested in another field.
Neither am I in favor of dropping out nor am I saying that you should keep studying for your college degree when you're interested in another field.
Whenever you come to this dilemma, ask yourself if the field you want to choose can make your career, help you to achieve what you want, and if are you confident about it. List down the pros and cons, take others' opinions, and do what you are passionate about doing. Also remember, never fear to take risks.
Bonus Tip: Take care of your health
This is a bonus but the most important tip to be a successful college student- Taking care of your health. College students overlooked Health as Wealth.
They neither follow a healthy diet nor study in the right way. They pull an all-nighter and use their phone for long hours before hitting the pillow. These things can take you to eyestrain and burnout. Hence, avoid studying like this if you do.
Include some brain foods and Low GI foods like; beans, berries, nuts, chocolates, green vegetables, sweet fruits, beets, and others in your daily meal. These foods not only improve your brain health but also balance your energy levels throughout the day.
Also, keep yourself hydrated. Some research has also shown that drinking plenty of water helps one's brain work faster and have a better focus while studying.
Read also: 23 Dorm Kitchen Essentials You Must Have!
And, 11 Dorm Bathroom Essentials That You May Need!
Resources to Succeed in College:
Now it's time to show you some useful resources that will certainly help you to succeed in college.
Bartleby+ is an all-in-one educational platform designed for students like you. They've built their full suite of writing, homework, and study tools to help students finish homework faster, learn easier, and write better. A subscription gets you 24/7 access to live tutors, millions of textbook and homework solutions, video explanations, and much more!
Isn't it an easier way to study hard?
If you need help with Math, the Bartleby app allows you to snap a picture of your problem (or type it into their virtual calculator online) to get a detailed solution instantly.
If writing isn't your strong suit, use their Essay Editor tool to avoid accidental plagiarism, create citations, check spelling and grammar, and evaluate your paper for a preliminary score. If you need help from a professional, you can start an instant chat session with a tutor 24/7. Study smarter with Bartleby+.
You may have been making notes on physical paper, it's time to start doing it online. Online notes are easy to take and preserve. There are many note-taking apps and here I've featured one of the best applications Notion.
This platform helps you to make notes online and utilize them effectively. Not only that, but you can also make a To-do list, weekly agenda, syllabus, and reading list. Hence, you don't need to have additional time management and task apps.
And, the best part that I like about Notion is it provides you with a classroom home that separates each subject with all required information and icons through which you can indicate anything easily.
Isn't it a great resource for you to succeed in college?
As I said earlier, you should study smart rather than hard if you want to be successful in college. And, Mindmaps help you to do that. Here is a tool that will help you to create better mind maps.
This resource helps you to create a Mindmap, Dot voting, Brainwriting, Venn diagram, and Flowcharts. It has free and paid plans. If you're just starting out you may try its free plans, once you started enjoying it you may purchase its individual plan.
If you want to learn and improve your skills online you may consider an online learning platform. Whether you have to learn Communication skills, Programming, Photography, Business Email Writing, how to make a better resume, or any skill you may take courses on Coursera, Udemy or Futurelearn.
These three platforms offer free and paid courses in a variety of fields. Start with some free courses during your leisure time in college if you like the course you may purchase anyone's subscription.
Related: Free Online Learning Platforms for Students
Here is another resource for you that provides free textbooks on many subjects be it Business, Computer Science, Engineering, Humanities, Law, Mathematics, Medicine, Social Science, and whatnot. You may find plenty of books on these topics and sub-topics.
Read online, download in e-book, pdf however you like. And the best part, this platform is completely free. While reading, if you find a book needs some amendment you may also edit or change an open textbook.
IMPORTANT: You may also try Amazon Prime Student, it's made for only college students belonging to the US and other cities. With the Prime Student, you can save your parent's hard-earned money while getting Prime benefits, the best deals on your college essentials, a free-trial of LinkedIn Premium, and other useful resources.
Now It's Your Turn:
So, in this article, we've gone through 10 tips and useful resources that would definitely help you to be successful in college. I hope you enjoyed this article.
Now I'd like to hear from you:
What's your take on this article and which tips and resources you have found most useful?
Let me know in the comment.