Homework can be tough or maybe easier but your primary goal as a student should be to complete your homework on time. Finishing homework on time is one of the signs of a successful college student.
Now it's up to you, whether you want to finish your homework fast or procrastinate it. You'll be surprised to know many kids don't like to study just because of their homework.
But, I think you're among those students who want to finish their homework fast and save time for other work. If I'm right and you're already looking for how to do homework fast then you're in right place.
Because in this article, I am gonna break down the 9 best tips to finish your homework fast while having fun. But before we get going, let me first tell you the benefits of doing homework fast:
You get time for other works
You can enjoy your whole day without worrying about the homework
Doing your homework fast makes you a fast learner
It makes a habit to solve questions fast helps you in the exams
Finishing homework in time makes you a disciplined student
Now, you would have understood why you should finish your homework faster.
However, doing homework fast is not an easy job. You have to go through with a proper strategy and follow all the tips that I'm going to list here…
How to do homework fast?
1. Find a good study environment
A Study place really matters to studying effectively. A good study place can make your mood to study and also you'll have a better concentration there.
So, if you want to stay focused and beat procrastination while doing homework fast then first find a good study environment.
A dedicated study room, library, coffee shop, or park can work great for you. Just find where you're comfortable most and can give your best.
But make sure, the place you find for study should be distraction-free. Even if your phone is not a part of your homework, keep it aside wherever you study.
Read also: Why do I get bad grades after studying hard?
2. Set your schedule
During the day, besides homework, you may have to do many household works or other things. That's why some students often forget to do homework or they stop doing their homework in the middle of other work.
To deal with these situations you have to either make a routine or set your schedule. I agree, that sticking with a routine won't be easy for you, so why don't you try to set your schedule?
The better way to set your schedule is to write a note and find the time that you have available for doing homework. Just before sleep or after waking up do it every day, it will keep you on a better schedule and time management.
3. Make a to-do list
A To-do list can be very helpful to finish your homework fast, especially when you have plenty of tasks.
So make a to-do list and write all the homework that you got from your teachers, this way you also won't forget to complete any subject's homework.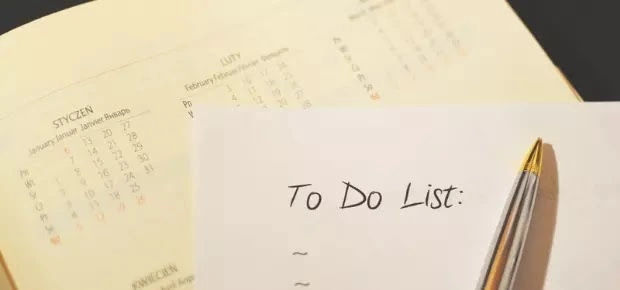 A to-do list not only would be interesting to make but, you will also enjoy finishing your homework according to it.
And, whenever you finish any particular homework from the to-do list, make sure you make a cross on it, which will motivate you to move further and finish the remaining homework.
If you have any boring or weak subject then do its homework first then move to an easy subject because when you start your study then your energy level and mood are at peak.
So, put your effort first on that subject that you find hard, and after that, you can easily finish your easy and interesting subject homework.
4. Keep all materials near you
Before doing homework, whatever stationery things or study materials you find useful for your homework, keep them close to you.
These small things really matter when you want to perform an effective study session and do your homework fast.
For example, if you have homework related to the Geometry subject then first, keep all the geometry tools on your study table, so that you won't need to break your study in the middle to find any missing tools.
Similarly, whatever the tools, notes, assignments, or anything that you need while doing your homework, keep them near where you study.
Want to read: 17+ Useful things that college students can use
5. Make sure you understand the material
Although there is no need to ask still, I want to ask, do you understand the subject or topic well in which you have homework?
If your answer is No, then you're making a big mistake.
Because when you don't understand a subject or topic and your concepts are not clear enough, you can be stuck many times while doing homework on that subject, and this way, you can't do your homework fast.
If I'm right and you don't have enough knowledge in any subject then first understand the subject well. Here are some quick ways to understand the subject well before doing its homework:
Watch video lectures
Focus on visual learning (like images, graphs, diagrams, etc.)
Take help from friends
6. Challenge yourself with the time
Challenging yourself with time is a great way to do something fast. Isn't it?
When you start doing homework, make a target like, I will finish this subject's homework in 45 minutes. Similarly, set a period for each subject's homework and then follow it.
To follow this tip effectively you can use a TIMMER for it. Chances are you'll fail and you won't be accurate with the target you'd set but with practice you can make yourself perfect.
Remember, don't do all homework at a time instead you should try Pomodoro Technique and take regular breaks.
Pomodoro is a time management technique allows you to study or work in small chunks while taking short breaks. It uses a timer to break your work or study into intervals traditionally 25 minutes in length, separated by short breaks (5 minutes). Each 25 minutes study session is called a Pomodoro (an Italian word for Tomato). When you complete four Pomodoros while taking breaks then the Pomodoro technique allows you to take a longer break for 20 minutes.
Taking breaks regularly while doing your homework fast won't make feel like your homework like a burden because you have divided them into many sessions and coffee breaks.
Read also: 15 Study Techniques that are worth trying this year!
7. Find a study buddy for homework
Completing your homework with a study buddy, don't you think it's a great idea?
Of course, with a study buddy, you'll not only enjoy your homework, but you both can finish your homework fast. The biggest benefit of group study is, that you exchange your knowledge and your understanding of the subject with each other.
So, if you have any friend who listens to you, supports your idea, and is good at studying, ask him for studying and doing homework together.
But, be active while studying with your study buddy and if possible then don't use unnecessarily your phone.
8. Stay focused in classes
Staying focused in class and paying enough attention there, can make your homework much easier to do faster.
Even, in my school days, I used to finish my homework during lunch break, so that I can enjoy my whole day at home without worrying about homework.
However, you don't need to finish your homework during lunch breaks instead you can pay attention in class and clear all your doubts.
Whenever you learn something important during your professor's lecture, make sure you take it in your notes. It will surely help you to do your homework faster.
Read also: What to do if you've failed a test?
9. Appreciate your efforts
Sometimes appreciating yourself can be very important. When there is no one to motivate you and appreciate your work then you should appreciate yourself.
Whenever you complete any of your tasks on time appreciate yourself. But it doesn't mean, you should celebrate big and splash out money, Instead, you can enjoy an ice cream, a cold drink, or anything that you like.
These small things can bring a smile to your face and motivate you to move forward and keep doing great.
Read also: Best Study Motivational Quotes to Studying Hard
---
Conclusion:
In this article, I have listed the 9 best tips that must be helpful for you to do your homework fast. And, I hope you have enjoyed this article.
Now I'd like to hear from you:
Which tips from this post, do you like most, and are you going to try these tips from now on?
Let me know in the comment…
FAQs:
How to force yourself to finish homework fast?
It is certainly true that homework can be boring sometimes. Whether you want it or not you can't avoid it. But what you can do is make it interesting by giving yourself a reward when you finish one task. Now the reward can be anything like listening to your favorite music, playing video games, or munching on your favorite candy bar. Keep giving rewards in breaks while doing your homework. It will keep you motivated and give you a sense of achievement.