Are you looking for dorm bathroom essentials? If yes, you will love this guide and all the items we're listing here today.
A couple of months ago, we posted an article about Dorm Kitchen Essentials, Dorm Desk Essentials, and recently we shared 21 dorm room essentials for guys. Now it's time to share all the bathroom essentials that you may need for your college dorm.
Since I was a college student myself, I know exactly what you need for your dorm bathroom. Without any delay let's dive into it…
1. Bathroom Towel
(Showing prices may not be accurate for all products. Products prices can be increases or decreases on Amazon. Remember, the prices of these items are in United States' currency, however, you may purchase from any country.)

If you're a college student, you may sign up for Amazon Prime Student and grab the best deal on these products.
The first and very basic requirement for your dorm bathroom is towels. No matter you are a boy or girl, you must bring a couple of hand towels, bath towels, and washcloths to your college dorm for your daily use.
Here I've featured 6 pieces of towels that contain 3 different sizes of towels. Having at least one extra towel can be helpful for you when you have to wash one towel.
This 6-set of towels is not so expensive and after reading the good review I decided to feature it. You may also check the different colors of these towels.
2. Mesh Shower Bag
Now you need to carry lots of bathroom essentials like shampoo, conditioner, brushes, facewash, handwash, and others. This mesh shower bag helps you to carry all these items wherever you want to bring them.
The best thing about this portable bag is it has a high quality and large capacity with 8 side pockets where you can carry your hand towels also. It is a solid choice for students living in dorms and people who frequently go to beaches, gyms, camping, swimming, and traveling.
Read also: 60+ Best Gifts for College Students in 2023
3. Wall Mounted Shower Organizer
If you get a separate bathroom in the dorm, then this wall-mounted shower organizer can be super useful for you. You can hold all your hair stuff, shaving brushes, and more.
Whether you're a guy or a girl, you may purchase this item. If this one organizer is not sufficient for you to hold all your stuff, you may add one more piece to the cart. In case you don't like the design of this wall mount organizer, you may browse more on Amazon.
4. Toilet Plunger and Bowl Brush
I remember, in our college dorm everyone had to clean their bathrooms. I was fortunate to live with two roommates and share bathrooms and cleaning duties with them.
If you also have to clean the bathroom yourself, you may consider having this toilet plunger and bowl brush. This pair of tools makes the job as hassle-free as possible. It has space saving stylish design and convenient storage, that keeps your bathroom neat, clean, and well-organized.
5. Cleaning Agents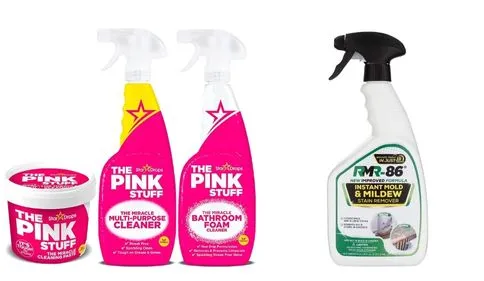 Cleaning supplies are also essential for your dorm bathroom. Here I featured two different types of cleaning agents- The Pink Stuff and RMR-86. Both work great to remove mold and mildew stains.
The Pink Stuff includes 1 cleaning paste, 1 multi-purpose spray, and 1 bathroom foam whereas RMR-86 can be used for the toilet, floor, doors, shower, and sink. Check out their features and bring one that you find more useful.
[Read also: 19 Best Books for College Students]
6. Small Washing Machine
I know a student who stays in a dorm has to manage lots of things. Washing your clothes can be annoying and time-consuming, hence you may consider having one washing machine for you.
Here I've featured two different and best washing for your college dorm bathroom. One is more expensive as it has more features like load capacity, energy efficiency, and impressive functionality.
You may check their features on Amazon but I'd recommend you to go with the first one as it's comparatively less expensive and will be perfect for your dorm bathroom.
7. Air Freshener
Air fresheners are essential for every dorm bathroom since your bathroom shouldn't be messy. You may also use the freshener for your dorm room to study better. A great fragrance always calms and relaxes you. It just feels amazing.
Here I've featured a Lavender & Almond Blossom scent air freshener that long last, is portable, and has fragrance control features low, medium, and high. I love the lavender fragrance, if it doesn't your taste you may browse more by hitting the above price button.
8. Wall Mount Toothbrush, Towel, and Razor Holders
These wall-mounted sticky holders are also useful for your dorm bathroom. It works perfectly for hanging toothbrushes, towels, razors, and other bathroom essentials that can be hung. I really like this item's quality, design, and wise application.
As you get 6 pieces, you can also use them in your dorm room to hang clothes, keys, plugs, cables, cords, and other fittings. You can stick these 4-leg hooks on any smooth surface. It has a strong loading capacity so you don't need to worry about falling.
Don't you think, it's an essential item for your dorm room?
9. Dorm Bathroom Mirror
Every bathroom should also have a mirror. While brushing your teeth, wearing clothing, and others you may need a mirror. Here I've featured the best dorm bathroom mirrors.
One is wall mounted which will look great on your blank dorm wall and the second one has a countertop mount that you can bring and keep anywhere.
As you can see, the price of the second is expensive since it has a few more features like a touch dimming switch, non-slip mat base, 10x magnification, and 4*AAA batteries operated. You may purchase one that you find most necessary for your dorm.
Related: 17+ Useful things for college students
10. Bathroom Trash
Now there is no need to tell why a trash can is essential for your dorm bathroom. This trash can has a stylish look and consumes very little space in the bathroom. Additionally, you can keep it near your dorm chair if you use too many rough papers while studying.
If you already have a trash bag, you may ignore but if you don't have you may consider this item. I found good reviews and ratings for it on Amazon. It might be a great deal at this price.
11. Mat and Shower Sleeper
This is last but not least dorm bathroom essentials in our list. The bathroom mat I featured here doesn't only look cute but it also has a super soft raised letter design and quick drying quality. Moreover, after reading reviews I found most users gave a 5-star rating and wrote amazing comments about it.
Along with this mat, you may also have a bathroom sleeper. The one you can see above has special cut-outs design, that won't keep any water and will keep your feet dry after your shower.
Now It's Your Turn:
So here I have listed 11 dorm bathroom essentials from my experience. Although, there are lots of basic stuff that I've not mentioned like Toothbrushes, Tongue Cleaner, Facewash, Soap, and others. I believe these things you can't forget to carry.
I featured only those items that are useful to carry and you may have to purchase them. I hope you enjoyed the article and found it useful.
Now I'd like to hear from you:
Which items you're considering buying today? Did I miss any bathroom essentials that I should've added?
Let me know in the comment. I'm all ears!