To support our blog, we may utilize affiliate links throughout our content.
Read the complete Coursera review for a better guide.
Our Verdict
Coursera is one of the best online learning platforms that offers courses across a wide range of subjects. Personally, I found its Professional Certificates (such as Google Career Certificates) and Specialization courses are worth it, which provide affordable access to in-depth knowledge on various topics.
In this Coursera review, we're going to put one of the best online learning platforms available for the test. We won't just tell you about all of Coursera's hidden features, but we'll also list down all the pros and cons of Coursera based on my experience.
(Also read: Is the Meta Social Media Marketing Professional Certificate good?)
We have a lot of ground to cover in this article, so stay with me until the end. Let's dive in with a fundamental question…
What is Coursera?
Coursera is an online learning or e-learning platform that provides online courses in all ranges that you can grab from the comfort of your home.
Coursera was founded in 2012 by Stanford University computer science professors Andrew Ng and Daphne Koller. Coursera works with universities and other organizations to offer online courses, certifications, and degrees in a variety of subjects. (Source: Wikipedia)
In 2021 it was estimated that about 200+ universities and companies offered more than 4,000 courses through Coursera to bring flexible, affordable, job-relevant online learning to individuals and organizations worldwide.
Google, IBM, Stanford, Facebook, IIT Bombay, Yale University, University of London, Duke, and more are the partners of Coursera, and together Coursera provides all its best courses, degree, and certificates. You might have come across Google Career Certificates ads, Google offers courses in collaboration with Coursera.
I guess it's enough for Coursera's introduction. But before you read this Coursera review, let's determine whether this platform is available for you.
Read also: Udacity Review and all its Pros & Cons
Who is Coursera for?
Coursera is a platform dedicated to all students and learners who want to develop new skills and advance their careers in the leading courses and career options.
No matter who you are; a student, working employee, homemaker, or anyone if you have the willingness to learn a skill or upgrade your knowledge online, you must try Coursera. It is because Coursera offers you courses in all fields from tech to health, business to personal development, and whatnot.
Coursera also provides courses and training for Enterprises, Governments, and Universities.
However, in this article, I'll examine Coursera's courses from the point of view of individuals who want to take its courses, but, have certain questions, such as Are Coursera certificates worth it? Is Coursera worth paying for? How trustworthy is Coursera? and Can a Coursera certificate get you a job?
Before answering these questions, Let's take a quick overview of what Coursera offers for enterprises, governments, and Campuses. Next, we'll start reviewing Coursera in terms of content quality, pricing, support, and all the metrics I've set in the beginning.
(You can skip this if it's not your cup of tea 🙂
Coursera for Enterprise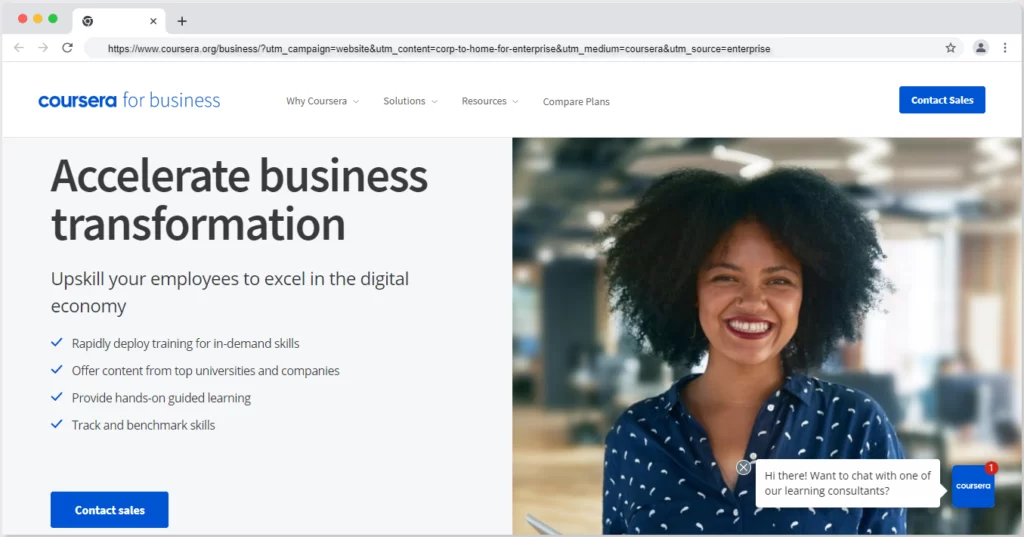 Upskilling your team is always a good idea for your company's growth. If someone is running a business and wants to upskill their employees to excel in the digital economy Coursera provides world-class training developed by leading universities and companies like the University of Illinois, deeplearning.ai, Yale University, and more.
With Coursera for enterprise, businesses can help employees quickly master skills with Guided Projects: hands-on, single-session training programs with step-by-step guidance from an expert.
Loreal, TATA, Emirates NBD, Danone, Capgemini, and many more global companies choose Coursera for Business.
(Read also: StationX review: Is it good for learning cybersecurity?)
Coursera for Government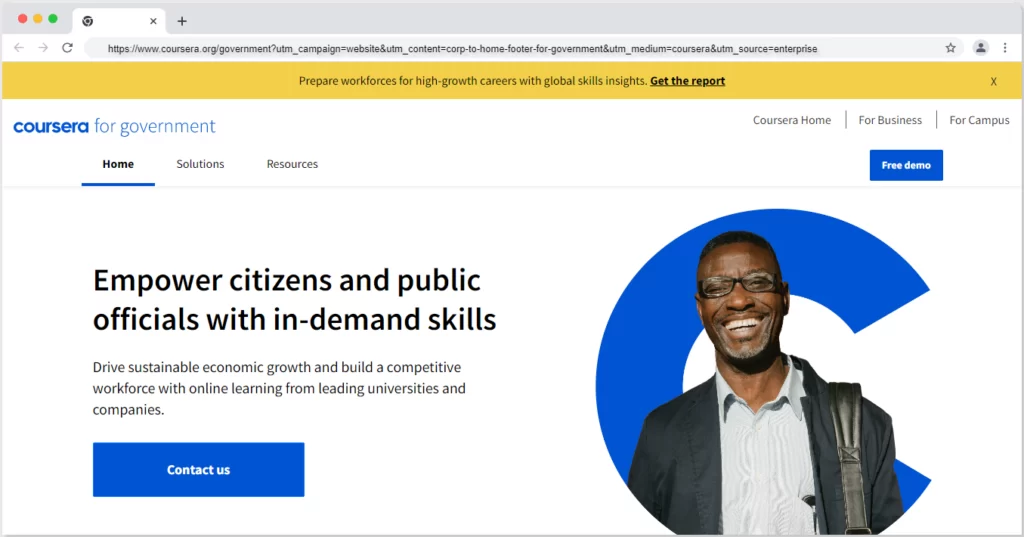 If the Government wants to reskill citizens and upskilling public officials for critical roles to support economic growth and employment, through Coursera they can drive sustainable economic growth and build a competitive workforce with online learning from leading universities and companies.
According to the records, Coursera partners with governments in 100+ Countries and 25+ U.S. states.
Coursera for Campus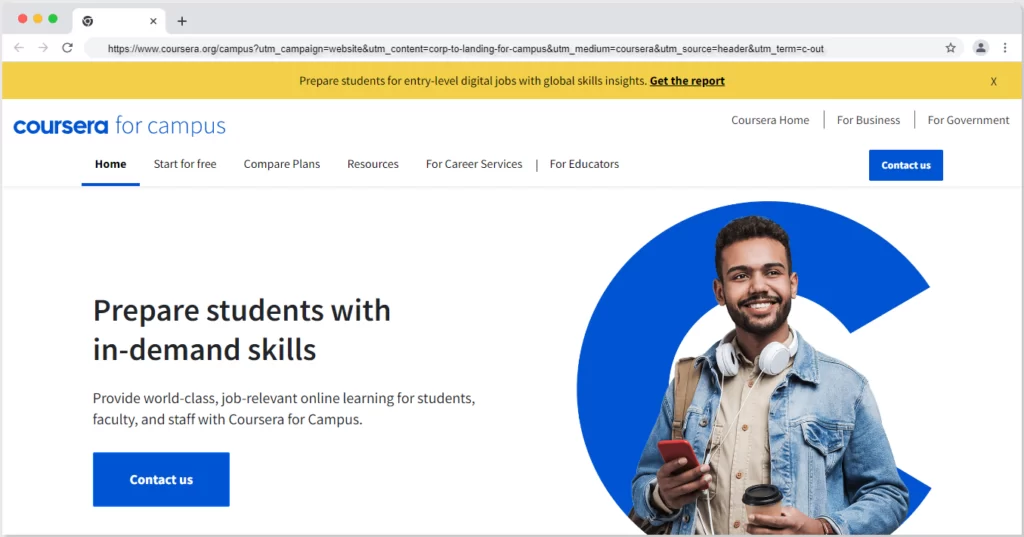 Coursera provides world-class, job-relevant online learning for students, faculty, and staff with Coursera for Campus.
If you're a university, you can prepare your students for in-demand jobs with skills training and Professional Certificates from the world's leading companies.
Any Campus can improve its student job outcomes and modernize its curriculum with access to 5,000+ courses, 70+ Professional Certificates, and 1,900+ Guided Projects in fields like Engineering, Management & Commerce, Science, Liberal Arts & Humanities, and Healthcare.
Now, let's dive into the subjects in which you can learn and pursue any courses.
Coursera Subjects:
As I told you already, Coursera offers courses in a variety of fields. Here are the subjects in which Coursera offers 4000+ paid and free courses.
Data Science
Business
Computer Science
Information Technology
Language Learning
Health
Personal Development
Physical Science & Engineering
Social Sciences
Arts & Humanities
Math & Logic
Furthermore, these subjects are divided into many sub-subjects. For example, Data Science is a complete subject of Data Scientist, Data Analyst, BI Analyst, BI Developer, and Data Engineer.
In all subjects, you can pursue either online degrees that are offered by top Universities or else different types of Certificate courses. Now, It's on you what you want to pursue on Coursera- Degree or Certificate Courses. (We will discuss this later.)
Let's talk about how you can find the best course that meets your need in terms of difficulty level, pricing, subjects, Language, and more…
Well, Coursera has a filter system for this. Search any topic in the search box and you'll redirect to the filter.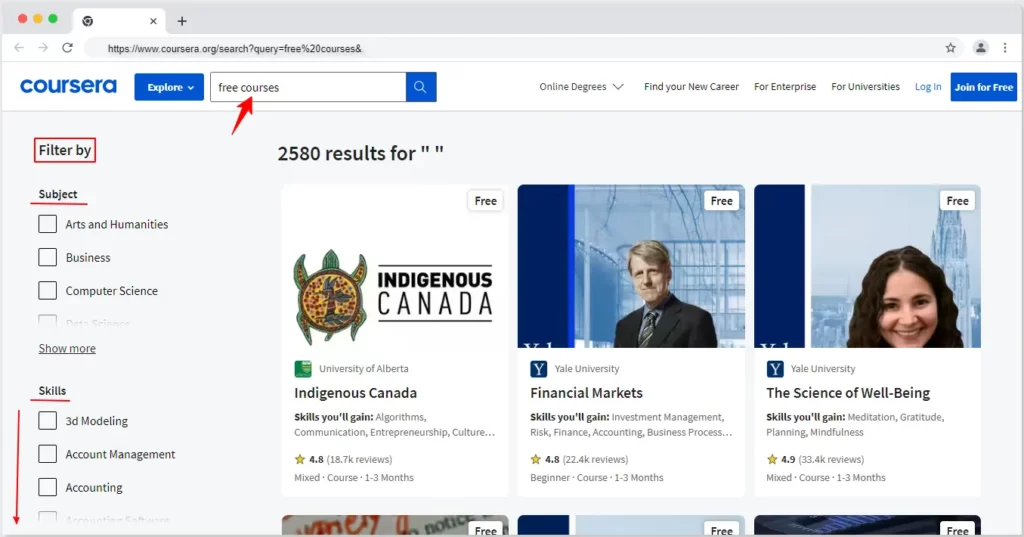 Now as you can see, in this filter you can choose the Subject, Skills, Level, Duration, Learning program, Educator, and Language you're comfortable with.
Value of Degrees and Certificates
Online Degrees: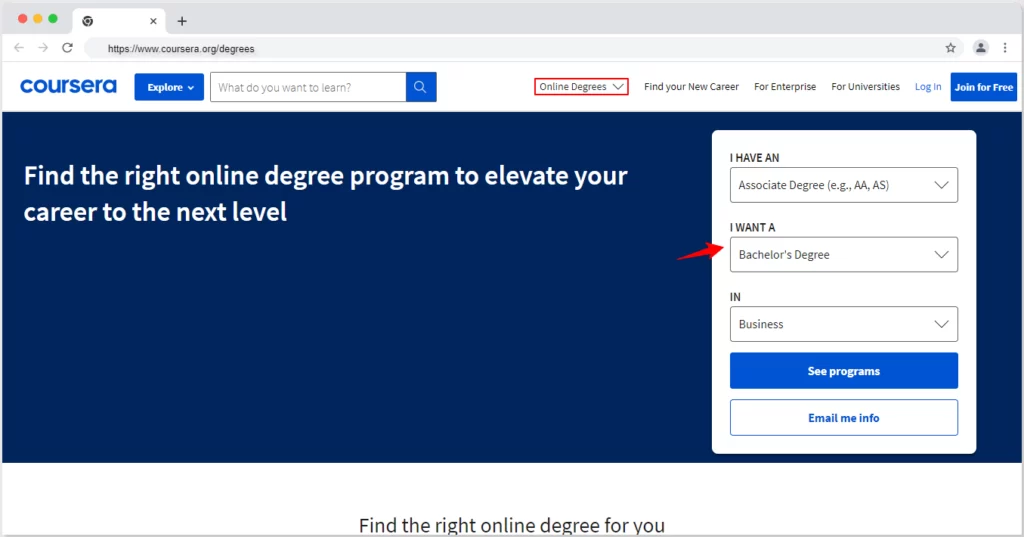 As I told you already, Coursera offers you to pursue Degree and Certificate courses. So, If you're looking for Bachelor's Degrees, Postgraduate Studies, from leading universities like the University of London, you must check out Coursera once.
I know, that pursuing a Degree course online might not sound effective to you but what if I tell you the courses that top universities offer you on Coursera have the same teaching faculty as on-campus courses? Even the degree would be the same.
Here are some advantages of pursuing online degree courses:
You can grab a degree from the comfort of your home.

You can grab a degree from the top institutes and universities.

You will have the same teaching faculty and degree that on-campus students get.

Tuition fees for an online degree would be less than an on-campus fee.

Financial aid is available for qualified students.

Many big companies look for degree graduates.
You can browse many courses in many categories, with the university that you like most. Pursuing a degree course opens many opportunities for you to make a career in a field you're interested in.
On the basis of your qualification, either you can pursue Bachelor's degree or a Master's degree course. Or, You can also pursue certificate courses that I'm going to list below.
Coursera certificates and learning are provided by the world's leading companies and universities to advance your career with credentials. Coursera offers you two types of Online Certificate Programs in different course programs.
MasterTrack® Certificates
If you want to gain expertise in courses like Machine learning, Data Analytics, Innovation Management & Entrepreneurship, UX design, Cybersecurity, and more with the University of Chicago, Yale University, then you can pursue MasterTrack® Certificates.
These courses usually take 4-7 months to finish the course and advance your knowledge. With MasterTrack® Certificates, portions of Master's programs have been split into online modules, so you can earn a high-quality university-issued career credential at a breakthrough price in a flexible, interactive format.
To enroll in the MasterTrack® Certificate courses, you must have some required skills and qualifications (have a graduate or bachelor's degree). However, It depends on University and the course you want to pursue.
Professional Certificates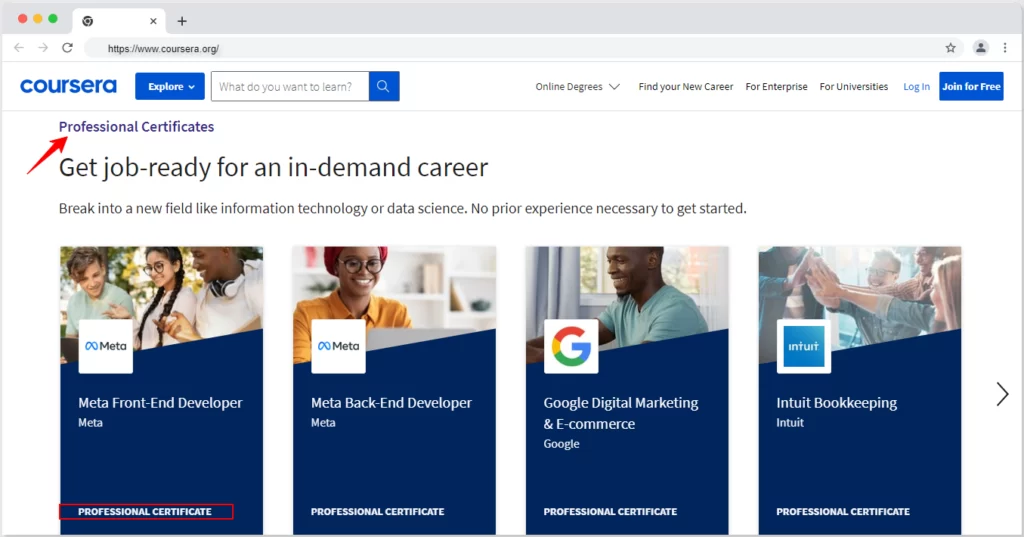 Professional Certificates on Coursera can help you get job-ready for an in-demand career field in less than a year. Whether you're looking to start a new career or change your current one, Professional Certificates on Coursera help you become job ready.
If you want to make your career in IT Support, Data Analytics, UX Design, Data Science, Cloud Computing, or in more fields through a company like Google, IBM, Facebook, Salesforce, or Intuit then you can pursue professional certificate courses in Coursera.
Each Professional Certificate course consists of 4-8 individual courses. For example, the Google IT Support Professional Certificate course contains 4 individual courses: Technical Support Fundamentals, The Bits & Bytes of Computer Networking, Operating Systems & You: Becoming a Power User, and System Administration and IT Infrastructure Services.
Additionally, there is no background knowledge and qualification necessary for courses in this category. That means anyone can learn and earn a Coursera Professional Certificate.
You must have heard about the Google Career Certificates, which are also a part of Professional certificates. Since professional certificates are offered by giant tech companies, so you have chances to get a job in big companies by adding a professional certificate to your resume and LinkedIn profile.
Not only that, you can grab the Professional certificate at a very affordable price ranging from INR 1000 to INR 10000. However, its prices depend on how many courses a professional certificate contains and how long it takes you to finish the complete course.
Specialization Course
These courses are also similar to the Professional Certificate courses in terms of pricing plans and the average duration to finish the course.
Moreover, Specialization certificate courses also include 3-7 individual courses like Professional certificates that you can enroll in separately.
The only difference here is Professional certificates are offered by top companies whereas, Specialization courses are mostly offered by top universities like the University of Pennsylvania, Stanford University, Newyork University, and more.
Additionally, In Specialization certificate courses you get in-depth knowledge of a subject by completing a series of courses and projects.
Free Courses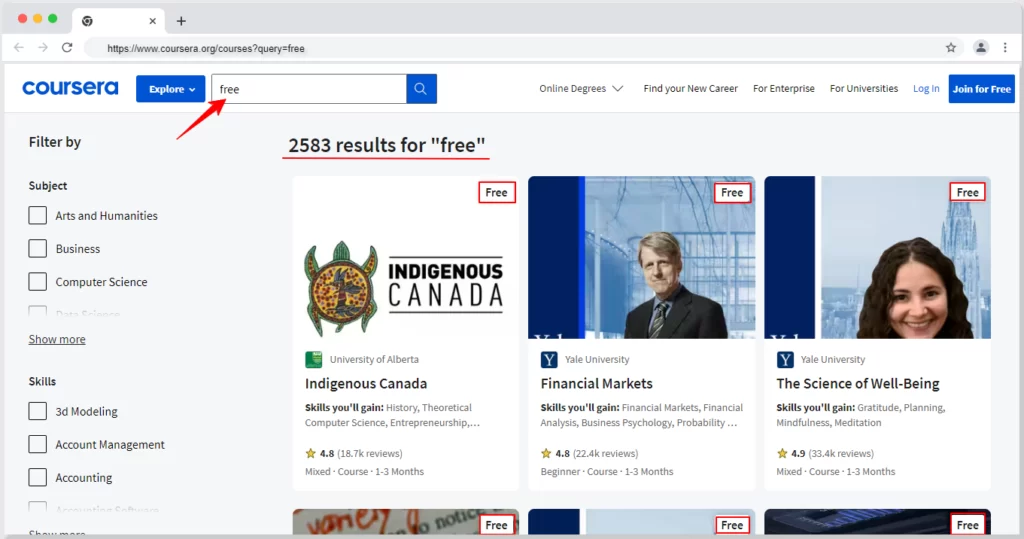 If you're looking for Free courses in Coursera through which you can learn and develop basic skills, Coursera offers you 2000+ free courses to pursue. Machine learning, Language learning, Financial Marketers, Brand Management, Content Marketing, and more course categories you can access for free (including materials).
Remember, Most of the free courses you'll find only in the beginner and mixed level and won't give you any certificate, however, if you still want to have a certificate then Coursera offers you a Certificate of Completion which cost you INR 2289.
Since these certificates don't add any value to your resume and job's point of view, in my opinion, these certificates are not worth paying for. You can grab the full course for free.
Guided Projects
This is something awesome in Coursera. Coursera offers Guided projects that allow you to learn a new skill in just 2 hours by investing small money of INR 788. You may also find some free courses in Guided projects.
No need to worry! With Guided Projects, you can access everything you need right in your browser and complete your project confidently with step-by-step instructions.
Coursera Plus
If you want to access multiple courses in Coursera with one plan, you should go with Coursera plus. Coursera plus offers you 7,000+ world-class courses, hands-on projects, and job-ready certificate programs, for one all-inclusive subscription price. You can also access a 7-days free trial and 14 days money-back guarantee in case you don't like the course.
Remember, you will get unlimited access to over 90% of courses, Guided Projects, Specializations, and Professional Certificates on Coursera, taught by top instructors from leading universities and companies but you can't pursue any degree courses with the Coursera plus.
How's the Coursera's Content Quality?
Till now in this Coursera review, I've been mostly focused on Coursera features and the different types of courses that Coursera offers you. Now let me tell you how's the content quality of Coursera courses from my experience and sort of research.
To review any platform or product, first I've to use it from all sides. For this review of Coursera, I've pursued many paid and free Coursera courses on Tech, Business, Health, and Personal Development.
To be honest, I won't say Coursera is the best in all fields. Few courses especially free courses in fields like health and Personality Development provide you only basic information and that need to be updated today also.
For example, the course 'Stanford Introduction to Food and Health (by Maya Adam, MD) is filled with the basics of healthy cooking or for people with unhealthy habits that you must have aware of already.
However, when it comes to Professional Certificates and Specialization Courses, no one can beat Coursera's content quality. For example, the Digital Marketing (offered by Google) and Social Media Marketing (offered by Meta) that I pursued were worth the money. I got immense knowledge with that.
Now you don't need just rely on my words. Here are the user's reviews and ratings for Google's Digital Marketing course.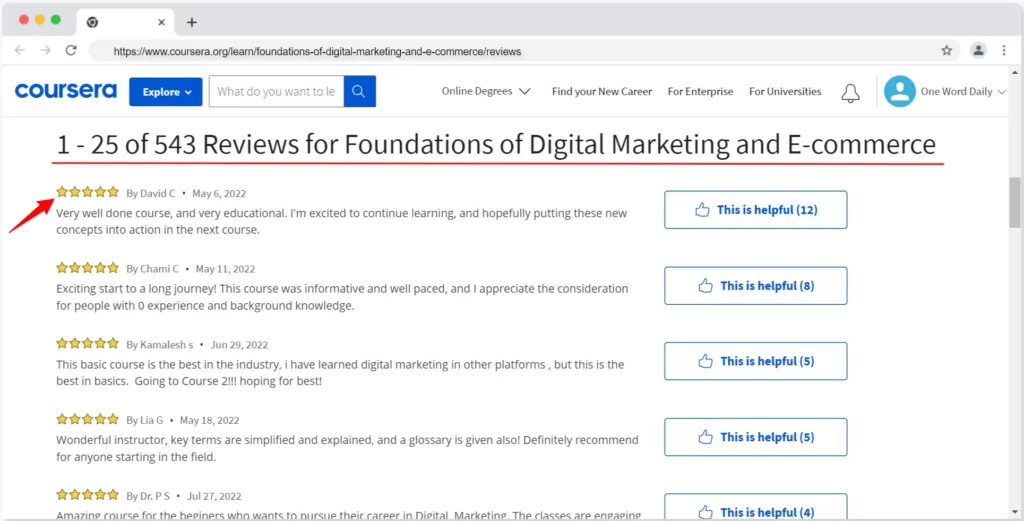 Here is one of the social reviews of the Google IT Support course a different Professional certificate course:
Look, Coursera's Degrees, Professional Certificate, and Specialization courses are offered by top companies and universities around the world so it's obvious their content quality would be awesome. However, If you're still now sure, here are some steps to find the best Coursera courses in your niche.
5- Steps to find the best Coursera course:
Filter the best courses: Set the filter as per your requirement regarding the subject, level, duration, etc. for the course you want to choose.
Look for high ratings and reviews: Once you narrow down the courses by Filter, look for the courses that have a 4.5+ rating and a high number of reviews.
Keep an eye for those reviewers who have given fewer ratings: Read those reviews carefully. If all reviews mention the same issue and problem then you may face that after taking that course.
Search the course on Quora or Reddit forums: Quora and Reddit are great platforms to take others' suggestions. Just like in the above image, I searched about Google Career Certificates on Quora to get others' views about the quality of the courses.
I'm pretty sure, these five would really help you to find the best Coursera course. With
Popular Coursera's Courses in 2022:
Coursera offers 4000+ courses in 11 subjects. If you're just starting out and want to learn and pursue something new from Coursera then you should look for its popular courses.
Hence, here are some popular Coursera courses based on high enrollment numbers and corresponding high completion rates:
Machine Learning Specialization (by DeepLearning.AI, Stanford)
Learning How to Learn: (by Deep Teaching Solutions)
Programming for Everybody: Getting Started with Python Specialization (by University of Michigan)
Google Digital Marketing & E-commerce Professional Certificate (by Google)
IBM Data Science Professional Certificate (by IBM)
To browse more popular courses you can read this article.
User Interface and Ease of Use
If you've taken a tour of the Coursera site, I'm sure you must have been satisfied with its easy-to-use and easy-to-navigate site. Coursera has a filter system to find a course that meets your need.
With each and every course, Coursera provides you with all the information about the course, Instructors, Syllabus, Reviews, Enrollment options, and FAQs.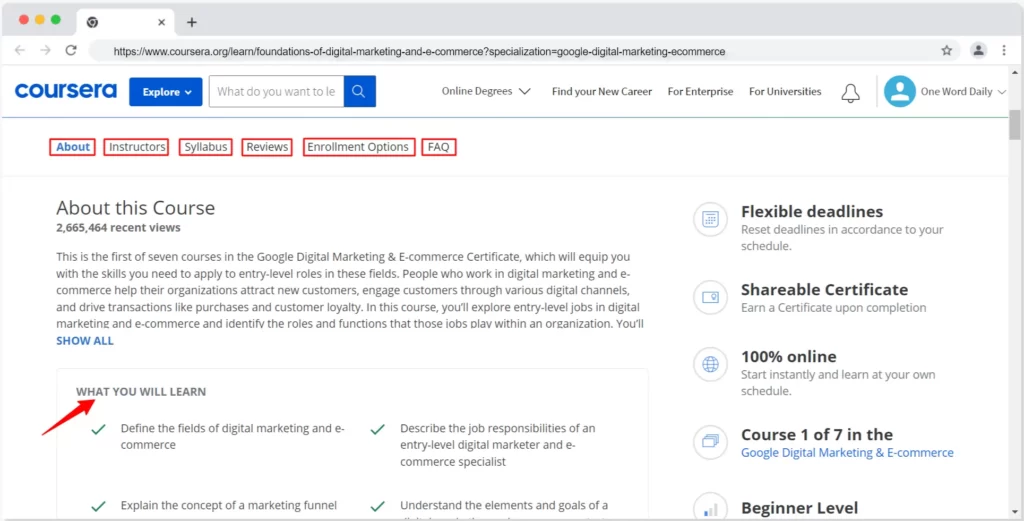 Along with the syllabus, you may also have an idea about the total course you'll be learning in one Professional or Specialization certificate. Moreover, you also get to know what skills you'll gain after pursuing one course.
After taking a course, you'll have a flexible deadline and an average time to finish the course. Not only that, Coursera offers all its courses in many different languages, so if your native language is English, French, Italian, Portuguese, Russian, or any other's you may take advantage of that.
Coursera courses contain online video lectures, quizzes, tests, and reading content. It also provides you Notes making and Discussion forums features. And, the best thing is, that Coursera takes quizzes and tests during video lectures that help you to concentrate better in class.
Apart from all of these, Coursera also has a mobile application through which you can also take the courses.
Pricing and Value for money
Now I've told you all about Coursera's content quality and ease of use. Now you must be curious to know about the pricing. Right?
So, if you're thinking about what's the pricing of Coursera courses? and, Are Coursera's courses worth the money? then keep reading!
As I told you already, Coursera has different fee structures for different programs. If you want to pursue a degree you've to pay the fee to the university wherefrom you want to pursue the degree. The degree course fees depend on the university and the course you choose.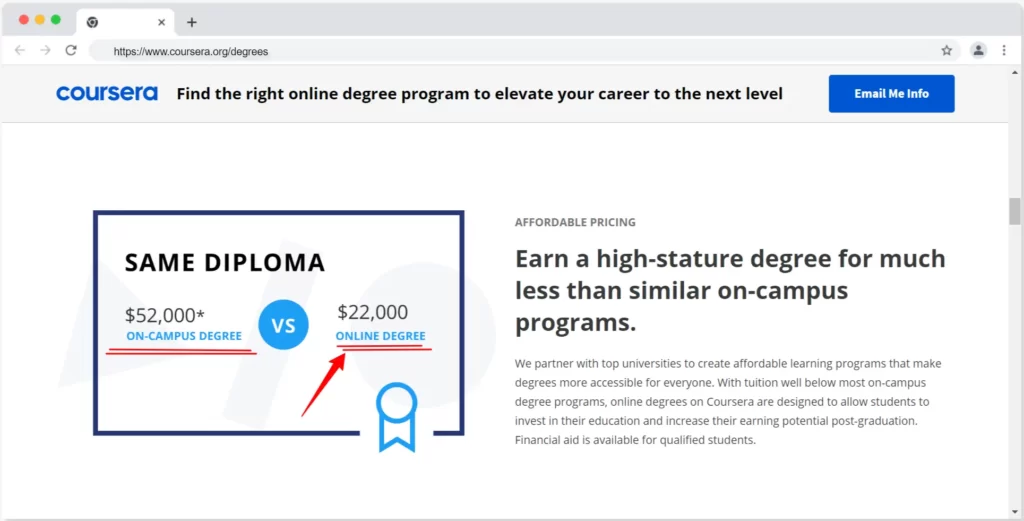 However, the online degree course always costs you cheaper compared to on-campus studies with the same teaching faculty. You also get invited to Graduation Ceremony.
If I talk about Coursera certificate courses, it's AMAZING!
Whether you want to take Coursera Professional Certificate or Specialization courses, it won't cost you an arm and a leg like Udacity Nanodegrees. As I mentioned already, You can grab the Professional and Specialization Certificate courses starting from INR 1000 to INR 10000+.
Remember, these courses' prices depend on how much time you need to finish. i.e. 1-month, 3-months, or 6 months. If you can finish a course in one month then you have to pay a very less fee or if you choose 6 months period then it will cost you a higher price.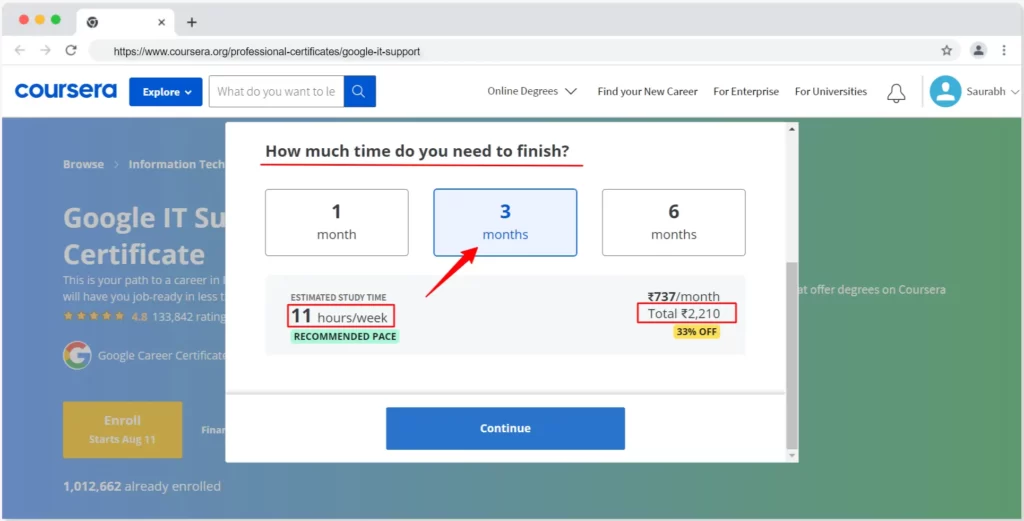 At this affordable pricing, Coursera also offers you EMI payment options and a 14-day refund period which are worth considering here. But many users complain that its refund doesn't work.
And, you better know how long it can take you to finish the course you choose. However, it is advisable that you choose 3 months an average time.
Coursera's Guided projects are also amazing that allow you to learn a skill quickly in 2 hours by paying just INR 788. Even many Guided projects, you may find in Free Courses that you can grab without paying a single penny.
However, there is one disappointing thing about Coursera's all-paid courses, it doesn't provide lifetime access like Udemy after making a full course payment. That simply means if you want to retake the course you'll have to again pay for the course.
All in all, Coursera Certificate and Degree courses are affordable and worth the money.
Read Also: Udemy Review and its all Pros & Cons
Financial Aid
Coursera provides you with different types of financial aid and scholarships in degree, post-graduate studies, and its Professional and Specialization courses.
However, for these certificate courses, you get financial aid for only one section of the course or the EMI payment option. For financial aid, you can check out the FAQs to get answers to all your questions.
Help & Support
If a company provides you a great support that means its products are worth trying. Right?
Coursera also provides help and support in various ways. You can access its support through its Contact Us page, Learner Help Centre, and FAQs.
Coursera has published hundreds of articles and guides for users' and non-users' problems. You can take help from its Popular Community Conversations. For example, if you want to know the Roadmap in Data Science for beginners then you'll find a lot of community members giving you the best suggestions.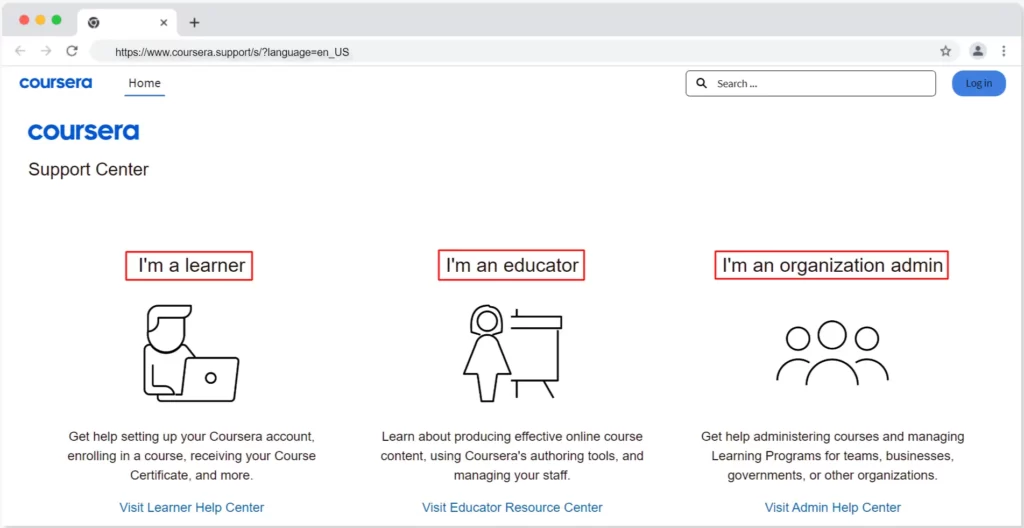 If you take a course, you also get Coursera forum and discussion support. However, Coursera is lacking in Customer service. Forum moderators are less active in groups, and they responded lately.
Furthermore, despite offering all the great professional and specialization certificates, Coursera doesn't provide significant career services and supports for students like Udacity does.
To finish up, below I'm going to highlight the key Pros and Cons of Coursera which are the most important part of this Coursera review.
Pros of Coursera
Wide Variety of Courses: If you're looking for any special course like personality development, Health any other tech field courses then you can easily find them on Coursera.
Very Well Organized: Coursera is partnered with many leading companies, top universities, and educational institutions around the world. Hence, Coursera is trustworthy.
Recognized Online Degree & Certificates: You get an opportunity to pursue an online degree or certificate courses through a recognized university at less cost while getting the same teaching faculty as on-campus. Many giant companies like Google, IBM, Meta, and more offer you the best Professional and Specialization certificate courses.
Quality of Courses and better learning mediums: The best thing about Coursera content is it also takes tests and quizzes to make your study more effective. With Videos (3-6 minutes) content, it also gives you reading, practical, quiz, and test types of content.
Affordable Price and Plans: Whether you want to pursue a degree and certificate courses you'll always find affordable fees. The early you finish the course the less money you have to pay. Coursera also offers EMI payment options, financial aid, and 14 day refund period for its certificate courses.
Offline and Free Courses: Coursera offers 2000+ free courses to develop new skills that anyone can access. With this, you can also watch Coursera videos offline by downloading them in the Coursera app.
Cons of Coursera
Some courses need to be updated: In some fields like health, tech, and others, Coursera content provides old and basic information which needs to be new and updated.
No Lifetime access: Coursera doesn't offer lifetime access for any of its paid certificate courses. That means if you want to retake the course, you'll again have to pay the money.
Refund doesn't work: Yes, Coursera does provide a refund for a 14-day period but many users have complained that its refund doesn't work.
No Career Support for Students: Besides the best learning and valuable Professional and Specialization certificates, Coursera doesn't provide any career services for students like LinkedIn Profile optimization, resume support, etc.
Bad Customer Service: It's good to have forums and discussion community support but forum moderators are not being active in the forums. You may also get responses lately that could be improved. In short, Coursera is lacking in providing better support.
Our Overall Rating: 4.4/5
Others' views about Coursera:
If you google Coursera reviews, You will find thousands of reviews for Coursera and its courses. And, ratings and reviews matter a lot when you decide to purchase any product, course, or service.
So here are some ratings given by the users on different forum sites.
Don't you think our rating lay in the middle and satisfied? However, rating varies because every user has different views about Coursera.
Alternatives of Coursera
Coursera is not the only online learning platform there are many others that you can also look at. Udemy, Udacity, and Skillshare are also doing great but they have something better and lesser than Coursera.
For example, Udemy also provides courses in a wide range and its course prices are also less expensive compared to Coursera. Plus, Udemy also offers lifetime access to all its paid courses.
However, its Certificates are not worth it and can't get you a job. Moreover, any individual can create a Course and list it on Udemy to make some money and gain some value. Hence it's hard to trust instructors.
On the other hand, Udacity is dedicated to tech learners. So, let's say you wanna learn AI, Cybersecurity, Cloud Computing, Self-Driving cars, and more, Udacity is the best in it. Moreover, Udacity also provides better community support and student career services like resume support and GitHub review. But, you may find its Nanodegree programs are not easy to afford and pay.
Skillshare is also a great option to pick if you want to learn Animation, Graphic Design, Photography, Leadership, Marketing, and more. You may also pursue any courses in Business, Technology, and lifestyle.
Recently we've compared Udemy Vs Coursera Vs Udacity in detail to find the best one for you. Make sure you check it out.
Now It's your turn:
So, in this Coursera review, I shared all about Coursera and its Pros and Cons with my experience and some research.
Now I'd like to hear from you: Got any thoughts or questions about Coursera? And, Did you satisfy with my Coursera review?
Let me know in the comment.
Coursera FAQ'S
Is Coursera trustworthy?
Coursera is partnered with top universities and leading companies like the University of London, IIT Mumbai, Duke University, Google, IBM, and many more. If these universities and companies are trustworthy for you then Coursera must be too.
What is bad about Coursera?
Coursera is one of the best e-learning platforms still you will find something bad about it. Some courses in Coursera are not updated yet, some pages are lazy load, and discussion forums moderators need to improve more. Along with this some students also complained about refunding issues and lack of customer service.
Is Coursera worth it in 2022?
Yes. Coursera all courses including Degree, Certificate can be worth it for you. Grabbing degrees and certificates from top institutes can add extra value to your resume and LinkedIn so you can enhance your career. By adding more features in 2022, Coursera keeps on trying to break all its cons.