Looking for Stationery Essentials for your studying?
Stationery essentials are the things that you need while studying. So, before you study it's important to organize all stationery items that are related to your study.
In this article, we're going to list 15 stationery essentials for students. Chances are some stationery you might have already and for some, you may need to buy some. We will also tell you the importance of every study stationery essential.
[Read also: 21 Dorm Room Essentials For Guys!]
Here we go…
1. Pencil, Eraser, and Sharpener
Note: Showing prices may not be accurate for all products. Amazon's product prices can fluctuate. If you're a college student, you may sign up for Amazon Prime Student and grab the best deal and free shipping on these products.
A pencil is essential for every student whether you're a schoolboy or a college student. If you're a college student then it would be useful for you to make graphs, charts, maps, or anything that you can't use your pen for.
If you like sketching or drawing then you probably have it. With pencils, you also have two more things: Eraser and Sharpener.
If you don't have these things then you can buy an 'Apsara Pencils set' (check the above image) that will also get you an eraser and sharpener.
Read also: 17 Study Table Accessories You're Required to Have!
2. Ball Pens
Just like the pencil, pens are essential for writing notes. While making your fair notes, you should use three colors of pens- Red, Blue, and Black.
Using multicolor pens while making notes can make your notes wonderful. You can use a red color pen for writing questions or headings, Black for writing key points, Blue for writing general answers, and for rough use.
Note: Using a different color pen for a different purpose not only organizes your notes better but also helps you to memorize more easily.
3. Highlighter Pens
Highlighters are again essential stationery for students. If you want to make something highlighted or important in your book or in your notes then you must use a highlighter.
Highlighting is effective because it first asks the reader to pick out the important parts, and then gives an effective way to review that information later. You can use different highlighter colors for different purposes, check out the above image.
Related: Dorm Kitchen Essentials- A Complete List
4. Notebooks
You may have many notebooks already for different subjects. However, two types of notebooks you should have- one is for taking notes in class and another one is for fair or making notes by yourself.
In this digital world, if you have a laptop then you can use note-taking applications like 'Notion' which is great for making notes and setting productivity goals. Now you've to find which system you're comfortable with and good at.
Reminder: If you're a college student and interested in reading books you better read our 'Books for College Students' article first where I have listed 19 books that you must read.
5. 5-Subject Spiral Notebook
This notebook is great for notetaking in class for different subjects. You don't need to carry five notebooks for five different subjects, this 5 subject notebook has divided into five sections. But remember don't use it to make a fair of a particular subject.
So, If you don't want to make your college bag too much heavy with different notebooks then you can use this notebook. Just like this notebook, we have listed many other study gadgets and science gadgets for students that are also worth checking out.
6. Flashcards
Flashcards are a great stationery item that helps you to memorize and not forget easily. Flashcards basically work on the Leitner system and spaced intervals.
According to this system, On one side of a flashcard, you write a question (mainly objective type), and on the other side you write an answer for it, and on the spaced interval, you revised your flashcards.
You can watch this video for more guides about flashcards.
Read also: 60+ Best Gifts for college students that they must appreciate!
7. Sticky Notes
Just like flashcards, sticky notes are also essential stationery for your studying. You just need to write a short and important note and then stick it in your notebook or on your study table.
For example, you can use these sticky notes to organize your study notes to add additional points, make goals for exam preparation, and remind any important date or anything.
Read also: 17+ Useful things for college students
8. Geometry Box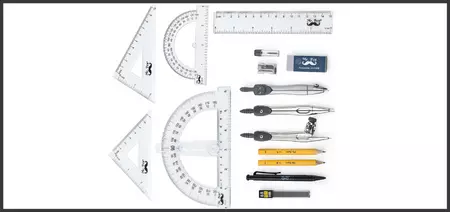 Every student probably has a geometry box. A Geometry box contains most of the tools like Scale, Dividers, Ruler, Protector, Pencil, and more that are useful for your Math subjects or in any subjects where you use a pencil.
Every geometry tool has a different purpose, so remember whenever you study especially the Geometry subject keep a geometry box near your study table.
9. Ruler
This is quite a different ruler than your Geometry box ruler. It's a 15-inch ruler which is made of flexible stainless steel.
If you can work with your Geometry box ruler then I don't think you need to have it and if you are looking for long inches ruler then it would be suitable for you. Even, I have this stationery essential in my office.
10. Small Whiteboard
Whiteboard is one of the useful stationery study items that students must have. Whether you have to solve math problems in rough or make time management or study plan, or exam preparation strategy, you can use a whiteboard for this.
Not only for students, but a whiteboard can also be useful for everyone who makes some plans before doing their work. If you don't have one then you should buy one.
11. Cute Pen stand
Multicolor Pens, Pencils, Highlighters, and more, organizing these stuff in a place is not easy. Here is an essential stationery pen stand that you can use.
This pen stand not only looks great but you can also hold your phone there, this way you can also avoid your phone while studying.
12. Clip-on Light
Working in a dark room or in low light is not a good thing, it can harm your eyes. Here, I'm introducing a chargeable clip-on light that you can easily clip on your study desk or something where you're working.
This light only covers your working area which helps you to make better focus while studying or working. Isn't it essential stationery for students?
13. Stapper Set
This stationery is gonna be very useful for you. It contains all the things that you often need while bookbinding, making notes, or doing any work- A stapler with staples, Binding Clips, Tape Dispenser, and a Staple remover.
Not only students but an office also need this stationery set in their day-to-day work.
14. Timer
Want to challenge yourself with the time? When you prepare for exams, solve tough questions at a specific time, or while doing your homework fast, you need a timer for these works.
These timers are great that make you efficient and productive with your time. However, you can use a timer on your phone also.
15. File Folder
In school/college you get many important documents like syllabi, practice sets, result cards, notes, and more in hardcopies. If your classes are running online then you can skip this stationary item.
If you want to better organize your all hardcopies in one place then you must have a File Folder. Now, you can easily protect your documents with durable, waterproof, and tear-resistant poly files.
Now It's Your Turn:
So in this article, I've listed 15 Stationery Essentials for Students. All stationery items are useful for your study.
Now I'd like to hear from you:
Which stationery study essential do you already have and what you are going to buy?
Let me know in the comment…