Does any subject or topic make you bored or else do you hate any topic?
Well, in any case, If you're looking for how to study a boring subject or how to make a boring subject interesting, then you are in the right place.
Because in this article, I'm going to give you 7 practical tips through which you can learn the art of studying any boring subject with having fun. And if you follow all tips sincerely, you'd love to study that subject or any such topic one day.
I am saying confidently because I also had a boring topic, but I make that subject interesting after applying my 7 practical tips.
So before we get going for the tips first tell me in the comment section, which subject or topic you didn't like to study?
Is it Mathematics, As Mathematics is the most hated subject in the world?
Well, whatever subject or topic that would be, tips are useful for any topic or subject. Hence here are 7 practical tips that you need to know:
1: Find the reason
It's a first and essential point. Ask yourself why I get bored while studying this subject or topic? Until you'll have clarification about your answer, you won't have much confidence to study that boring subject and find it interesting.
According to the book, "How to Make A Boring Subject Interesting," the authors believe No subject is boring to everyone. Likewise, No subject is inherently interesting to everyone. Instead, it's about the relationship between the communicator and the listener.
But let me help you to find the reasons. Any subject which seems boring to study because…
Lack of understanding of the material
You don't have a legit way to study
Your teacher doesn't teach you well as you like
You might have taken a long gap with your boring subject
So what's your opinion about it, Am I right? If any reason doesn't relate to you, find it by yourself.
Follow the next tips, which will help you to study boring a subject and make it interesting.
2: Start with basics
Now you have the reason and it's because of lack of understanding of the material, chances are your basic is not strong. Without having basic fundamentals, you can't make a boring subject interesting.
For example, In class 9th a student who didn't focus on Gravity laws, and somehow got passed, and when he meets that topic 'Gravity' again at an advanced level in 11th. He must feel bored while studying it.
So if you have to study your back classes notes for basic fundamentals then don't hesitate to study.
So according to your level brush up your basics knowledge and understanding in that boring subject. If you find any doubt while studying then first clear your doubt and then move next.
Read also: How to study at home?
3: Don't escape- spare more time
Escaping is a natural tendency when we don't like something or find something boring. And I'm sure you must do.
But If you want to make your boring subject interesting then don't escape. Instead of escaping face it, deal with it and spare your weekends in studying your boring subjects.
Because by studying, again and again, you would have good command in your boring subject, and you must be like to studying that.
Let me tell you my story that will make you understand how these things work…
When I was in 10th standard, I used to hate Trigonometry. Whenever I had to study I found it boring, and somewhere due to this, I used to bunk my Math classes.
The reason behind hate is I didn't have the basic knowledge. I knew all formulas, but when it came to solving questions, I couldn't.
So somehow, I got first, but I got surprised when I got known that in 11th I have to face Trigonometry again even at an advanced level.
So instead of Escaping, I decided to jump into it. I studied with the basics of 10th and learned with many solved questions. After giving too much time to learning, I had a good command of it and I love to study Trigonometry.
4:

Make color coded notes and flashcards
Notes are very helpful to understand any topic easily and retain information for a long time, and therefore make color-coded, pretty, and productive notes for your boring subject.
Don't take and make notes without learning the concept and never copy all notes from other material. Because this way you keep your brain aside and only use your eyes. First, learn and understand your boring subject then make notes while recalling information.
Here is my guide and tips on note writing to make better notes.
Flashcards are also one the best way to study that works on Leitner Systems. And not only studying with flashcards can make a boring subject interesting even it improves your creativity when you make flashcards by yourself.
5:

Take help from Friends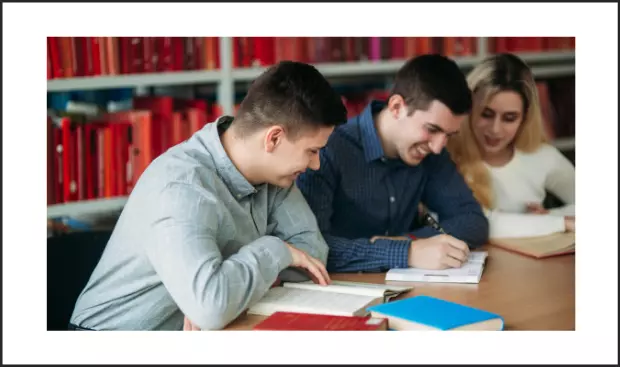 You must be bored with that topic, but some of your friends could be interesting or experts in studying that topic. Isn't it?
So what you need to do, is ask your friend how they are interested in studying that and, learn the boring subject with them. They must have a different angle to understand that topic.
You can also take help from your teachers, but I believe a friend can explain better than your teacher because they will teach you in your language.
So don't hesitate to take help and ask your friends.
6:

Find the use of your boring subject in real life
Do you ever think about why we study any subject or topic, what is the purpose of learning behind that?
Don't say, I can get good marks in the exam after studying this.
By means of purpose, you should know the real use of studying any subject or topic. And trust me if once you get it, you must enjoy your boring subject.
For example, If you don't like to study 'Geometry' then find how Geometry is useful in our daily life. Try to Google, How Geometry is used in real life?
So be curious to know about the purpose, and if you don't know how to explore it, you can ask your teachers or Google.
7: Stay motivated and believe in yourself
Motivation is necessary which accelerates your learning and made a belief and confidence in you. If you are good at all subjects and topics, you can be also good at your boring subject.
As I said, Nothing is boring, and nothing is too interesting, So you can develop an interest in everything. You just need to stay focused while studying your boring subject.
So stay motivated and believe yourself if your friends can be good at that subject or topic, you can too. Nothing can be hard for you, once you decided to give your best.
Do it, while studying that boring topic:
1:
Stay focused while studying
If you love to study any subject, it means whenever you study that you can give your 100% or even you can concentrate for a long time while someone is disturbing you or not, doesn't matter. Isn't it?
But when it comes to your weak or boring topic then you might even concentrate for half-hour properly. So, start with basics and learn while maintaining focus on that subject just like your best subject.
Want to know: How to study effectively for long hours?
2:
Keep resources on close to you
While studying a boring topic, make sure you should have all the important or helpful things for that topic.
For example, you don't like to study Geometry, but when you give time for it, then all instrument box tools should be present on your study table.
These things will not let you distract from studying and you'll have a better concentration.
3:
Less to more
Well as I said, you might feel not interested in 2 hours of studying that, but you can give half to one hour of a day, it will not feel like a burden, and you have a better concentration and better result in half to one hour.
This thing, you can relate with GYM, when you go there for the first time, then you must start with 2 kg of dumbbell, and as your ability increase, you can exercise with 20kg of the dumbbell.
So as your understanding and interest will increase in that subject or topic, you can improve your studying hours.
4:
Make a short note
This is my key point, whenever I used to study first I used to mad a short note about what I have to read on any subject or topic and how much I will read.
This thing gives me a target that I have to complete, and when I did it, then I made a cross on the note which motivate me to keep working.
You can try this idea with your boring topic or subject, I am sure it will also help you to make your study enjoyable.
Conclusion:
Once again I will repeat nothing is boring or nothing cab be bored you, it is just your mindset or there is a specific reason behind it.
But I hope you found my tips helpful and enjoyed this article. Now I want to hear from you:
Which reasons relate to you and are you gonna try these tips from now on?
Let me know in the comment. And next time, Never say I have a boring subject, or I hate any subject.