Are you looking for dorm gifts for students? If yes, make sure you read this article until the end. By the conclusion of this article, you will have discovered the perfect dorm gift to give someone you love from the bottom of your heart.
As a college student, I know precisely what kind of dorm gift a college student finds useful and loves to have. The best part is that most gifts on this list are affordable. Now, without further ado, let's dive straight into these 22 dorm gift ideas…
[Note: If you're looking for general gift ideas for college students, I recommend reading this article: 50+ best gifts for college students.]
1. Reading Pillow
Showing prices may not be accurate for all products. Product prices can increase or decrease on Amazon. Remember, the prices of these items are in United States currency; however, you may purchase from any country. 
A reading pillow is one of my all-time favorite gifts for a student living in a dorm room. Many students forget to bring it, but it's necessary to have it, especially for those students who always study in bed.
Similar to the best dorm chairs, a reading pillow provides you with an upright position to sit and study, which will also keep you away from back and neck pain while studying in bed.
I have featured one of the best reading pillows here that you may consider buying if you want to give this dorm gift.
2. Sunrise Alarm Clock
If you want to help your student wake up early for study or exercise, I recommend gifting them a sunrise clock. It's a very effective alarm clock that simulates sunset and sunrise, accompanied by five natural wake-up sounds. You can also adjust its brightness according to preference.
I personally have a sunrise clock at home, and I can assure you that it always helps me wake up easily and energetically, improving my mood in the morning. Every student living in a dorm will surely appreciate this thoughtful gift.
While there are other affordable sunrise alarms available, I have featured the Philips sunrise alarm clock, which also comes with a 90-day money-back guarantee.
3. Motivation Wall Decor
We often need motivation in life to overcome procrastination, conquer failure, and stay focused on our goals, don't we?
This wall art design can be a great source of motivation for anyone. Students living in dorms can install it on their walls, not just for decorating purposes but also to keep themselves motivated from time to time.
Don't you think it's an amazing dorm gift?
4. Adjustable Desk Organizer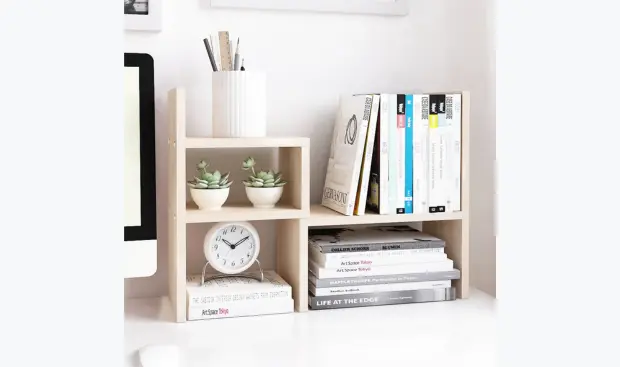 From my experience, a student's study desk and dorm room always look messy and unorganized. You will find very few students who keep their desks clean and organized.
How about gifting a desk organizer to a student living in a dorm?
If you also find it a good idea, then I recommend gifting the above desk organizer. It can be easily installed on any large study table. It consists of two main parts – the position and the distance between the two parts can be adjusted and rotated to best fit your needs. You can also hold other dorm desk essentials also on it.
5. Phone Docking Station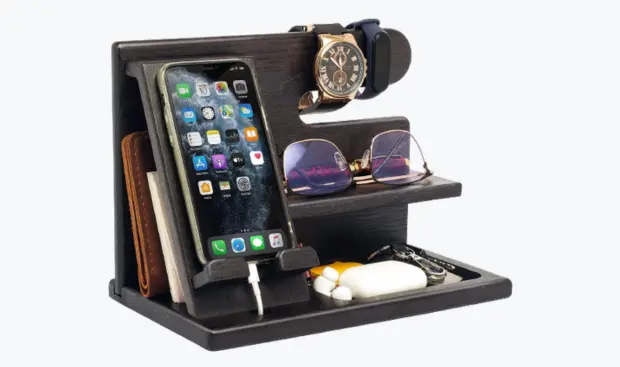 A phone docking station always comes in handy for keeping your small things, such as keys, watches, glasses, wallets, and other stationery items. In my previous post on essential college items, I featured it multiple times.
Not only would it be a cool dorm gift, but it would also be useful for students who often forget where they keep their small items. Additionally, it can hold your phone while charging it.
6. Lap desk
A lap desk or a laptop stand becomes necessary if you often work or study with your laptop. However, I have noticed that many college students overlook the importance of having one. Even I have seen people using their laptops by simply placing them on their laps which has some harmful effects also.
If you want to make college students happy and give them the best dorm gift, you should consider getting them a lap desk. The lap desk I mentioned above not only has the highest ratings but is also affordable. You can check its features by clicking the price button above.
7. Small Coffee-Maker
If you think the college student whom you're looking for a dorm gift is a coffee addict, you may also consider gifting him/her a mini-coffee maker.
This coffee maker from Keurig will not only consume very little space in any dorm room but also make their coffee ready in minutes. The price may seem a little expensive to you, but considering the quality, it's worth the money.
8. Popcorn Maker
This small and inexpensive item can become incredibly useful when you experience a little hunger, especially for students living in dorms. As a college student myself, I have experienced how, from time to time, you feel like munching on something like popcorn with friends.
This popcorn maker makes it super easy for anyone to have fun while enjoying popcorn. It's very easy to use, and in just a few minutes, you'll have fast, hot, and tasty popcorn.
9. Steam Iron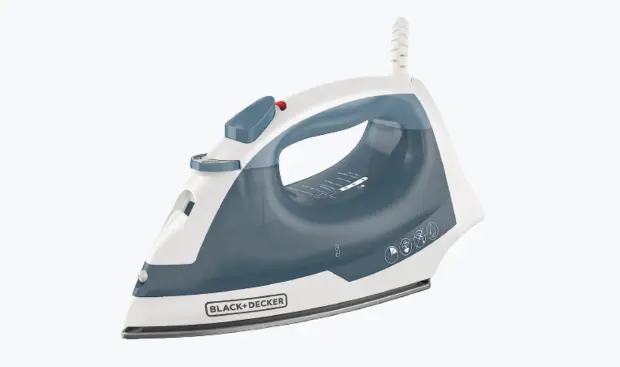 For a college student living in a dorm room, they have to do many things themselves, including regularly pressing their own clothes. Gifting a steam iron as a dorm gift to a college student can be incredibly useful for them.
I have featured one of the best steam irons here, which is also very affordable. You can check out more of its features by clicking the price button above.
10. Baggage and Backpack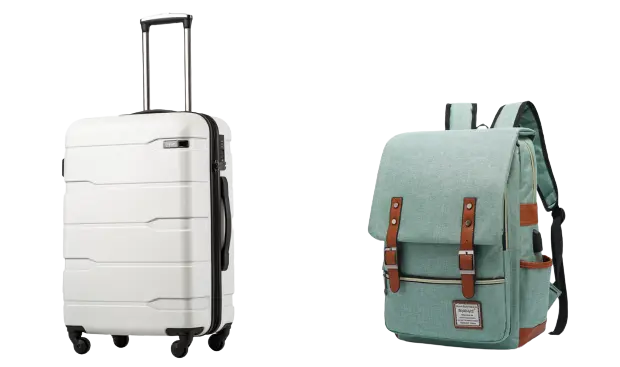 If you haven't selected any of the dorm gifts featured above, you might also consider gifting a bag to a college student. You can choose between a suitcase or a backpack, depending on what suits them best.
A suitcase can be quite handy for a student when they need to shift their accommodation or head back home. On the other hand, a backpack can be useful for college, travel, and various other purposes. I have already showcased the top-rated bag here; however, feel free to explore more options by clicking the price button.
11. Hanging Closet Organizer
A hanging closet organizer can be an ideal dorm gift for college students as it maximizes limited space and keeps their belongings organized. With multiple compartments, it provides easy access to clothes, shoes, and accessories, promoting a clutter-free environment.
Its compact design saves floor space, making it suitable for dorm rooms. The organizer also allows students to categorize and store items efficiently, streamlining their daily routines.
This practical and space-saving gift will enhance their dorm living experience and help them stay organized throughout their college journey.
12. Laundry Bag
You may also consider gifting a laundry bag to a student living in a dorm since it offers practicality and convenience. It helps keep dirty clothes organized and off the floor, saving space in cramped dorm rooms.
This bag's portability makes it easy to carry laundry to the laundromat or home during breaks. Its durable material ensures longevity throughout the college years. Overall, a laundry bag offers a simple yet essential solution to a common dorm-life challenge, making it a thoughtful and useful gift for any college student.
13. Make-up Mirror
Whether you're looking for a dorm gift for guys or girls, this make can be useful for both of them.
A makeup mirror can help them look their best before classes and social events, boosting their confidence. Additionally, with limited dorm space, it's a practical item that will also consume very less space. The mirror's portability allows them to use it in various locations, including shared bathrooms or study areas.
Read also: 11 Dorm Bathroom Essentials That Students Need!
14. Hair Dryer and Straightener
Now, if you find that the college student already has a makeup mirror, you may go a little more advanced by giving him/her a hairdresser or a hair straightener. Getting these items as a dorm gift can certainly make any student happy.
Without having to go to salons, these items can be helpful in boosting confidence, especially during important events or presentations. Additionally, they foster a sense of independence and self-care, which are essential skills for college life.
15. Calendar Day Date Time Clock:
In my opinion, a calendar day date time clock is essential for every dorm room since it helps students manage their busy schedules effectively. It displays the date, day of the week, and time, allowing students to stay organized and on track with classes, assignments, and extracurricular activities.
Its clear and easy-to-read design ensures they won't miss important deadlines or events. Additionally, it serves as a practical decor piece, adding a touch of functionality and style to their dorm room.
16. Wall-Hook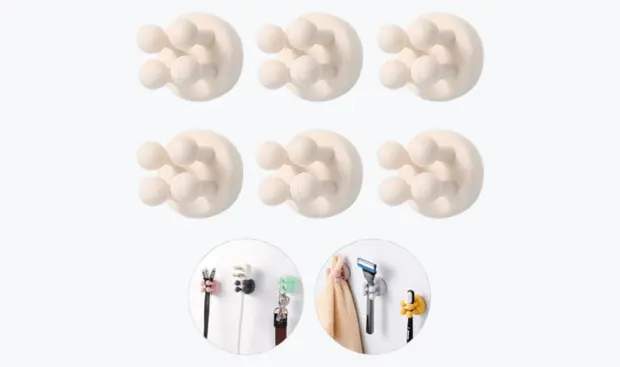 These adhesive Self-Adhesive Hooks Holders offer a simple and damage-free way to organize and hang items like keys, towels, bags, and decorations on dorm walls or doors. These hooks eliminate the need for nails or screws, preserving dorm room surfaces.
Their compact size ensures they won't take up precious space. As college students frequently move, these hooks can be easily removed and repositioned without leaving marks, making them a convenient and thoughtful dorm essential.
17. Funny Pillow Cover Case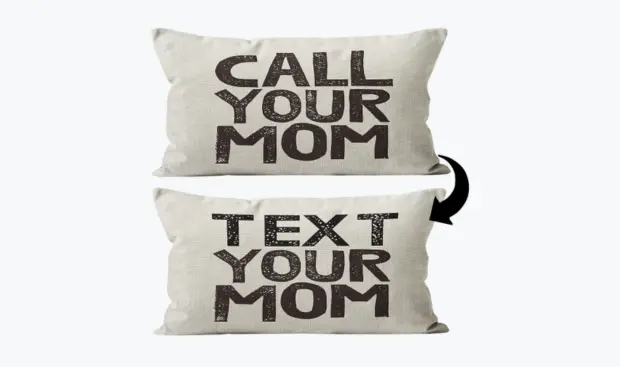 This Call Your Mom Text Your Mom" Reversible Throw Pillow Cover Case can be a cool dorm gift for college students as it serves both functional and sentimental purposes. The reversible design allows them to switch between "Call Your Mom" and "Text Your Mom" messages, reminding them to stay in touch with their family.
The pillow cover adds a personal touch to their dorm decor while encouraging regular communication with their loved ones, promoting a sense of comfort and connection during their college journey.
18. Kettle
A kettle is also the best dorm gift that you can give to college students for its versatility and convenience. It allows them to quickly boil water for various purposes, such as making instant noodles, coffee, tea, or oatmeal.
Compact and easy to use, a kettle fits well in limited dorm space and reduces the need for a stove. With its practicality and time-saving benefits, it becomes a valuable addition to any student's dorm room, enhancing their overall college experience.
This item I have also featured in my article on dorm kitchen essentials that you may also give it a read.
19. Rice-Cooker
If your college student has rice as a daily meal, you may also gift him/her this rice maker. It provides a convenient and efficient way to prepare meals, especially for those with busy schedules or limited cooking experience.
With a rice cooker, they can easily cook a variety of dishes like rice, pasta, soups, and more, without needing a full kitchen. It promotes healthy eating, saves time, and ensures they can enjoy home-cooked meals in the comfort of their dorm room, making college life a bit easier and enjoyable.
20. Dorm Mat
A doormat is also an essential college dorm item but many students overlook it. It serves both practical and decorative purposes, welcoming friends and adding a personal touch to their living space.
This functional item helps keep their room clean by trapping dirt and mud from shoes. With a variety of designs and colors available, it can reflect their style and create a warm atmosphere. I have featured the one that I like personally but you may browse more by hitting the price button.
21. Dream Catcher:
If you want to give something special to a student for his/her dorm, you may also gift a dream catcher.
It is a Native American talisman traditionally believed to filter out bad dreams and let positive ones pass through.
Its intricate design, usually a hoop with a woven web, is adorned with feathers and beads. Placed near their sleeping area, it adds a touch of cultural charm and may provide comfort during their college journey, ensuring a good night's sleep and a peaceful environment for studying and personal growth.
Now It's Your Turn:
Gifts are always special for everyone. In this article, I have featured the 22 dorm gifts that I believe every student will love to have from you in 2023.
From innovative gadgets to cozy essentials, this carefully curated list caters to every student's needs and preferences, making their college experience more comfortable and enjoyable.
Whether it's fostering productivity, enhancing relaxation, or adding a touch of personal flair, these gifts are sure to put a smile on any student's face and elevate their dorm room into a home away from home.
Now I'd like to hear from you: Which dorm gifts are you planning to give to a student?
Also, if you have any suggestions or other gift ideas, please let me know in the comments. I'd love to hear from you.