Disclaimer: To support our blog, we may use affiliate links in this post, but rest assured that they will not affect our honest review.
Read the complete StationX review for a better guide.
Our Verdict
StationX is a top-notch platform for cybersecurity courses, offering a wide range of cybersecurity courses taught by top mentors. Its VIP membership includes unlimited course access and personalized career mentor support. However, the platform only offers recorded video lectures, without any opportunities for live training or interaction with mentors.
If you want to learn about cybersecurity, you must have heard about StationX. And if you're already looking for a StationX review, trust me, you'll love this guide.
Since I have experienced its VIP membership, I can give you a better review of it. In fact, after reading this article, you may not need to look for another.
We'll be talking about everything you should know about this platform and its VIP membership, including all its pros and cons that you must not forget to read.
Let's start with a basic question…
What is StationX?
StationX is an online learning platform based in the UK that offers cybersecurity courses to help you build a career in this field. The platform was founded by Nathan House, who is well-known for his cybersecurity courses. In fact, if you have taken any cybersecurity courses on Udemy, you must have come across Nathan House's courses, which have the highest ratings and views.


Check out: Nathan House's complete cybersecurity course
StationX not only offers hundreds of cybersecurity courses but also provides training for certifications such as CompTIA, CISSP, Security+, CEH, OSCP, Hacking certificates, CISM, CISA, CySA+, and more.
Additionally, it provides a virtual lab, practice tests, and exam simulations in topics such as cybersecurity, hacking, penetration testing, certifications, Linux, networking, cloud, and more.
Now, StationX offers two types of subscription plans – either you can choose its VIP membership and access thousands of courses at a cheaper price or purchase any Course bundle and get lifetime access. Don't worry; later, we will do a head-to-head comparison of both plans, but for now, let's talk about who StationX is for.
Who is StationX for?
If you're interested in learning about cybersecurity and making a career in this field, you should definitely try StationX. If you want to learn about ethical hacking and penetration testing, Linux, cloud computing, coding, DevSecOps, or prepare for any cybersecurity certification exams, StationX can be an excellent learning resource for you.
Whether you're an absolute beginner in the cybersecurity space or have prior experience, StationX offers different types of courses depending on your skill level.
StationX courses and content quality:
I'm not going to tell you what courses StationX offers since you can easily check that on their website. Instead, let me tell you about the content quality of StationX courses.
In one word, the course materials are AWESOME.
I have enrolled in a couple of courses such as "Learn Python & Ethical Hacking from Scratch", "Learn Ethical Hacking from Scratch", and "CompTIA A+ Certification (220-1001) The Total Course". All of these courses are worth appreciating.
Not only are the instructors highly educated, but I also like their simple and effective teaching style. For example, the Ethical Hacking courses I've been taking are taught by Zaid Al-Quraishi, an ethical hacker, pentester, and computer scientist. He's also the founder of zSecurity, ZSVPN & Bug-Bounty.
In the Ethical Hacking course, he helps you install Kali Linux as a VM on Windows by giving you a direct download link so you don't harm your main computer while writing any ethical codes.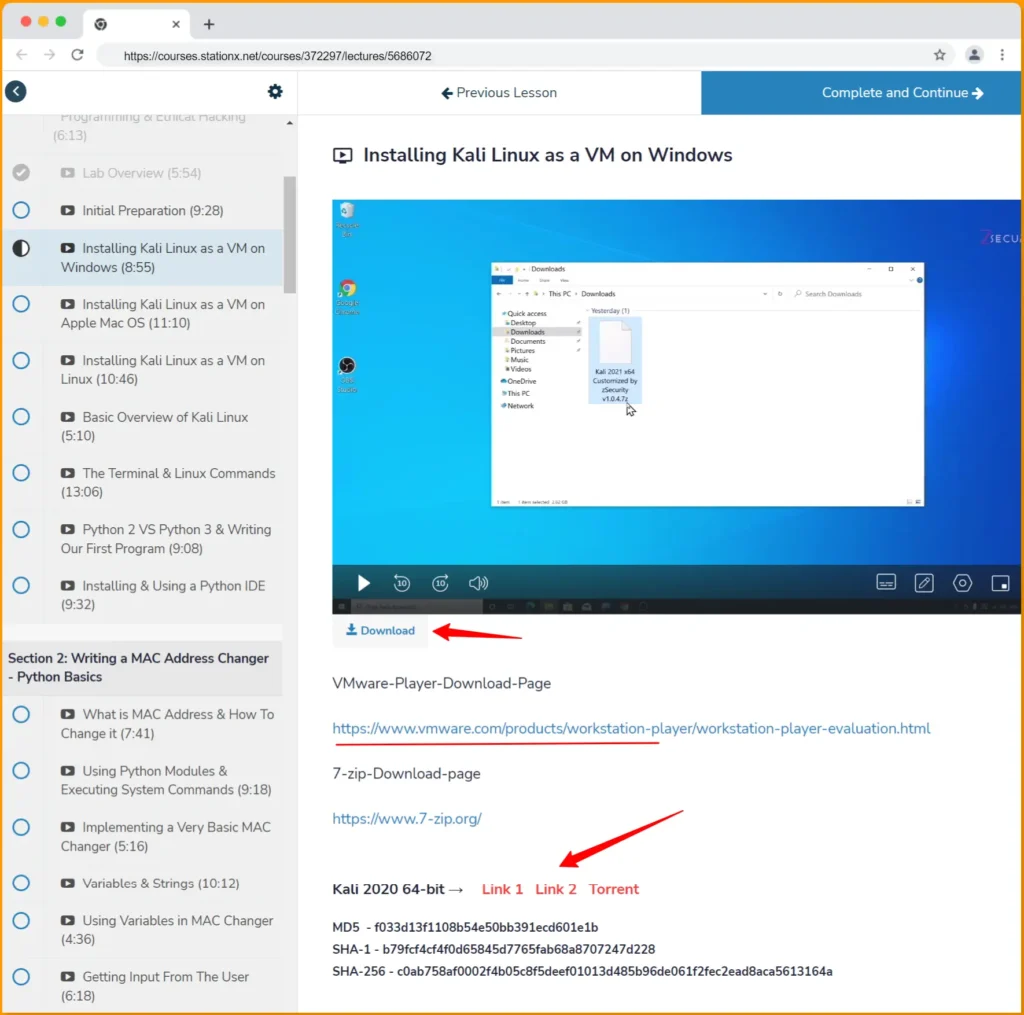 In the "CompTIA A+ Certification (220-1001) The Total Course" by Total Seminars, he explains everything from the basics of the CompTIA A+ Core 1 Exam to CPUs, motherboards, RAM, firmware, building a PC, wireless networking, internet, mobile devices, and more. He teaches a total of 22 chapters, which will prepare you for the CompTIA A+ certification.
The courses are in video form, and for most of the video lectures, you also get a transcription. Additionally, if you find any particular class useful and want to retake it, you can download the lecture to watch it offline.
While watching the lectures, you can also take notes on the sidebar. If you encounter any issues or have doubts about the theory you're studying, you can directly go to "Get Support" and ask your mentor or in the forum. The forum community is engaging, as shown in the image below.
The course content looks great, and as a beginner in cybersecurity and ethical hacking courses, I'm excited about learning. I can't say whether the course material is too hard or too easy.
However, there are no quizzes or rewards inside the courses, which might make a student less motivated to continue the course. Having quizzes during the course makes you active while learning, and getting a reward after finishing the course motivates you to finish the course.
So, it can be disappointing. But, the courses are amazing and provide immense knowledge and value.
---
StationX VIP membership Vs Courses bundles:
As I have already mentioned, StationX offers two types of subscription plans: VIP membership and Course bundle. Let's discuss them one by one…
VIP Membership: Benefits and Downsides
Well, whether you're an absolute beginner in cybersecurity or know the nitty-gritty about it, I highly recommend taking the VIP membership on StationX. It costs only $197/year and offers lots of value, including access to all training, virtual labs & exam simulations, a VIP career success toolkit, and the best part, customized study roadmaps, and dedicated mentor support. These are super helpful, especially for beginners who have no idea where to start or what to learn.
I enrolled in the VIP membership for this very reason, to get better guidance about the right learning path and mentor support in learning cybersecurity. This career mentor support is only applicable to VIP members. Once you reach out to them, they will provide a proper roadmap for learning cybersecurity and making a career in it. They will ask about your experiences with cybersecurity and a few questions about your academic background to give you a customized learning path.
Without the right guidance and mentor support, having access to all the courses at once can make it very difficult for you to pick a course and finish it completely. You might end up enrolling in too many courses at once and not learning anything. For example, while you can unlock any course and start learning from anywhere, this might not be useful since we don't jump from A to Z but rather learn step by step.
Additionally, StationX doesn't provide any live training and Q&A sessions with mentors to clear all your doubts. You just get all the recorded video lectures. It is really disappointing and the main downside of StationX even after having great course material.
Course Bundles:
If you have checked out the StationX course bundles, you may have found them expensive, but trust me, they are not. In fact, these course bundles are perfect if you are already in cybersecurity and know exactly what you want to learn.
Here are the best course bundles:
Here, you may not get unlimited access to all training, virtual labs & exam simulations, but you will surely complete the course that you have paid for.
You may not get dedicated career mentor support, but you'll have full-time staff available to answer all your questions. And the best part of the course bundle is that you get lifetime access to all the course bundles you purchase, not just for one year like the VIP membership. So, you can retake those courses for free any time and anywhere after one year.
Ultimately, the choice of selecting the right plan depends on you and which plan you find more beneficial for your learning.
StationX support:
StationX offers support in four forms. Just click on the "Get Support" button, and you can ask your question in the forum community or directly contact StationX support mentors.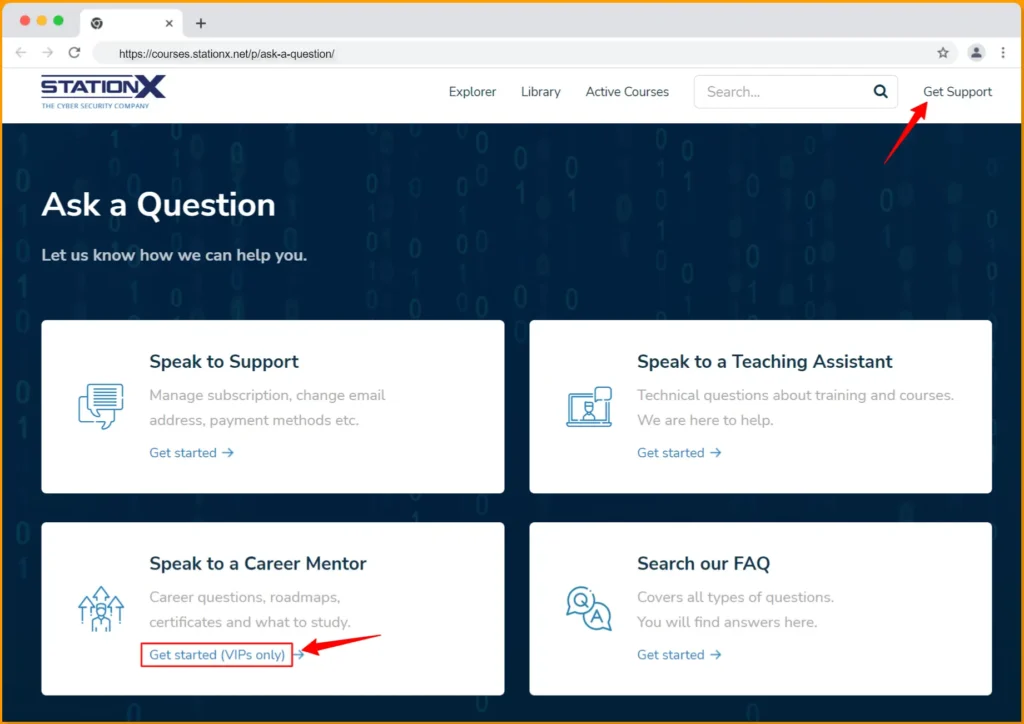 Inside the forum community, there are different categories like General Activity, Cybersecurity, Cyber Security Career, and many more. You can create a new topic and ask your question on any topic. A member from StationX would reply to your message, or anyone can give the answer. (Look at the above forum community image)
However, there are very few instructors take participate in forums to answer your questions and clear your doubts.
For technical help with your account, managing subscriptions, and payment, there is a different way of contacting StationX.
For VIP members, there is a separate contact method available, i.e., "Speak to a career mentor," where a member can ask questions about their career roadmap, certificates, and anything about their learning, as I have already mentioned while discussing the VIP membership's benefits.
---
To finish this StationX review, below I'm going to highlight the Pros and Cons of it so you can make a better decision.
What I like about the StationX [Pros]:
What I don't like about the StationX [Cons]:
My Overall Rating: 4.4/5
---
StationX Alternatives:
StationX is not the only platform that offers cybersecurity courses. Let me break down some of the alternatives to StationX that are worth checking out…
Similar to StationX, this platform also offers hundreds of courses in different branches of cybersecurity. You can also join this platform for free and explore its courses to learn the basics for free. Here, you can also earn rewards like points and badges, and track your progress on the leaderboard, which can motivate you to learn faster and stay ahead of others.
While taking the courses, you'll also be asked short objective questions that were missing from the StationX courses. However, this platform also has some flaws. The main downside is that most courses are in text format, which may become boring after reading a couple of lessons. In addition, there is no live training available, even in the premium plan.
Let me know if you need a detailed review of this platform as well.
This platform is also dedicated to helping you learn about cybersecurity and build a career in the field. It offers both free and paid plans and provides a clear guide and roadmap for learning cybersecurity. One great feature of this platform is that it conducts webinars and live training sessions that you can participate in. Although I haven't tried this platform myself, it seems like it's worth checking out.
If you have been taking online courses for a while, you must have heard about edX. This platform is not solely dedicated to cybersecurity courses but it does offer a few cybersecurity-focused courses. These courses are similar to the course bundles offered by StationX and are created by top universities like IBM. You may also want to check it out, but I would recommend it to those who know exactly what they want to learn in cybersecurity.
Suggested Readings:
Now it's your turn:
In this StationX review, I have discussed everything you need to know about it. I have shared what I like and what I don't like about it.
Overall, StationX provides excellent course material to help you learn and improve your skills in cybersecurity. The VIP membership is affordable and provides a lot of value.
I hope you enjoyed this article and found it helpful. Now, I'd like to hear from you:
Will you try a StationX VIP membership?
If you have any questions, please let me know. I would be happy to answer them.
StationX FAQs:
Is VIP membership worth it?
If you're interested in learning cybersecurity and pursuing a career in the field, then StationX could be a valuable resource for you. With thousands of recorded video lectures from experienced mentors in cybersecurity, you can access a wealth of knowledge. VIP members also receive dedicated career mentor support to help them navigate their learning and growth in the field. However, it's worth noting that VIP membership doesn't offer any live training to interact with mentors, nor does it provide any rewards for learning.
Can you get a job with a StationX certificate?
While StationX offers certification training in various cybersecurity areas, it's worth noting that the certificates issued by the platform are not accredited by educational institutions or recognized by large companies. Hence, it's hard to determine whether they would help you get a job. However, the courses provide a vast amount of knowledge and training in many cybersecurity domains, which could be beneficial in preparing for certification exams and potentially landing a job in the field.