(To fund our blog without advertisements, we may use affiliate links in this post. Rest assured, it does not affect our honest review.)
If you want to enter the field of Project Management and are considering Google Project Management Professional Certificate, make sure you read this article until the end.
In fact, I believe that after reading this article, you won't need to look for another, because in this Google Project Management Certification review, we're going to discuss everything important about it, such as who this certification is best for, what you'll learn in this course, whether taking this Google certification is worth it, and more.
You may also take a look at our below table of contents.
So, let's dive into it…
Career in Project Management:
Before I start my review of this course, let me give you an overview of the career in project management. Since this course is designed for beginners, it's important that you are well-acquainted with this industry.
In simple terms, project management is the application of knowledge, skills, tools, and techniques to meet project requirements and achieve desired outcomes.
Project managers play a crucial role in various industries such as IT, construction, healthcare, and more, ensuring that tasks are completed efficiently and effectively. It doesn't require you to be an expert in any industry, but you must understand the fundamentals of that industry.
According to the Project Management Institute, the project management labor force in seven project-oriented sectors is expected to grow by 33 percent, resulting in nearly 22 million new jobs by 2027.
To work in this industry, strong organizational, leadership, and problem-solving skills are required, often accompanied by certification, such as the PMP (Project Management Professional) for career advancement. Project managers are in high demand across industries, making it a versatile and rewarding career path.
A career in this industry involves planning, executing, and overseeing projects to achieve specific goals within a set timeframe and budget. You may read this article for a better guide on how to become a project manager as this article is more focused on review of Google Project Management certification program.
What is Google Project Management Professional Certification?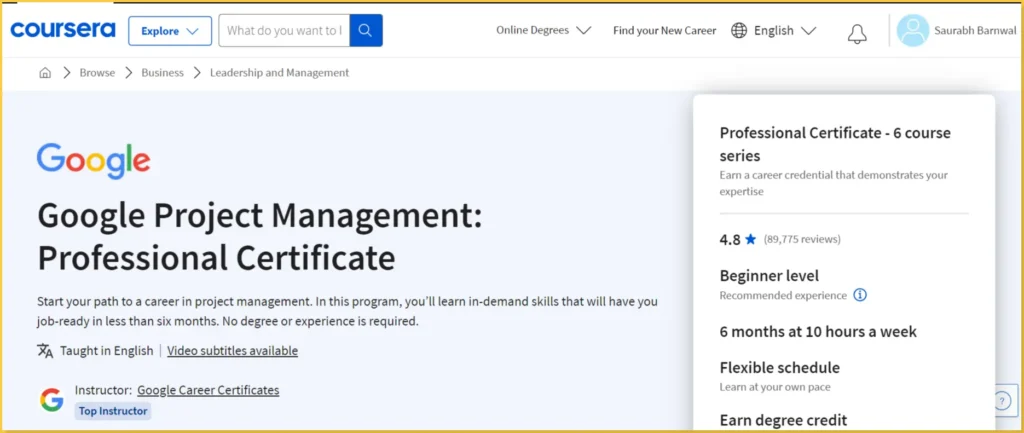 Now that you have a decent knowledge of this industry, let me tell you what this program is all about.
The Google Project Management Certification program is part of Google Career Certificates, designed by senior practitioners at Google to provide you with the core concepts of Project Management and prepare you for an entry-level job.
The best part is that it does not require any prior experience or a college degree to get started with this program. All you need is your willingness to learn and kickstart a rewarding career as a project manager.
This program consists of six industry-relevant courses that focus on project management fundamentals, including goals, objectives, and deliverables, risk management, team dynamics, project management methodologies, data-driven decision-making, and more.
You will learn how to manage budgets and meet the needs of the people involved in the project. You will also gain insight into different project methodologies like Agile, Scrum, and Waterfall. Additionally, you will utilize tools like Kanban and explore project management software such as Asana.
Furthermore, this program can also you develop your skills, including communication, leadership, and more, some of which you likely already possess.
The complete course is available on Coursera, a top-notch e-learning platform that excels in organizing course content and making it more effective and enjoyable to learn, as I have experienced in all Coursera programs I pursued.
This course also includes video lessons, reading materials, quizzes during the video lectures, and graded assignments. Moreover, you have the flexibility to schedule your learning time, take notes, read video transcriptions, and download any exercises you find most important. You may also read my Coursera review for more information.
Who is this program best for?
If you find the field of Project Management enticing and envision a fulfilling career, you may consider enrolling in this certification program.
However, it's important to note that this program is specifically designed for beginners in project management who wish to learn from the ground up. The course provides a solid foundation and helps you prepare for an entry-level job without requiring any prior experience or knowledge.
So, regardless of your current profession or existing knowledge, if you aspire to become a project manager, this course is an excellent starting point.
In general, I found this program suitable for:
Individuals who wish to acquire a highly in-demand skill and start a career in Project Management.
Students who want to pursue a new career path alongside their academic studies.
People looking to switch their careers to Project Management due to its high demand.
If you already have a clear understanding of the fundamentals or are currently working in this industry, I would advise to consider an advanced-level project management training program.
How Much this Certification Cost?
Similar to other professional certification programs on Coursera, the Google Project Management Certificate costs $49 per month. If you choose to access the complete program, the price depends on how long it takes you to finish the course.
So, the average cost is $196 for a four-month completion time, or $294 for a six-month completion time. You may also access a 7-day free trial with this program.
In India, this program costs ₹3,242 for a three-month completion time and ₹4,864 for a six-month completion time, which is comparatively less and affordable. Additionally, you will also have an EMI payment option and a 14-day refund period.
Alternatively, you may sign up for a Coursera Plus subscription and gain access to 7,000 courses, including this program and other professional certificates. The Coursera Plus subscription costs only $59 per month, which can be an amazing deal, especially for those who have a goal of lifelong learning and taking several courses with Coursera. I highly recommend reading my Coursera Plus, if you're thinking about it.
Furthermore, Coursera also offers great discounts on its professional certifications and its Plus subscription. So, you may get a good discount with this course. To stay updated with these discounts, it's better to sign up for our newsletter by visiting our home page. As an affiliate, we receive information early on these offers.
Now, let's move on to the main topic: what you will learn in this course or, to put it differently, how this course can help you start a career in project management.
What do you learn in this course?
If you're new to any industry or course, the first question you should ask yourself is, What will I learn in this course? If the learning journey sounds interesting, then you'll enjoy the career you choose. Believe it or not, I have personally experienced this.
Now, what can you expect to learn in the Google Project Management Professional Certification on Coursera? Allow me to explain in detail.
As I mentioned earlier, the course is designed for completion in 6 months (by studying 10 hours per week) and it includes a total of six series of courses to build the fundamentals and a solid core to secure an entry-level job in this industry.
These six-series courses are:
Foundations of Project Management
Project Initiation: Starting a Successful Project
Project Planning: Putting It All Together
Project Execution: Running the Project
Agile Project Management
Capstone: Applying Project Management in the Real World
Along with learning on these subjects, the program also prepares for job training and career placement.
Let's explore each of these series courses and see what you learn in every course:
As the name suggests, this specific course is all about teaching you the fundamentals of project management. So, if you don't have much exposure to this industry, this course is going to be worth it for you.
Starting with the definition of Project Management, how project managers add value to organizations, and the role and responsibilities of a project manager, this series covers all the basic and important theory.
Furthermore, in this first course, you will also learn about the phases of the project life cycle and why it is important to complete them. You will also be taught about the career and future prospects in this industry.
This series includes a total of 4 modules and may take 18 hours to complete. Believe it or not, I found all the instructors and their lectures highly interactive and engaging.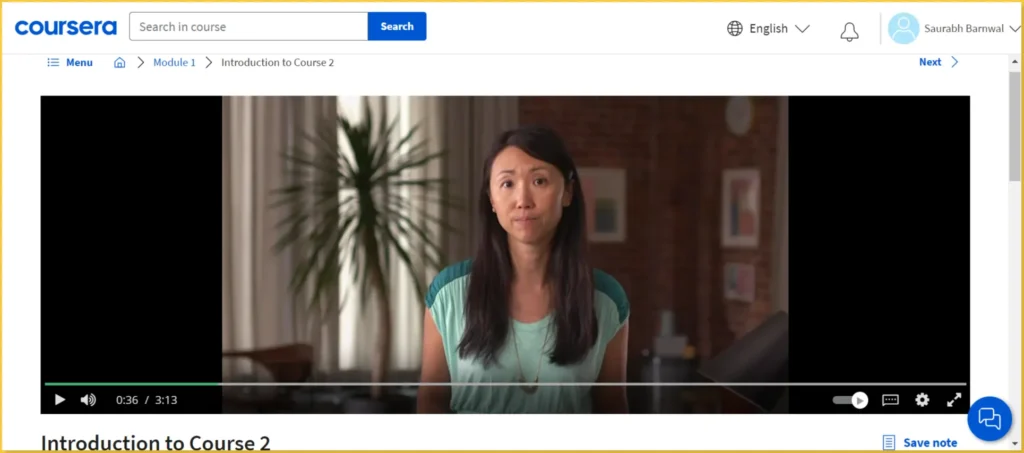 After ensuring your fundamental understanding, the next course teaches you how to get started with projects. It comprises a total of 4 modules and may take approximately 21 hours to complete.
This comprehensive course is led and taught by JuAnne, a senior program manager at Google with 8 years of experience.
In this specific course, you will learn all the steps for initiating a project. It starts with an overview of the initiation phase, which is the stage where ideas converge to form the foundation of a project plan.
Furthermore, you will identify the individual components of initiation, such as the project scope, goals, and deliverables. You will also learn how to measure the success of a project, a crucial aspect of project management. After all, the goal is to meet or exceed all the requirements for a successful project.
In the subsequent modules of this course, you will also be taught about working with stakeholders. This includes how a project manager coordinates and effectively collaborates with stakeholders. It's important to note that stakeholders have a direct interest in the project's completion and success.
In the final module, you will gain hands-on experience with various tools and resources typically required to complete the work of a project.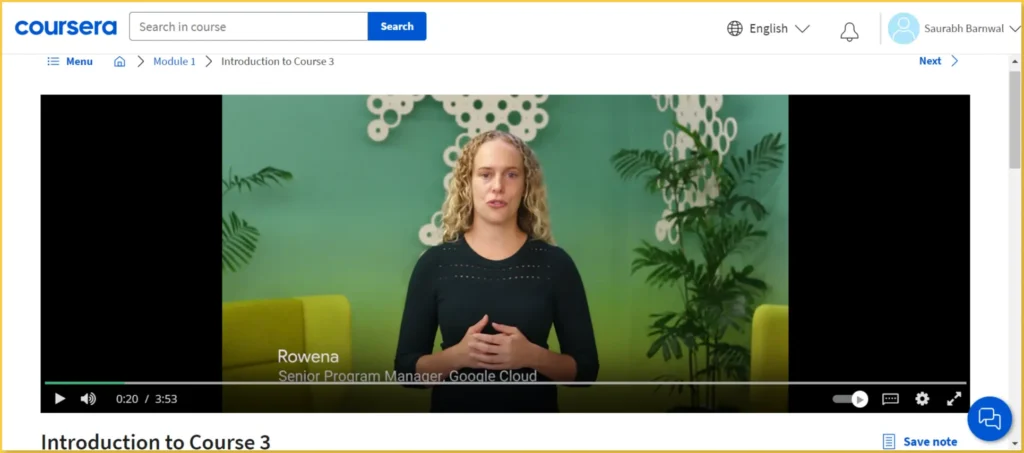 This course is focused on the planning phase. It is led and taught by Rowena, who works as a senior program manager in Google Cloud.
The course aims to share the essential tools and techniques to complete this phase. Starting with how to kick off the planning phase, you will explore the importance of setting and reaching milestones. You will also be asked to complete a set of tasks for breaking down and distributing the workload.
However, this specific course focuses more on budgeting and how the overall budgeting process works. You will learn about people or companies outside of your organization that may play a role in determining the budget and the importance of sufficiently documenting your budget.
Furthermore, the course will teach you about the various risks and the possible impact those risks can have on the project. Nothing ever goes quite as planned, but risk management is a great way to ensure you know what could go wrong and how you'll address it. This includes communicating possible risks to your stakeholders, creating a mitigation plan, and then keeping an eye on those risks to make sure they don't stall your projects.
As a project manager, you will be responsible for identifying those risk threats and providing solutions for them, which you will learn more about in the next series of courses.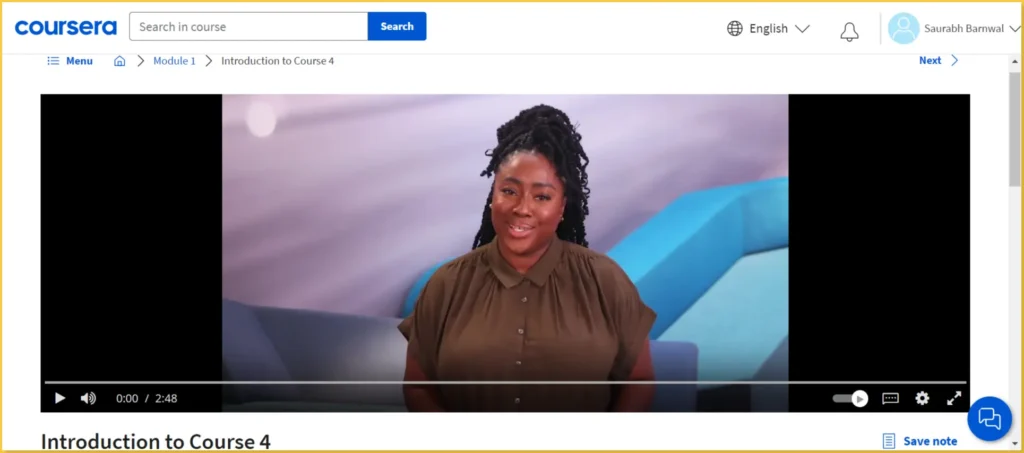 This course is led and taught by Elita, who works as a senior engineering program manager at Google. It consists of a total of six modules and may take 26 hours to complete.
The complete course focuses on how to put a project plan into action. In the first step, you'll learn more about risks and unforeseen changes throughout the project.
Remember the previous course and how it involves the concept of risk mitigation during the planning phase. This course takes it one step further and discusses what to do when a risk actually materializes.
Furthermore, it focuses on tracking and quality. You'll learn how to track and measure your project's progress and how to use continuous improvement and quality management techniques to keep the project on track and running smoothly. These best practices are valuable for almost any role.
Other significant aspects of running a project include decision-making. You'll learn to both use and analyze data to inform your decision-making and then, in turn, use that data to explore and explain key aspects of your project.
In addition to the theoretical part, you will also learn team management and the fundamentals of influencing. You will also learn some of the tools that provide effective team communication along with tips for organizing and facilitating meetings.
Finally, the course wraps up by discussing how to close a project. You'll learn the steps required to finish a project and the importance of celebrating a job well done with your team. After all that planning, this is the point in the project life cycle where work gets done and everything comes together.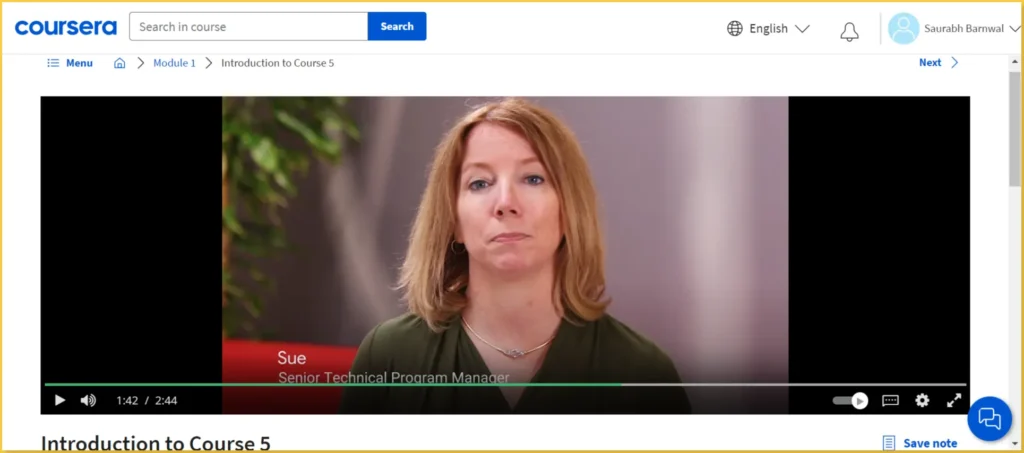 By taking the series of courses mentioned above, you will learn about the foundations of project management and what it takes to be a project manager. You will also explore the phases of the project lifecycle, including initiation, planning, execution, risk management, and the project's closure.
Additionally, you will gain hands-on experience with various tools and techniques for managing and communicating your plans. I believe that by effectively completing the four courses mentioned, you will establish a solid foundation in project management.
Now, let's move on to delivering projects with Agile. If you're not already familiar, Agile is one of the most popular software development methodologies that helps teams create and deliver projects.
This is the second-to-last course in the Google Project Management Certification program, and it is dedicated to Agile Project Management from the basics. It consists of four modules and may take approximately 25 hours to complete the course.
This specific course can help you prepare for a career in Agile project management. You'll learn the history of Agile and be introduced to a specific Agile delivery framework called Scrum. The instructor will also educate you about the core roles that comprise a Scrum Team.
In the final module, it will provide you with the best practices and real-world scenarios where you can apply the Agile approach to lead your project to success.
I forgot to mention earlier that the entire course is taught by Sue, a senior technical program manager with Google's support platform, and she does an excellent job of explaining complex concepts.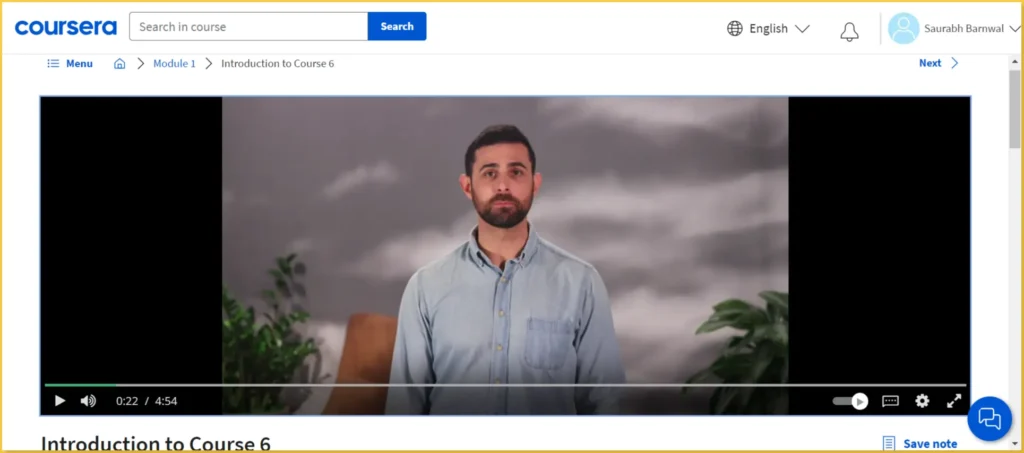 Now, we have come to the final course series, which will help you put all your training into the real world. You will actually apply whatever you've learned in the previous series of courses, from project initiation and planning to execution and closing stages, in the real world.
This course also includes four modules but may take a little longer, about 36 hours, to complete. The course is led by Dan, who also works as a program manager at Google.
In this last course, you'll create project documents based on an imagined scenario. The first scenario will involve a small restaurant chain called "Sauce and Spoon," which aims to meet its annual growth and expansion goals. You'll gather details through conversations, emails, and other materials, just as you would in a real-world scenario.
By the end of this course, you'll have developed a portfolio of project management documents that will demonstrate your ability to manage stakeholders and teams, organize plans, and communicate project details.
Furthermore, there will be a dedicated module on negotiating effectively with stakeholders, which will be especially beneficial for your career growth in any industry you choose to work in.
The best part is that each activity you complete in this course contains guiding questions to help you create common project documents that you can discuss in a job interview and utilize throughout your career.
As this is a professional and career-oriented program, I'm confident that the skills you learn will be valuable when applying for jobs or working on projects in your current line of work.
My Verdict: Is Google Project Management Certification Worth It?
There is no doubt that this course offers a lot of value. Based on its course content and what they teach in project management, it is commendable. I'd say that if you're interested in starting a career in project management, this program is the best to consider.
The program is designed to provide a strong foundation in project management and can help anyone start a great career as a project manager. The best part is that you will learn everything from scratch, and you don't need to have prior knowledge and experience to take this course.
Moreover, the course also provides career assistance and helps you to secure an entry-level job in this field. The price of this program is also affordable and well worth the investment. I would definitely recommend this program to anyone who is looking for a job-oriented career in project management and wants to learn everything from scratch.
Believe it or not, but you'll never get bored while pursuing this course, as Coursera has done a great job in organizing the course, which also includes quizzes and graded assignments. Furthermore, all the instructors from Google are very active in teaching.
However, those instructors do not participate in the discussion forum to address any issues, and there is no weekly or live interaction with the instructors, so it makes me a little bit disappointed about the course. The rest of the course is well and good.
Now, I'm breaking down the best alternatives to this program that you may also consider.
Alternatives of Google Project Management Professional Certification: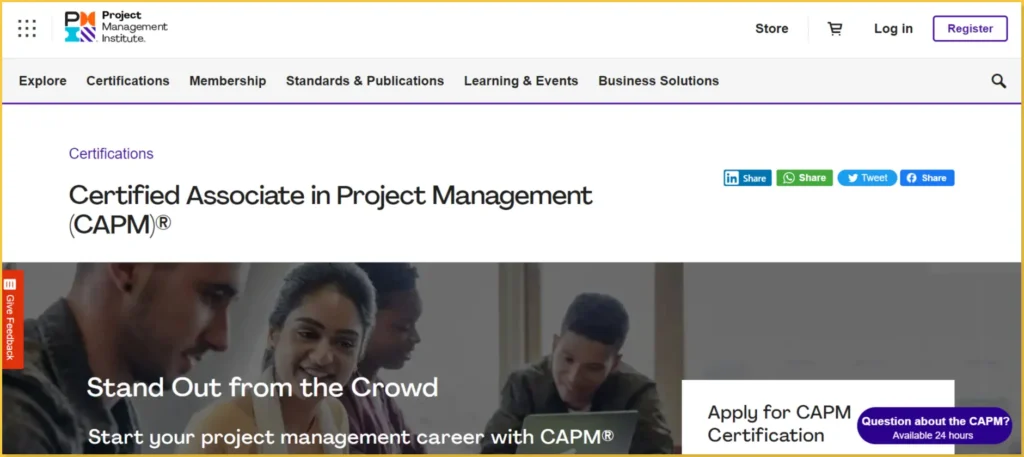 PMI offers globally recognized certifications in project management, including the CAPM for entry-level professionals, ideal for individuals looking to kickstart their project management careers, and the PMP for more experienced project managers. To become a PMP, you must meet specific experience and education requirements, in addition to passing the PMP exam.
These certifications cover a broad spectrum of project management concepts and are highly respected in the industry. PMI provides various resources, including study materials, courses, and practice exams, to help candidates prepare for these exams.

This specialization program in project management is also available on Coursera, offered by the University of California, Irvine. This course is designed for beginners and can be completed in just one session by dedicating 10 hours per week to studying.
However, it does not include training in Agile Project Management and does not delve as deeply into fundamental concepts as the Google Project Management Certification does. Nevertheless, it can be worthwhile for building your foundation and acquiring essential skills, such as project initiation, budgeting, and managing project risks, all within a short timeframe.
Furthermore, in a short period, you'll be able to determine if you enjoy the course and if pursuing a career in this field is the right choice for you.

Available on edX, this program is also designed for beginners in project management. Here, you'll learn the fundamentals and develop job-oriented skills.
The professional certification is created and offered by The University of Adelaide and may take 3 months to complete by studying 2-3 hours per week. Similar to the above specialization program on project management featured above, this program does not include Agile training and others, but it may provide you with a good overview of the fundamentals in this industry.
This program covers various aspects of project management, such as project planning, risk management, and leadership. It may also include video lectures, quizzes, and peer assessments.
Now It's Your Turn:
So, In this Google Project Management Certification review, I have discussed everything important about this program. Starting from what this program all about, who is this program good for, cost, and what do you learn in this program. I have also featured a few alternatives of this program that you may also consider enrolling.
I hope you enjoyed this review and found it helpful for starting a career in project management.
Now I'd love to hear from you:
Got any thoughts or questions about this program? And, how did you find my review?