A big thanks to Shreya for sharing her experience with the Digital Marketing Nanodegree Program :)
Udacity Digital Marketing Nanodegree Certificate: 8.5/10
"It offers flexibility and allows you to learn at your own pace. However, it can be slightly expensive. They provide one-on-one feedback, real projects, and various resources like running ads and implementing SEO. They also grade your work and expect you to meet their standards before progressing further.

Regarding career services, they don't directly provide them. Instead, they connect you with an open network, allowing you to network and take the next steps. Perhaps I didn't explore this aspect thoroughly. Unfortunately, I didn't receive much assistance in finding a job, but I did gain valuable upskilling opportunities."
Looking for a detailed Udacity Digital Marketing Nanodegree review? Then make sure you read this article until the end.
After having a great conversation with Shreya, I decided to take a one-month trial of this course so that I can provide you with a better review and guide.
However, I want to clarify one thing: I already had experience in Digital Marketing before enrolling in this program. The sole reason for my enrollment was to assess the content quality and publish a detailed review to help you make an informed decision.
In this article, I'll share all of my experiences with this program. I'll discuss what I found great about it, what I disliked, who I would recommend it to, and most importantly, whether holding a Digital Marketing Nanodegree can help you land a job.
So, stay tuned!
Before diving into my actual review, let me provide a quick overview for those who haven't explored this Nanodegree program yet. If you're already familiar with it, you can skip this and jump to the table of contents below.
Udacity is offering a 60% OFF "Back to Skill" discount. This offer is valid in July, 2023. Read our post on how to claim this Udacity August 2023 Discount.
Read also: Udemy Vs Coursera Vs Udacity- Which is best?
Udacity Digital Marketing Nanodegree Overview: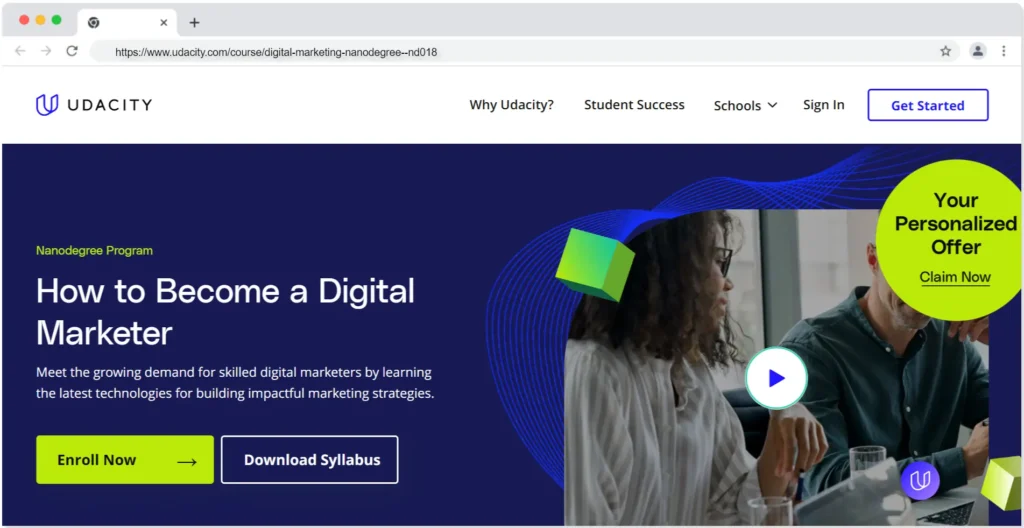 As we all know, digital marketing is about promoting products or services using the internet.
This Nanodegree program is a part of the Udacity School of Business and provides hands-on experience in digital marketing. It is specifically designed for beginners, aiming to teach essential skills needed to get started in this field.
Throughout this course, you will gain knowledge in marketing fundamentals, A/B testing, Google Analytics, Facebook Ads, Social Media Marketing, SEO, SEM, digital advertising, and email marketing at a beginner level.
The program consists of a total of 7 series modules, with an average completion time of 3 months, leading to the achievement of a Nanodegree certificate.
Similar to other Nanodegree programs, this one also includes real-life projects, technical support from staff, and career services such as LinkedIn profile optimization. Additionally, you will learn from instructors who are already working in the digital marketing industry. For more information read my Udacity review.
Later on, we will delve into all the aforementioned aspects. But for now, let's focus on who would benefit from this program.
Who is this Nanodegree Program good for?
After experiencing this Nanodegree program, I'd say this program is ideal for people who want to learn Digital Marketing from the basics in an organized way and want to make a career in Digital Marketing.
Since the program is tailored for beginners, I wouldn't recommend it to those who already possess a good amount of experience in Digital Marketing and are well-versed in Google Analytics, Email Marketing, and running advertisements on platforms like Google and Facebook.
Personally, I already have a solid understanding of the fundamentals in these areas, so it's definitely not the right fit for me.
In general, I found this course good for:
People who are interested in switching careers and giving Digital Marketing a try.
Those who are looking for an entry-level job in Digital Marketing but are unsure about the basics.
Solopreneurs who want to expand their business using digital marketing strategies.
Students who want to acquire an in-demand skill alongside their academic studies.
Read also: Google UX Design Professional Certificate Review
My Experience with Digital Marketing Nanodegree:
As I mentioned earlier, my primary goal in enrolling in this program is simply to evaluate the quality of this Nanodegree program, what it provides, and how it can benefit individuals interested in learning Digital Marketing.
Now, let's delve into the positives and negatives I've identified about this course…
What did I like about Udacity Digital Marketing Nanodegree?
What I disliked about the Digital Marketing Nanodegree?
What do you learn in this course?

As I mentioned in the overview section, this Digital Marketing Nanodegree program will help you develop a solid foundation in 7 different topics:
Marketing Fundamentals,
Marketing Data & Technology
Social Media Marketing (Elective)
Search Engine Optimization (SEO)
Search Engine Marketing (SEM)
Digital Advertising (Elective)
Email Marketing (Elective)
If you're new to digital marketing, I'm sure most of these subjects are totally new to you, and you must be curious about what you'll be learning in these modules.
In each module, you'll work on a project that will be reviewed by experienced reviewers. You will also be asked to install a few tools like Google Site Manager, Site Explorer, Screaming Frog, Google Ads account, and a few others.
Let me give you an overview of the knowledge you'll gain from these modules. This will help you grasp the course better.
1. Marketing Fundamentals:
In this course, you'll be introduced to a digital marketing framework, how to build your customer journey, and the role of marketing objectives, KPIs, and metrics. and how to prepare the content strategy. You'll be also introduced to different Digital Marketing roles and projects.
2. Marketing Data & Technology:
In this module, you'll learn about marketing data, how to track campaign data, perform A/B Testing, Google Analytics, build e-commerce, and discover the future of Digital Marketing.
3. Social Media Marketing:
This is what I found the most interactive during the course. I had previously taken the META Social Media Marketing Professional Certificate, and you'll be surprised to know that the two same instructors are teaching in this program too. Here, you'll learn everything from setting up a business social media profile to running paid ad campaigns on Facebook-Meta.
4. Search Engine Optimization (SEO):
For any website or business looking to get free organic traffic, SEO is the way to go. Actually, if you found this article by searching for "Udacity's Digital Marketing Nanodegree review" on Google, it's probably because I optimized my blog for SEO.
In this module, you'll learn how to do SEO and make your website or blog optimized for it. You'll learn things like building a keyword list, improving user experience, link building, doing an SEO audit, and more.
I could explain each concept in detail, but that would make the article really long. I highly recommend taking this course to learn everything properly.
5. Search Engine Marketing (SEM)
Just like SEO, Search Engine Marketing is all about getting your blog/website or business to rank at the top of Google search result pages. The only difference is that it's a paid service. Unlike SEO, you won't get free traffic.
With Search Engine Marketing, you have to pay Google for every visitor click, and that's where Google Ads comes in. It's a super easy and incredibly effective way to drive visitors to your online presence.
In this module, you'll learn how to create, run, and improve an awesome ad campaign using Google Ads. Trust me, you're gonna love it!
6. Digital Advertising:
Now Digital Advertising is all about advertising on the web and displaying ads.
This module is very helpful in learning how to display ads, how it is bought and sold (including in a programmatic environment), how to set up a display/video advertising campaign using Google Ads, and strategies for effectively reaching audiences across multiple channels.
7. Email Marketing:
Email marketing is the most crucial concept in digital marketing. It's all about building an audience and converting them into customers using lead magnets like ebooks or free tutorials.
This module will teach you how to create a killer email marketing strategy, run successful email campaigns, and track your results.
Does Udacity Digital Marketing Nanodegree worth it?
I would definitely say yes if you're a beginner in digital marketing and want to start a career in it.
The course covers all the major concepts of digital marketing, including Google Analytics, social media marketing, email marketing, SEO, SEM, running ads on Facebook-Meta and Google Ads, and measuring results.
No doubt, you can learn all these concepts for free from YouTube as well, but the way Udacity structures the modules is truly commendable.
You learn each concept from the beginner level and are asked to complete projects in every module. These projects are then reviewed by experts, and you receive feedback as well.
The best thing about Udacity's Digital Marketing program is that you work on real projects, run actual AdWords and Facebook campaigns, and Udacity provides you with a budget for that.
All in all, I would say the Nanodegree is very helpful in learning essential concepts in digital marketing. However, honestly, I found the program to be costly.
>> Try Udacity Digital Marketing Nanodegree Program
Can you get a job with a Digital Marketing Nanodegree Certificate?
My main purpose in taking this program was just to check the course whether was worth it. My intention was not to look for a job and therefore I did not find any need to hold a Nanodegree certificate since it's not accredited also.
But I did research and found, that Udacity claims they offer career services and help you to get a job also. And, to find out how much that is true, I had a conversation with Shreya who actually holds a Udacity Digital Marketing Nanodegree certificate. I already have featured her job experience at the beginning of the article.
It may be true some companies may recognize Nanodegree while others may not. When it comes to getting a job in digital marketing, it completely depends on your skills and experience and I believe Udacity does a good job at it.
Overall, I cannot guarantee that having a Digital Marketing Nanodegree will secure you a job. However, it can definitely enhance your skills and make you more employable.
Alternatives to Udacity Digital Marketing Nanodegree:
If you are willing to learn Digital Marketing, Udacity Nanodegree is not the only option. Hence I am going to feature some best alternatives to Udacity Nanodegree that you may also consider…
This is a professional digital marketing certificate course available on Coursera, offered by Google itself. The course is also suitable for beginners, and the certificate holds valid recognition. One of the notable advantages of this certification is its affordability and if you opt for Coursera Plus, you may access thousands of courses in many fields including digital marketing.
However, it should be noted that this course doesn't primarily focus on teaching online advertising; instead, it provides hands-on experience in e-commerce stores. For more information, you may read our Google Digital Marketing & E-Commerce professional certificate review.
Once again, this course can provide you with a solid foundation in Digital Marketing. The course is offered by the University of Maryland and is available on edX. You can choose to take this course as a free audit without certification for a limited period or purchase the course, which includes graded assignments, exams, a certificate, and unlimited access.
On edX, you can also find other Digital Marketing courses provided by different institutes. All courses on edX are well-organized, but they do not display user ratings and reviews for any of the courses.
Read also: Udemy Vs edX- Which is best?
Udemy offers thousands of courses in a variety of fields. Like other online learning platforms, its courses are not offered by any institutions or by the platform itself; rather, they are created by individuals like you and me who have expertise in a field and are willing to teach.
There are hundreds of Digital Marketing courses on Udemy, and I have found the Digital Marketing Masterclass created by Phil Ebiner and Diego Davila to be one of the best courses to consider. Before enrolling in this course, it is important to read our Udemy review first.