To support our blog, we may use affiliate links within our posts. However, rest assured that this does not impact the integrity of our reviews.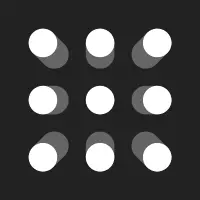 Read the complete MEL Science review for a better guide.
My Verdict
MEL Science is an incredible platform for students who love to engage in experiments, explore scientific concepts, and have fun while learning. If you're a parent who wants to nurture your child's interest with hands-on kits, I highly recommend trying out MEL Science. Personally, I found their STEM and Physics sets particularly enjoyable. Additionally, the concept of using VR goggles for chemistry projects is absolutely remarkable. While the price may appear expensive at first glance, I assure you that it is well worth the investment.
What I like about MEL Science:
What I don't like about MEL Science:
My rating: 4.7
If you're seeking a comprehensive MEL Science review, rest assured that you'll thoroughly enjoy our article today. Having personally used their kits before, I can provide you with an insightful guide and review.
In this article, I will cover everything about MEL Science that you must know. Take a look at the below table of content…
Let's begin with a fundamental question…
What is MEL Science?
MEL Science is a learning platform specifically designed for children and teenagers with a passion for science and conducting experiments. It is a UK-based education company founded in 2014 by Vassili Philippov.
By the way, if you're wondering what MEL stands for, it stands for "More Efficient Learning."
With the subscription plan, you will receive new science kits every month, complete with all the necessary materials, delivered right to your doorstep. The company offers different kits tailored to different age groups of students.
For instance, If you're looking for hands-on kits for your 5-10 years old kids, you may try its STEM kits that allow you to assist your child in assembling a microscope, launching digital space rockets, and engaging in other educational gadgets.
It's important to note that these kits are not merely toys to play with. As a parent, you must provide support during each experiment your child attempts.
MEL Science's each box includes exciting and safe science experiments tailored for children of all ages, delivered monthly. Additionally, you'll have lifetime access to over 70 Virtual Reality lessons, more than 400 Do-it-yourself experiments, and science-related news.
Later on, we'll delve into the science experiments and VR experiences offered by MEL Science.
Who is MEL Science Ideal for?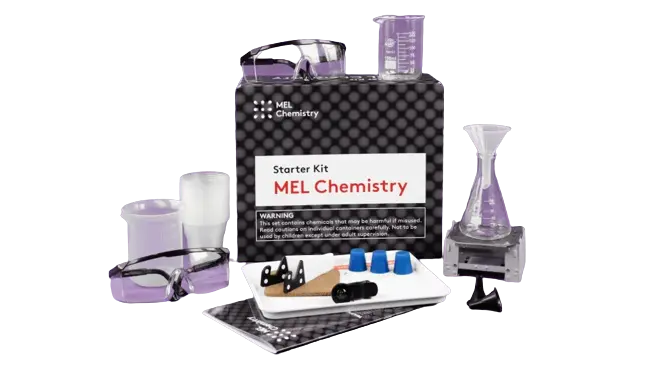 If your kids have a keen interest in hands-on kits, enjoy learning new things, conducting experiments, and if you're looking to provide them with a fun and educational experience at home, MEL Science is worth considering.
MEL Science caters to various age groups of students and offers subjects: STEM, Math, Space, Physics, Chemistry, and Medicine.
So, if you wish for your child to learn and actively participate in either Math or Chemistry, it's important to know which subject to choose.
I have come across numerous students who lack interest in studying mathematics. If your child falls into this category and you aim to enhance their math skills, selecting the math subject may be a suitable option.
Now, let's delve deeper into each of the MEL Science subjects and provide you with a comprehensive review of each one.
MEL Science Subjects:
STEM:
This is something that you'll undoubtedly find captivating. STEM kits, which encompass Science, Technology, Engineering, and Math, are specifically designed for children aged 5 to 10 and beyond.
For instance, let's take a look at the Green Flashlight project. This particular project offers a fantastic opportunity for your children to learn about dynamo flashlights, the principles of green energy, Ultraviolet lights, solar panels, and much more.
If your kids have a keen interest in aircraft and flying objects, the Aircraft Projects will undoubtedly captivate them.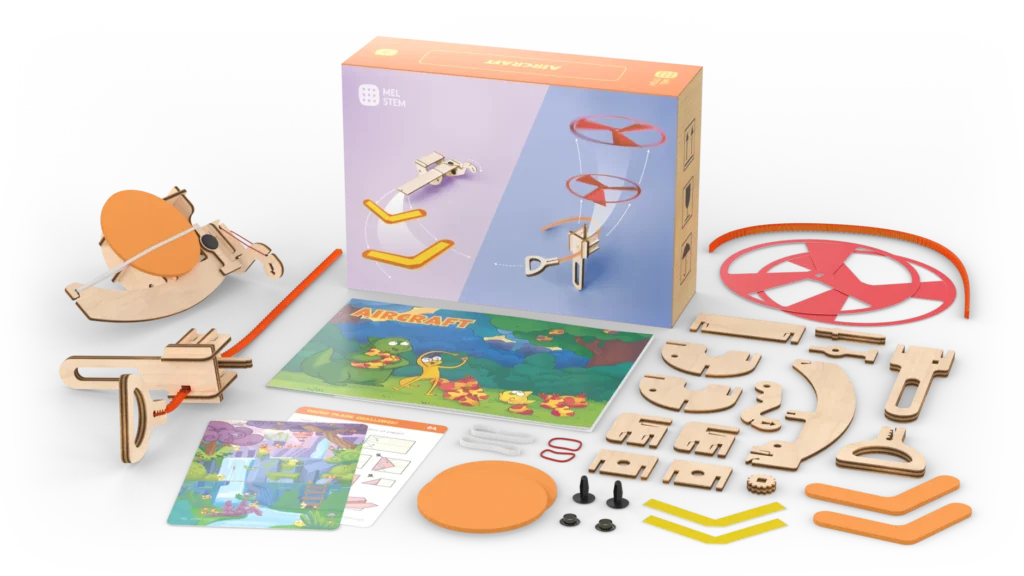 As someone who has pursued a course in Aircraft Maintenance Engineering with a focus on Avionics, I can attest to the inherent fascination of understanding how airplanes and helicopters soar through the sky.
In the Aircraft Project, your child will have the chance to learn about airfoils and basic aerodynamic properties by engaging in activities such as launching disks, boomerangs, and propellers. It's worth mentioning that your support and guidance will be required for these endeavors.
Well, I can explain every STEM kit and its learning but that would make the article long enough. From my perspective, all STEM kits are well worth the investment and you must try them.
Math:
Honestly speaking, when it comes to learning, I don't find all of MEL Science's math projects to be great. Currently, they offer a limited selection of math projects for children aged 8-12+. Take a look at the image below to see what they include.
Having thoroughly explored each math kit, I can confidently state that some of them are excellent for fostering your child's interest in math, particularly as a fellow math student.
For instance, the Beyond Infinity kit offers a fantastic opportunity for your child to delve into the concept of Infinity. On the other hand, the 'Explorer's Math Kit' proves to be highly beneficial for learning various measurement concepts, providing instruments such as a sextant and opisometer.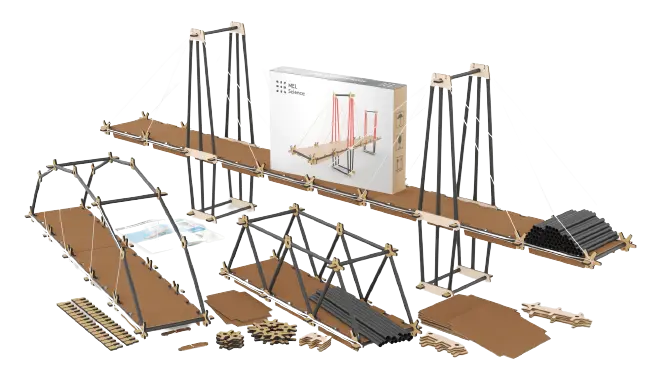 Among the kits, my personal favorite is the Mathematical Bridges kit featured above. It not only facilitates the understanding of geometric concepts but also allows for the exploration of different types of bridges, including their load capacity and other fascinating aspects which is commendable.
Furthermore, there are a couple of kits, namely 'The Art of Fun' and another unnamed kit, that are primarily designed for enjoyable playtime. They provide a great balance between entertainment and education.
If your child dislikes math, I highly recommend giving the math kits a try as well. They can help spark their interest in the subject.
Space:
MEL Science has recently introduced this new subject that focuses on fascinating topics like Rockets and Fuel. As this subject is still relatively new, currently very few hands-on kits are available, as shown in the image below:
However, this subject offers a range of thrilling and awe-inspiring experiments, including Air Rocket, Solid Fuel, Liquid Planets, Convection Cells, and more that seem interesting.
If your child has a keen interest in SPACE and Rockets, these space-themed hands-on kits could be a perfect choice. Each kit comes complete with all the essential information about reagents, precautions, hazards, and other important details.
Physics:
Now this subject's all kits worth it. It offers many projects. It offers a wide range of projects, each centered around a specific physics concept.
Through hands-on experiments, you and your child will have the opportunity to learn and understand physics concepts in a practical manner.
If you're searching for a MEL Science review for hands-on kits in physics, particularly if they have an interest in physics,
I highly recommend it. In our primary and middle schools, we often study physics theoretically without conducting any experiments.
However, with projects like Electrostatics, your child can actively learn about Van de Graaff generators, static electricity, fascinating hair-raising science, and the principles behind electricity generation.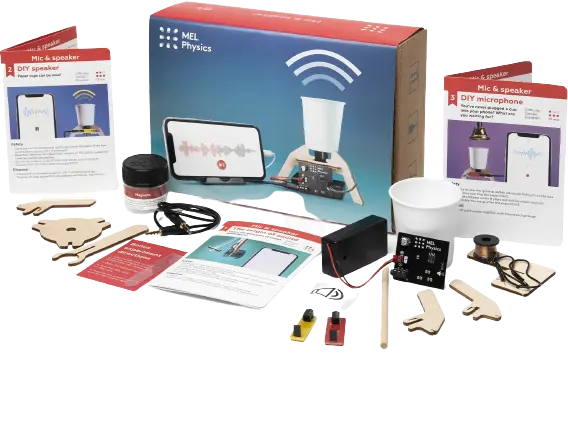 The Mic and Speaker kit offers a hands-on opportunity to explore the generation of sound, the construction of microphones and headphones, and various practical experiments. Each physics kit provides a unique learning experience.
Please note: It is essential to provide full support and supervision for your child while they engage in these experiments.
MEL Science physics kits are recommended for children aged between 8-14+. If your child is in this age criteria and you want to engage them in physics, you may consider these kits.
Chemistry:
In this subject, it is crucial to familiarize yourself with all the safety rules.
If you are a parent, it is especially important to closely observe each step your child takes while conducting experiments that may involve chemicals. Improper usage of these chemicals can lead to injuries and health hazards.
Just like physics kits, chemistry kits are captivating but require careful handling. It is essential to thoroughly read the instructions or watch the video guide before attempting any experiments.
These chemistry kits are recommended for children aged 10-16+ who are interested in the subject. If your child already has a chemistry book that covers the topics of these experiments, it would be an ideal companion.
Personally, I've never been particularly interested in chemistry, but during my research, I came across numerous positive comments from parents regarding the projects included in these kits.
Medicine
If you or your child aspires to become a doctor or pharmacist, MEL Science offers Medicine kits that you might find interesting.
They have a range of kits specifically designed for dentistry, ECG, Pharmacy, and other medical fields. In some of these kits, you even have the chance to interact with and diagnose simulated patients.
These medical kits are recommended for students aged 14 to 99+ and it costs higher than other subjects' hands-on kits. It becomes evident when you see the contents and activities included in the kits.
For instance, let's consider the Surgery kits. Within these kits, you have the opportunity to learn and utilize various types of surgical needles, understand the process of making incisions in artificial skin using an actual scalpel, and delve into other captivating aspects.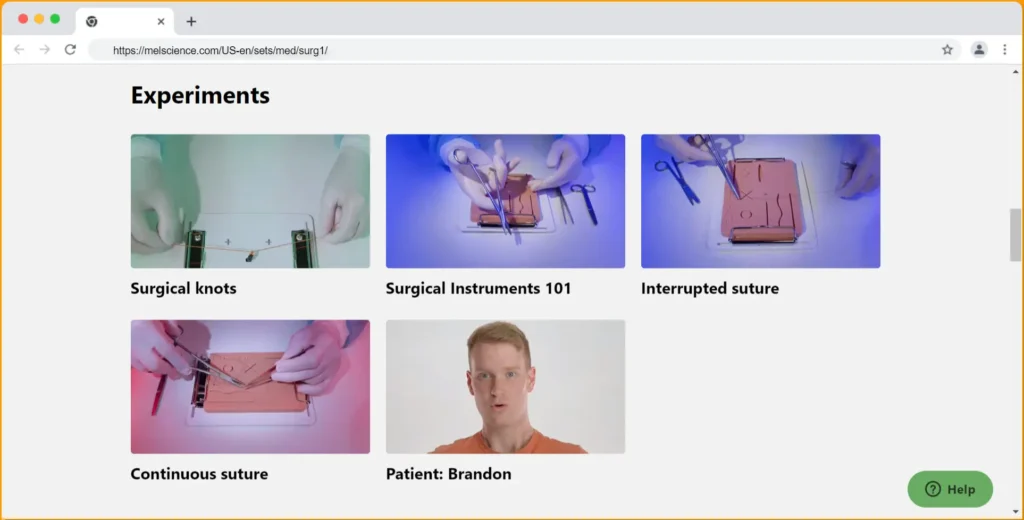 If you have an interest in medicine, you'll undoubtedly find it fascinating.
Is MEL Science projects safe to use at home?
This is a common concern when it comes to science projects and experiments. Certain projects may involve electrical currents and chemicals, which can potentially pose risks to safety and health.
However, MEL Science assures that all their projects adhere to the requirements set by the US Consumer Product Safety Commission (CPSC) and the European Committee for Standardization (CEN). They also emphasize that none of their projects involve explosives and are deemed safe for use.
Based on my research and personal experience, while some chemistry experiments require extra caution when handling chemicals, the remaining kits are generally safe for exploration and use.
Any project involving hazardous substances is clearly marked with a WARNING badge, and careful attention must be paid to the instructions, video guides, and VR experience.
On the other hand, many kits in the coding, STEM, and math subjects function more as educational toys that children can easily operate.
As a parent, it's always advisable to provide support and supervision while your child is learning and conducting experiments.
How good MEL Science apps are?
MEL Science offers three mobile applications: MEL Science, MEL VR Science Simulations, and MEL STEM for Kids. The remarkable aspect is that all of these apps are very helpful in learning and getting proper guidance with those hands-on kits.
Now, let's delve into each application and explore its features…
MEL Science:
This application shares similarities with its website, offering a variety of subjects and topics. However, the app provides additional subjects like the Curiosity Box and Science4you, which may not be available on the website.
On this app, you can earn coins as rewards and collect trophies by conducting experiments and completing various actions. Additionally, there are achievements for accomplishing specific tasks.
For instance, if you complete three sets related to optics, you'll receive the Eagle Eye trophy. Similarly, completing three sets related to liquids may earn you the water bender trophy. Furthermore, you can earn achievements by performing experiments within the MEL Science app and sharing photos on social media through the app.
The MEL Science app is dedicated to providing a detailed step-by-step guide for experiments, along with safety instructions and information on proper disposal methods.
Remember that Mic & Speaker experiment in Physics? Here's how the mobile app guides you through it.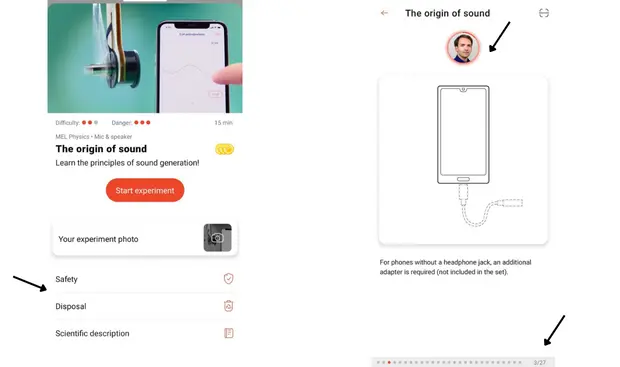 The image on the right-hand side provides a step-by-step video guide by an instructor, making your experiment much easier to follow. Similarly, for every subject, you get the instructor's support and guidance to learn effectively.
MEL VR Science Simulations:
This app focuses exclusively on physics and chemistry subjects, as MEL Science provides VR goggles solely with their starter kits for these two subjects.
The experience of learning science with these VR goggles is truly incredible. Both you and your children will feel as if you have been transported to a different world where you can interact with objects on the screen.
For instance, let's consider the Electron Configuration kit. With the VR sets, you can witness the electron, proton, and neutron configurations of an element within its orbit, which is truly mind-boggling.
And the best part, there is an instructor in the background who will explain the concepts to enhance your understanding.
Once you finish a few lessons, you are then presented with a do-it-yourself (DIY) task in the subsequent lesson to assess your knowledge and progress.
In my view, the immersive science learning provided by these virtual realities (VR) experiences by MEL Science is well worth the investment and definitely worth trying.
While I personally didn't encounter any problems while using the VR sets and connecting them to my phone, some users have reported difficulties accessing content through the app.
If you encounter such issues, you can directly reach out to MEL support through the app itself for assistance.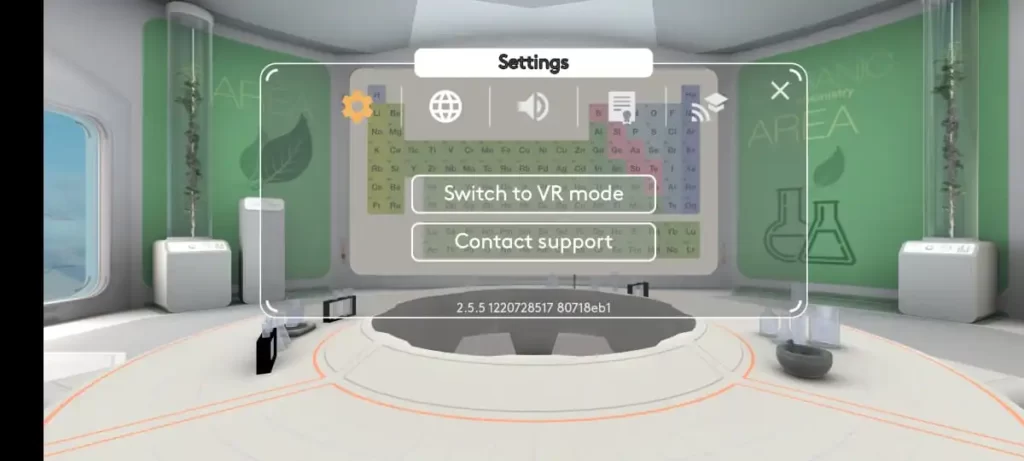 Once you click on the contact button, an email will be automatically generated on your behalf, containing details such as the device name and app information. Simply press the send button, and they will surely be able to assist you.
If your children are new to these kits or similar activities, it is important for you to sit with them and provide support.
MEL STEM: Science for kids
Now, this app is specifically designed for kids who have subscribed to STEM content. It offers video guides for all the STEM kits available.
The app's functionality is impressive, as it provides engaging and interactive video guides in 3D and augmented reality (AR). Additionally, there is an instructor available to explain all the concepts to your children.
Let's revisit the example of the Aircraft kit in the context of STEM education. When you access its video guides, you are presented with two interactive learning options: 3D and AR. In the AR mode, you need to activate your mobile camera.
In this Aircraft kit, your kids will learn about various shapes and designs of aircraft, as well as airfoils and the principles of flight.
The 3D view is incredibly captivating, ensuring that your child remains engaged and immersed in the learning experience, without even thinking about skipping or using the home button.
How much MEL Science costs?
Now, if you are impressed by this MEL Science review and find it useful for your kids and yourself, your next question is likely to be about its cost and whether it provides value for money, correct?
Let me start by explaining its pricing structure.
When you look at the pricing and subscription options, you'll find that MEL Science offers a straightforward pricing model. The yearly subscription plan is the most cost-effective, priced at $29.90 per month. This subscription covers one kit, regardless of the subjects you choose.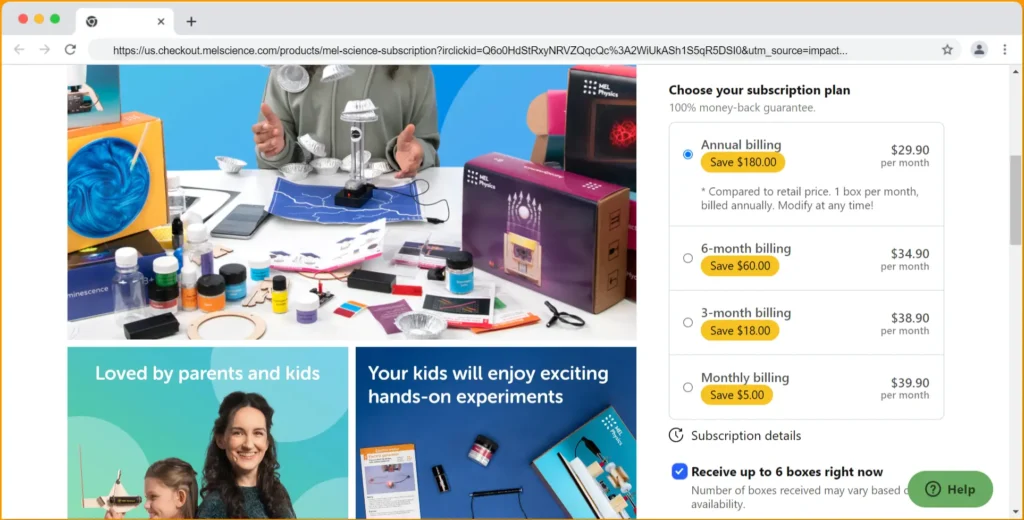 Alternatively, you can opt for the monthly subscription, which costs $39.90 per month. It's important to note that you have the flexibility to modify your subscription at any time. Keep in mind that this subscription is for one box, which could be shared among 2-3 children. You also have the freedom to switch subjects whenever you desire.
For annual billing, the cost for one box is $358.80. With this plan, you will receive up to six kits right away, and then one kit every month in your chosen subject.
While billing, you can select multiple subjects, but you will only receive one kit per month. Therefore, it's advisable to choose a specific subject.
It's worth noting that the medical kits are priced slightly higher compared to other subjects, at $59.90 per month if you do annual billing. This is because the medical subject caters to students ranging from 14 to 99+ years and offers additional value, such as interactive patient interactions.
There is one disappointing thing with MEL Science, you can't purchase their kits separately.
While looking at STEM, Physics, and Chemistry subjects and their amazing experiments kits, their prices are worth paying.
In fact, the price increased a little bit from $26.20 to $29.90 in a couple of years still I'd say, it's worth it for these subjects. It can be a great investment for your kids who love learning science and doing experiments with hands-on kits.
From time to time, MEL Science also offers free-trial that you may also access if you're not sure bout its kits.
Subscribe to our newsletter and we'll keep you updated with MEL Science sn other relevant offers.
MEL Science support:
If you want to assess the quality of an online platform, one of the key factors to consider is customer support. If a company offers excellent support, responds promptly, and assists you with your concerns, it's a reliable indicator of its credibility.
Based on my personal experience, MEL Science provides reliable support. They offer two contact numbers, one based in the USA and another in the UK, as well as an email address (support@melscience.com) for inquiries. Alternatively, you can utilize the HELP button on their website to get in touch with them.
Upon submitting your issues, you will receive an automated email response from their team, similar to the one below…
As they say, you will surely get a response from their side within 24hrs.
My views about MEL Science:
I experienced MEL Science kits a few years ago and after conducting extensive research, I decided to share my MEL Science review.
In summary, MEL Science is a remarkable platform for students who enjoy conducting science experiments, exploring scientific concepts, and having fun while learning. If you're a parent looking to nurture your child's interest in science, I highly recommend trying out their kits.
Personally, I found their STEM and Physics projects particularly appealing. Their accompanying apps are also excellent implements for understanding science through practical experimentation. The incorporation of VR goggles for chemistry projects is an incredible idea.
While the price of $29.90 for a single kit may appear steep, I believe it is well worth the investment. However, I do believe that the Coding and Math subjects could be further improved, and it would be beneficial to expand their range of valuable kits.
When it comes to subject kits, the choice is yours, but I recommend focusing on their STEM, Physics, and Chemistry projects.
To conclude this MEL Science review, I will now share some noteworthy alternatives that you may also consider.
MEL Science Alternatives:
MEL Science is not the only platform providing science and STEM kits. Here, I'll introduce a couple of alternatives to MEL Science that you might find interesting:
MEL Science Vs KiwiCo:
In my opinion, MEL Science may not be the ideal choice for babies and toddlers who want to play and explore. This is where KiwiCo comes into the picture.
Similar to MEL Science, KiwiCo offers a monthly subscription box that provides a wider range of options for younger children, including art and craft projects, puzzles, and games. KiwiCo covers a broader range of subjects, including geography, history, and culture.
However, if you're looking for a more hands-on, science-focused experience for older children aged 10 and above, MEL Science might be a better option. Their kits come with detailed instructions and even a virtual reality (VR) component to enhance the learning experience.
On the other hand, if you have younger children or are seeking a more diverse range of educational activities, KiwiCo might be a better choice.
Read more: MEL Science Vs KiwiCo: Which is best?
---
MEL Science Vs Spangler Science Club:
Spangler Science Club is only available in the United States. It offers a wider range of experiments covering various science topics, such as biology, physics, and chemistry, compared to MEL Science. Their kits include all the necessary materials for the experiments and are designed to be hands-on and interactive.
In terms of cost, both MEL Science and Spangler Science Club offer similar pricing options. However, the advantage of the Spangler Club is that you can purchase their kits separately and often find them on sale.
If you're in the United States and undecided between these two platforms, I recommend checking out the Spangler Science Club as well.
---
MEL Science Vs Little Passports:
Now, this monthly subscription-based platform ships its kits to four countries: Australia, the USA, Canada, and New Zealand.
Little Passports aims to inspire children to learn about different countries, cultures, and customs. Each monthly shipment includes a passport, stickers, activity books, souvenirs, and more, all designed to help children explore a new country and its culture.
Additionally, Little Passports offers online games, puzzles, and videos to further enrich the learning experience. While this platform also offers science and STEM kits, its expertise lies primarily in geography and cultural education.
The choice between the two platforms depends on the interests and needs of the child and the parent.
Now It's your turn:
I hope you enjoyed this MEL Science review and found it useful. Now I'd like to hear from you…
Do you find MEL Science kits worth it for your kids? And, Are you going to take its free trial?
If you face any issues with MEL Science, feel free to ask me. I will be always happy to help you. Now let me know your thoughts.
---
MEL Science FAQs
How much does MEL Science cost?
MEL Science offers a monthly subscription priced at $39.90 per month, while the annual subscription comes at a discounted rate of $29.90 per month. As their kits cannot be purchased individually, it is highly recommended to opt for the annual subscription to save a significant amount of money. With the one-box subscription, you may find that it is sufficient for your 2-3 children to share and enjoy.
Does MEL Science offer a Free Trial?
MEL Science periodically provides free trials, coupons, and discounts. If you're interested in a free trial, I recommend subscribing to our newsletter. By doing so, we'll ensure you receive timely notifications whenever MEL Science offers and promotions.