Studying can be more interesting, fun, and focused if you use the best study gadgets that are available today for students. Right?
In 2023, if you're not using any study gadgets then I'm pretty sure your studies must be boring. Using only ball pens and simple notebooks for writing is not enough if you want to enhance your learning and performance in class.
There are tons of educational gadgets for students available today that you don't know about. These gadgets can save you plenty of time, make your studies much more interesting and help you to improve your grades.
And here I've come up with 12 New & Best Study Gadgets that I'd recommend to every student. So, if you're already looking for gadgets for students then you're gonna love this guide and those gadgets.
If you're a parent reading this blog and your kids hate studying then some gadgets here can help your kids they can find learning interesting.
(In case, you're looking for Science Gadgets for Students, you better check out this article.)
Let's dive into it…
1. Digital Clock Transparent Display
This is the first and one of the best study gadgets for students. The reason why I am saying best to it is that it is a multi-purpose item.
This transparent full-screen digital clock combines a makeup mirror, alarm clock, and time display function. A student often needs a clock and an alarm to wake up early and study. You can easily place it on your study table or hang it anywhere. I'd say this gadget is perfect for students.
The best part that I found in this device is, that it has dual USB ports that allow you to charge two devices at the same time. Now you can say goodbye to the embarrassing situation of lack of electricity while studying with the phone.
Sounds AMAZING?
Read also: What is Amazon Prime Student- Is it the best choice for college students?
2. Mini table dust sweeper:
If you use pencils, erasers, or anything that can fill your study tables' surface with dust, then here I have the best study gadget for you- A Mini Table DUST Sweeper.
[Handpicked Related: 17 Study Table Accessories You Must Have On Your Desk]
It's a kind of small vacuum cleaner that can clean your table dust easily without making your hands dirty. This gadget can be also an amazing gift for your college friend.
As you can see in the above image this gadget has a 360º rotatable design and it's easy to operate, and suitable for students and the elderly. You can easily carry it in your bag or put it anywhere.
You can check its more features by hitting the above price button.
3. LCD Writing Tablet
This is again one of the best study gadgets for students. Students often have to solve many questions and draw some pictures in rough and therefore they use their notes that can't be erased.
I consider it a complete WASTE of paper.
However, here is a gadget for your LCD Writing Tablet. As you can see in the image, on this pad you can easily write and solve any rough question, make a sketch, or any kind of schedule or to-do list plan. And, by just hitting the main button everything will get erased automatically.
In fact, the best part of this student gadget is it has 2 magnets (on the back) and you can stick it anywhere.
So, if you wanna improve your maths or solve too many practice questions then you MUST use it. It can be also the best gift for college students.
Don't worry, this tablet gives you a natural handwriting feeling without leaking ink. The LCD panel only reflects the natural light, with no glare, and does not light up in the dark like the LED/magic boards.
4. 3Doodler Pen
If you want to improve your creativity while studying then this is one of the best study gadgets for you. It's kind of a 3D pen in which you insert a plastic and then start doodling and making different art.
This versatile tool can help you design solutions for everyday problems. This 3D Pen comes packed with 15 different colours of 3Doodler Create plastic refills & a comprehensive activity guidebook.
This gadget provides Extrude heated plastic that hardens almost instantly, so you can draw 3D structures, freehand or on stencils. You can check out its more feature by hitting the price button.
Isn't it an amazing study gadget for students?
5. LED Reading Light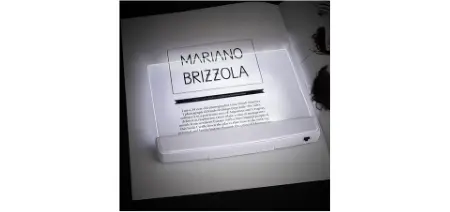 If you're someone who has to read at night or in dim light, this study gadget would be the best option to purchase.
This gadget is specially made for students and learners who like to read books or notes at night. As you can see from the image, the entire transparent panel gets lights up when it is turned on, which can provide clear and warm light in the reading position it covers, but will not affect other people's rest.
In fact, its light is lost to natural light, light yellow lighting environment design, suitable for long-term reading, will not cause eye fatigue. No other tools are needed. It is very suitable for night reading.
Don't you think?
6. Techpro Back Pack
This study gadget won't help you to study but works great for students who want to carry lots of study stuff like Laptops, Books, Notes, and others. This backpack is not only lightweight but also has multiple divider pockets.
This bag can be also a great retirement gift for your professor who is going to retire and you wanna gift him/her something.
This stylish bag is not only a computer bag but also a perfect college school bookbag, casual daypack, leisure backpack, commuter backpack, and luggage for short trips. This backpack is made of high-quality tear and water & stain-resistant, ultra-durable, high-quality patented Filmpor fabric.
The cool thing about this gadget is, that it has a comfortable airflow foam-pad back design with soft, multi-panel breathable mesh padding that provides maximum back support. The unique shoulder strap decompression design with massage mats helps relieve stress on your shoulders.
[Related: What to bring to college- 21 Dorm Room Essentials for Guys]
7. Mini Pocket Printer
A printer is one of our stationery items. In our day-to-day life, we have to print many things whether you print small things or big-size paper.
Here, I've brought you an amazing mini-size printer. This pocket printer works without ink and only prints in black and white. Special paper can be printed in blue.
You can use this printer by connecting its Bluetooth to your phone. Next, just select an image from your phone to print. In just a couple of seconds, you'll have the physical print paper in your hand.
Students can use this gadget to print their online notes, reminders, motivational quotes, to-do list, and images for creative arts.
Isn't it the best study gadget for students?
8. AirBar by Neonode
If you're a college student who has to do lots of his work on a Laptop then I'm pretty sure you will love this study gadget.
Well, using a mouse or touchpad to drag down on a laptop or PC all the time can be overwhelming. But, what if you can use your laptop screen just like your phone to move things ups and down?
AirBar helps you to do this easily. Simply attach the AirBar with the included magnets to the bottom of your screen and plug in the USB cord in our laptop and there you go.
After adding this AirBar gadget now you can tap, swipe, pinch, zoom, and rotate your Laptop screen the way you like.
[Related: Dorm Kitchen Essentials for College Students]
9. C-Pen Reader
This is an expensive but exciting study gadget that you may use. This pen may look simple to you just like other pen scanners but you will be surprised to know its features.
This pen is completely self-contained. NO computer or Wi-Fi is required to use the reading function. Additionally, it has multiple built-in dictionaries to search definitions including the Oxford Primary Dictionary.
Along with that, this pen provides you optionally to scan and transfer text to a PC or Mac, directly via USB or from the 8GB storage, with no additional software required.
So if you want to take notes online while reading your textbooks, this C-pen you must try this once.
Read also: 19+ Books That Every College Student Must Read!
10. Led USB Clock Fan
This gadget is more for fun while studying. It is not really a useful thing for students. However, if you want to get some cool air while working on a Laptop that also tells you the time then you can check out this gadget.
This gadget has a real-time clock display. No driver installation is required. Along with that, it has PVC soft fan blades for safety and a mentally flexible neck through which you can rotate and turn it effectively.
You can use this gadget while using a PC, Laptop, Power bank, Power adopter, and TV background wall.
11. Pomodoro Timer Cube
Do you follow Pomodoro Technique while studying?
There are many study techniques and it's most important to study in small chunks while taking regular breaks. A timer allows you to do it effectively.
Using a timer for any work always makes you more productive. Whether you want to finish your homework fast or just take a practice test.
Therefore, here is an awesome TIMER for you. The reason why I add this timer to best study gadgets is its amazing features. This timer in a cube shape is specially built for Pomodoro Technique followers.
This gadget provides preset timing modules, 3/5/10/15/25/30 minutes. Flip any side up freely to quickly switch to the countdown mode of the corresponding period, it quickly starts a countdown, and is convenient to use, which saves your precious time. This timer has too many features that you must check out by hitting the price link.
12. Blue Light Blocking Glasses
Students often have to face mobile, laptop, and tablet screens very often. And, there is no doubt about the blue lights that come out from these screens can harm your eyes and you may suffer from headaches.
So. try these blue-light-blocking glasses whenever you use your phone and other devices. These glasses provide you with less eye strain and fatigue and also keep you away from headaches.
Over to You:
As I said at the beginning, there are many gadgets available today for students that promote learning and creativity.
In this article, we have shown you some of the best study gadgets that I found and have used. I hope you enjoyed this article and liked those gadgets.
Now I'd like to hear from you:
Which study gadgets do you like most? And, which gadgets you're going to purchase today?
Let me know in the comment…
 Disclaimer: In this article, I have put some Amazon affiliate ink that means if you purchase any product through our links we will get a small commission at no extra cost to you, this is how we produce free content for you without advertisements.