Udemy, Coursera and Udacity…want to give it a try to any of these online learning platform?
I have taken several courses on these platforms and I can tell you better which is best in 2024.
Whether you're inclined to learn new skills online, fill your knowledge gap or advance your career with online courses, these platforms offer you thousands of courses in all ranges.
Still, these learning platforms vary from each other in many ways such as cost, content quality, certification value and others.
So, In this Udemy vs. Coursera vs. Udacity comparison, we'll compare and contrast them in-depth, to see which of them best meets your need if you want to learn and pursue a course online.
In case you don't want to read the entire article, you may take a look at the summary box below.
Udemy
Coursera
Udacity
I'd encourage you to read till the end to get the best value from this article.
Let's dive in with a fundamental question…
What are Udemy, Coursera, and Udacity?
Udemy, Coursera, and Udacity are massive open online course providers (MOOCs) that help you learn new skills and improve your knowledge while comfortably sitting at home and learning at your own pace.
Now, let's explore each of these platforms one by one…
Udemy:

Udemy offers a wide range of courses on various subjects, making it a suitable for a diverse audience.
It offer only short duration courses both free and paid. Their courses are created by individuals like you and me who have expertise and knowledge in a subject.
You will be surprised to know that Udemy offers a total of 196,000 courses in 13 fields which includes development, business, finance, marketing, health, lifestyle, music, teaching and whatnot.
Who is Udemy best for?
Udemy is ideal for people who have a strong desire to learn and improve their skills throughout their lives.
In general, I'd recommend Udemy to:
However, it may not be the a good choice for those seeking accredited or in-depth academic programs, as Udemy focuses on short, skill-oriented courses without formal certification.
Coursera:

Coursera also offers courses in a wide range of subjects, from technical courses such as Data Science, IT, and Computer Science, to Business, Health and Fitness, Personality Development, and academic subjects like Engineering, Social Science, Math, Arts, and Humanities.
Coursera offers over 7,000 courses in 11 different subjects, both free and paid. Their certificate courses are designed for various durations, ranging from 2 hours and 8 hours to a few months.
What sets Coursera apart is that all their courses are provided by world-class universities and top companies.
You may have heard of Google Career Certificates, which offer courses in leading tech fields, enabling you to secure an entry-level job without requiring a college degree or prior experience. These courses are created by senior practitioners at Google and are available on Coursera.
Who is Coursera best for?
As mentioned, this learning platform offers a wide range of courses, specializations, and degree programs. It caters to a diverse audience and can be beneficial for various types of learners and professionals.
I believe, Coursera is best suited for:
Udacity:

Udacity is an online learning platform that offers courses in in-demand tech fields, such as Data Science, Cloud Computing, Cybersecurity, Artificial Intelligence, Programming, and more.
There are a total of 500 courses on this platform across 8 fields, including both free and paid courses. Their paid courses are referred to as Nanodegree programs, and upon completion of any program, they offer you a Nanodegree certificate. (We'll discuss the value of these certificates later.)
What sets Udacity apart is that their programs are developed in collaboration with tech companies and taught by industry-level experts.
Who is Udacity best for?
As Udacity offers the majority of its courses in tech fields, so if you're a tech enthusiasts or want to pursue any tech course, Udacity can be a way to go.
In my opinion, Udacity is best suited for:
Udemy vs. Coursera vs. Udacity: Which offers better content quality?
As mentioned in the beginning, I have taken and reviewed several courses from these platforms. With my personal experience, I can tell you which platform offers better content quality.
However, I am going to provide a general overview, as these platforms offer thousands of courses, and making a decision based solely on the courses I have taken is not advisable.
If you were to ask me directly which of Udemy, Coursera, and Udacity offers the best content quality, I would say all three. Most of the courses I pursued on these platforms were fruitful and did not disappoint me.
In fact, I have also shared my reviews for some of the courses here on this blog. If you're interested, you can check them out:
(More reviews will be published later and on your demand.)
Now, allow me to tell you about my overall experience with the content quality on these platforms.
Udemy allows anyone with expertise in any field or subject to create a course and become an instructor there. Some instructors teach exceptionally well, while I found some courses not worth appreciating.
However, Udemy's best-seller tag courses or courses with 4.5 or higher ratings always excel in terms of content quality. The key point is to check the ratings and reviews of the course, explore the course curriculum, and watch the preview.

You can also explore the instructor's profile and bio to see whether their courses are performing well. This helps you choose the best course on Udemy, as there are many instructors offering content on the same subjects.
When it comes to Coursera, most of their courses are worth pursuing since they are directly offered by world-class universities and top companies like Google, Meta, IBM, and more.
Coursera's courses include video content, articles, tests, and quizzes. The best thing about their courses is that they also include tests and assignments during the course to enhance your learning, which Udemy does not provide. However, I have also noticed that some of their courses contain outdated information that needs to be updated.
As for Udacity, all their nanodegree programs are taught by industry experts. Furthermore, you get instructors who have achieved the career you desire. With every program, you can find a brief bio, qualifications, and the instructor's current position.
Udacity also offers bite-sized video content, reading exercises, and Quizzes that brush up your learning. Similar to Coursera's professional certifications and specialization, Udacity also offer career guidance and job assistance with their courses.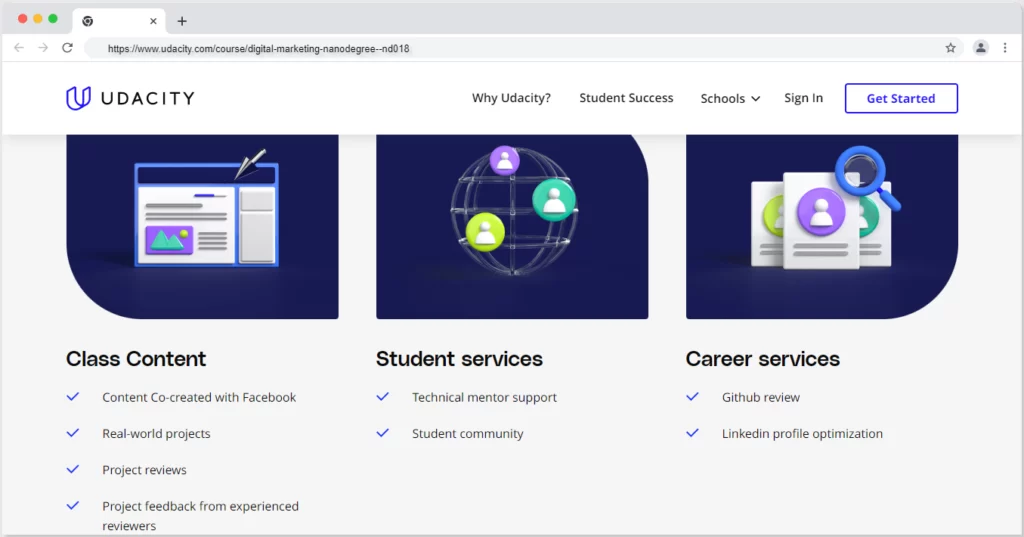 They also offer projects to complete which later reviewed by Udacity instructors and you get the feedback on it.
Udemy vs. Coursera vs. Udacity: Value of their Certificates
Udacity, Coursera, and Udemy all offer certificates upon course completion. The big question is, whose certificates are more recognized, helpful for your career, and increase your chances of landing a job?
In my opinion, Coursera's professional and specialization certificates hold more value. Most of Coursera's professional certificates are ACE accredited and valid. All their courses are taught and offered by top universities and companies.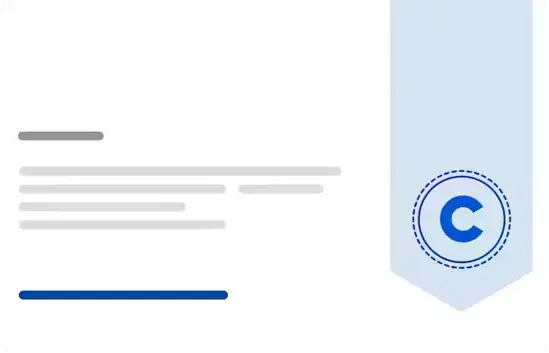 Additionally, Coursera is the most popular learning platform for professional training compared to Udemy and Udacity, which means there's a high likelihood that companies and employers will recognize their professional certificates.
Furthermore, Coursera provides job training and career guidance with all their professional certification and specialization programs to assist you in securing a job.
Now, concerning Udacity, it offers Nanodegree certificates, but they are not accredited by educational institutions; they are issued by Udacity itself. However, it's worth noting that they provide career guidance to help you quickly land a job.
Udemy offers a Certificate of Compliance upon course completion. Like Udacity, Udemy is not an accredited institution, so its certificates may not significantly impact your job prospects.
In my view, if your goal is to secure a job after completing a course, Coursera should be your choice. However, if you simply want to learn and excel in specific skills without requiring a certificate, any of the platforms may suffice.
For example, I took a few courses on Blogging and Content Writing to start my own blog, and the certificate did not matter to me.
Now, let's discuss the pricing and which option offers the most value for your investment.
Pricing and Value for Money:
Udemy, Coursera, and Udacity all have different costs for their courses. The question is, which courses are worth the money, and which ones should you invest in?
Looking at all three costs, I found that Udemy is the most affordable, with prices typically ranging from $11.99 to $199.99 per course, which may further decrease during promotional periods. In India, the cost ranges from around ₹600 to ₹4000, and occasionally up to ₹12000.
The best thing about Udemy is that you get lifetime access to every course you purchase, which means you can revisit your course anytime you need.
Moving on to Coursera, their course prices are also affordable and offer good value for the money. They offer a monthly pricing option and average time completion costs, with extra savings if you pay upfront.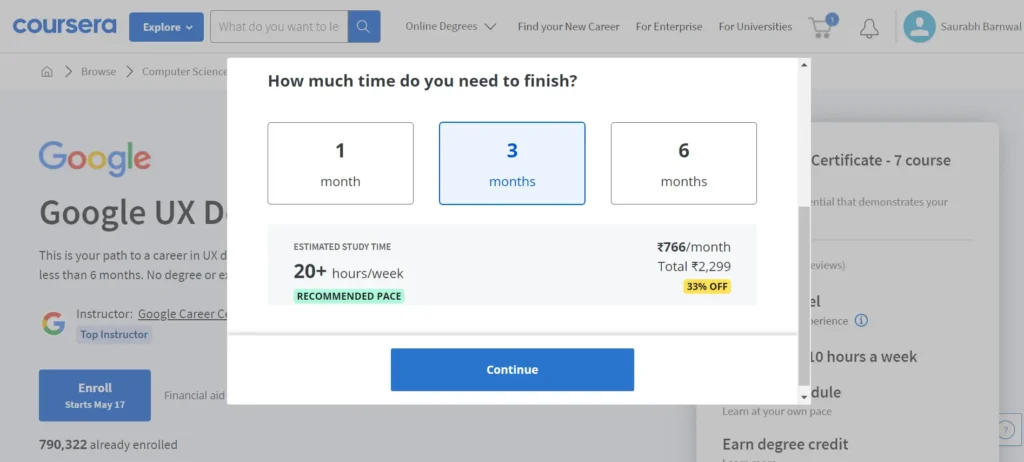 Their professional certificates and specialization programs range from $39 to $99 per month, depending on how long you take to complete the course. The quicker you finish a course, the less you have to pay.
You may also consider a Coursera Plus subscription, which costs only $59 per month and grants you access to 7000 courses. This is a great option for lifelong learners. Notably, many Coursera courses are available for free audit, and you also get a 7-day free trial to determine whether a course is worth it or not.
As for Udacity, it follows a subscription model. A monthly subscription is $249 (₹20,900), or you can save 20% by paying upfront for an annual subscription for $2,390, which may further decrease by up to 40-60% with a personalized discount it offers.
Previously, Udacity had a different pricing model where you could purchase their Nanodegree programs separately, typically costing $399 per month. The cost of Udacity has not only decreased, but with its subscription model, it also allows you to access its all programs and their course content. So, now you have flexibility to switch their courses.
Still, you will find the Udacity subscription is notably higher than Coursera Plus. However, it can be a good option if want to to take several nanodegree courses in different tech subjects.
In conclusion, I found that Udacity courses tend to be more expensive than those on Udemy and Coursera. In my opinion, for professional courses, Coursera offers the best value for money. If your goal is to take a short-duration course, you may also find the best options on Udemy.
Free Courses on Udemy, Coursera and Udacity:
Udemy, Coursera, and Udacity offer thousands of free courses to help individuals gain basic skills and assess the quality of their content.
Udemy provides a wide range of courses, offering a total of 10,000 free options. Coursera, on the other hand, provides 4,000 free courses, while Udacity focuses on the tech field, offering 500 free courses exclusively in that domain.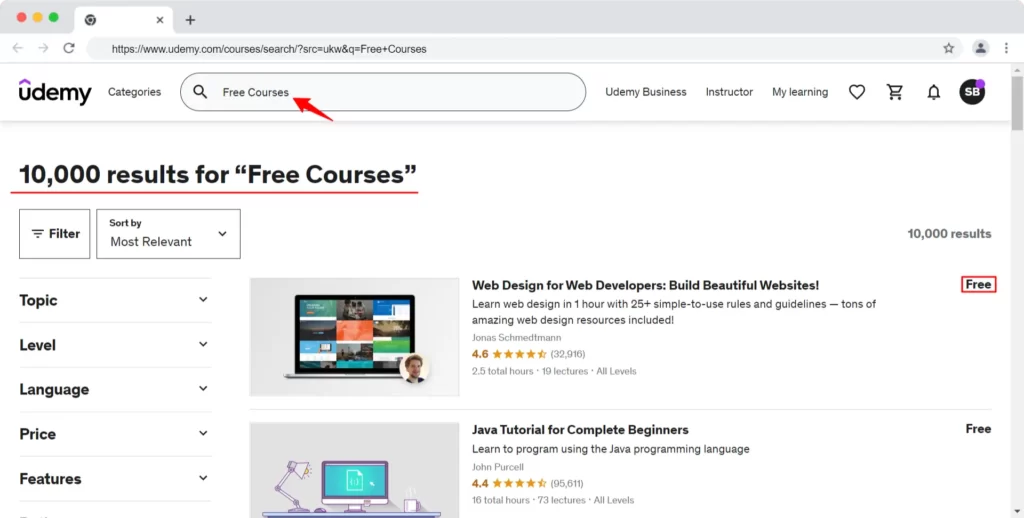 You don't need to pay any price, provide a credit card number, or add any other details to enroll in these free courses. All you need to do is create an account on these platforms, and you're done.
Coursera also offers a Certificate of Completion for a small fee with all its free courses. It's entirely your choice to pay for certification or to skip it.
User Interface and Ease of Use:
If you've explored these e-learning platforms, you'll likely be pleased with their user-friendly and easy-to-navigate websites.
All these platforms offer a filtering system to help you find courses that match your specific requirements, including topics, languages, difficulty levels, and more. You'll also find comprehensive course descriptions, syllabi, instructor bios, reviews, and course ratings.
In fact, Udacity allows you to download course syllabi for free, and on Udemy, you can watch previews of some courses before enrolling. On Coursera, you can also take a free audit to its professional courses.
It's important to note that both Udemy and Coursera provide mobile applications for convenient access to their courses on your phone. These platforms also offer courses in various languages. You can find the Udemy and Coursera mobile applications on Google Play.
In contrast, Udacity does not have a dedicated mobile application. The only way to access Udacity courses is through your PC, laptop, or your phone's browser. Additionally, Udacity offers its courses exclusively in English, which can be disappointing for non-English speakers.
Udemy vs. Coursera vs. Udacity: My Final Verdict
In the Udemy, Coursera, and Udacity showdown, it's challenging to declare one as the absolute best.
The term 'best' is highly subjective, and the most suitable platform among these three depends on your specific requirements.
In terms of content quality, all three excel. However, if your goal is to acquire a skill through a short-duration course at a minimal cost, Udemy might be your best choice.
On the other hand, if you're aiming to pursue a professional career, seek job training, and require career guidance, Coursera could be a game-changer for you, given that their certificates are widely recognized and valid.
If your goal is to acquire tech skills and build a career in that field, Udacity is a solid option. Ultimately, the choice depends on your goals and what you wish to achieve through your learning journey.
Now, I'll provide you with a list of the key pros and cons of each online learning platform…
Key reasons to choose Udacity over Coursera and Udemy:
Key reasons to choose Coursera over Udacity and Udemy:
Key reasons to choose Udemy over Coursera and Udacity:
Now It's your turn:
Have you got something to say about Udemy vs Courser Vs Udacity, or do have you any further queries about these learning platforms?
Share your thoughts in the comments below – we'll do our best to answer any questions you may have.
Alternatives to Udemy, Coursera, and Udacity:
When it comes to online skill development, there are several platforms available beyond just Udemy, Coursera, and Udacity.
In addition to these well-known platforms, you might want to explore options like edX, Skillshare, LinkedIn Learning, Futurelearn, and others.
edX, for example, offers a wide range of courses, including those in Computer Science, Language Learning, Data Science, and more. What sets edX apart is that it collaborates with prestigious institutions like MIT, Berkeley, and Harvard to provide courses. Alongside paid certificate courses, edX also offers hundreds of free courses. You may also read our Udemy vs edX comparison for a better guide.
Skillshare is another platform that helps individuals acquire new skills in areas like Animation, Graphic Design, Photography, Leadership, Marketing, and more. You can explore courses in Business, Technology, and lifestyle as well. Unlike platforms such as Coursera, Udacity, and Udemy, it's important to note that Skillshare does not offer free courses.
If you're looking for a completely free online learning platform, consider trying Alison Learning.
Udemy vs. Coursera vs. Udacity FAQs:
Is Udemy better than Udacity?
The choice between Udemy and Udacity depends on your specific learning goals. Udemy offers a vast range of courses on various topics created by individual instructors, making it a great choice for acquiring specific skills or knowledge affordably. Udacity, on the other hand, focuses on more structured, tech career-oriented nanodegree programs, with personalized support and industry partnerships, making it suitable for those seeking in-depth, project-based learning experiences. Consider your objectives, budget, and preferred learning style when deciding between the two.
Is Udacity better than Coursera?
The choice between Udacity and Coursera depends on your specific learning goals and preferences. Udacity is known for its focused, project-based nanodegree programs that offer practical, hands-on experience in tech-related fields. Coursera, on the other hand, offers a broader range of courses from various universities and institutions, covering a wide array of subjects.
Udacity might be better for those seeking specialized, career-oriented skills, while Coursera provides job-oriented and skill-based professional courses and specialization programs. Ultimately, the decision should be based on your individual needs, such as the subject matter, cost, and more importantly on your learning goals.
Which is cheaper, Udacity, Coursera, or Udemy?
Udemy offers courses at a lower cost compared to Coursera and Udacity. If you're a new user on Udemy, you can purchase their best-selling courses with a great discount. Coursera's professional certificates are also reasonably priced. However, I find Udacity's Nanodegree programs to be relatively expensive, which may not be affordable for financially disadvantaged students.