Udemy Vs edX: which one should you consider? If you have no idea which platform offers the best courses, content quality, and valuable certificates, make sure to read this article until the end. You'll love this guide today.
I have personally taken several courses on both platforms, so I can give you a better guide on this. In this Udemy and edX comparison, we'll compare and contrast both platforms in every important factor. Take a look at the below Table of Content...
We have a lot of things to cover in this article, so let's start with a basic question.
What are Udemy and edX?
Udemy and edX are both online learning platforms that offer a variety of courses to help you improve your knowledge and skills from the comfort of your home. All you need is a laptop or phone and an internet connection to learn whatever you want, whenever and wherever you want.
You may take online courses if you're inclined to career development, career change, college preparation, lifelong learning, business training, and more. Whether you want to learn new skills, change your career, or advance in your current field, both platforms offer excellent courses.
Udemy is a massive online learning marketplace that offers over 196,000 courses on a wide range of topics, including business, technology, arts and crafts, personal development, health and fitness, and many others. Udemy offers both paid and free courses.
EdX, on the other hand, is a no-profit MOOC (Massive Open Online Course) that offers more than 5,000 courses from prestigious universities and institutions around the world, such as Harvard, MIT, and Stanford. EdX courses cover a wide range of subjects, such as computer science, data science, business, humanities, and more.
Many of the courses on edX are free to audit, but learners can also pay for a certificate of completion or even earn credit toward a degree or professional certification.
(Read also: Meta Social Media Marketing Professional Certificate Review)
Which platform is more popular, Udemy or edX?
If you take a close look at the above image, you'll notice that Udemy is being searched more frequently on Google compared to edX. This indicates that Udemy has greater popularity and a larger audience.
This is certainly true. Udemy has 52 million students enrolled in its courses, while edX has over 150,000 learners from 162 countries enrolled. This is unsurprising as Udemy offers more courses than edX and also advertises the platform on various channels.
However, despite Udemy's popularity, it cannot be concluded that it is better than edX or that Udemy courses are the best. There are many other factors that need to be considered before making a choice. At times, Udemy may come out on top, while at other times, edX could be the better option. Therefore, let's compare them in detail.
Udemy Vs edX: Subjects and Courses
Udemy and edX both offer courses in a variety of subjects, whether you want to learn hard skills like web development and computer science, or soft skills like communication and personality development. Please take a look at the image below: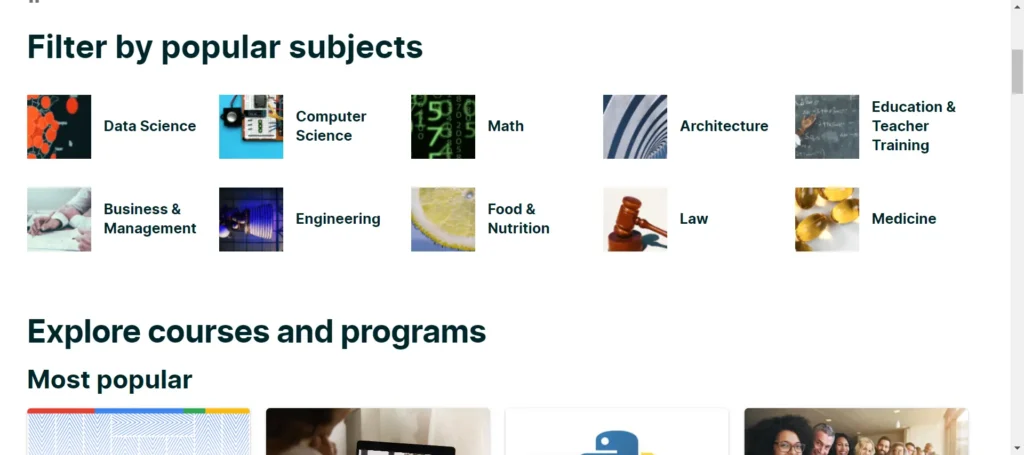 Udemy offers more professional and skill-based courses. Additionally, Udemy provides courses in specific categories. For example, in the Development category, you'll find a variety of sub-topics such as web development, Data Science, and more.
Meanwhile, edX specializes in academic subjects and courses. Its main subjects include Data Science, Computer Science, Business, Engineering, Design, and a few more. It also offers professional and skill-based courses such as Digital Marketing, but not as many as Udemy.
Moreover, edX offers bachelor's and master's degree programs that are accredited by top universities like the University of London and Boston University.
Now, this information gives you a clear pathway to decide between Udemy and edX. Let me explain.
Suppose you want to learn Digital Marketing, Photography, or Accounting. In that case, you know that Udemy could be the right option for you. On the other hand, if you want to learn academic subjects such as Physics, Engineering, or Computer Science, you already know that edX has more expertise in those areas. If you're more interested in pursuing a degree, then edX is your only option.
Read also: Udacity Digital Marketing Nanodegree Review
Udemy Vs edX: Content quality
Deciding which platform offers the best content quality between Udemy and edX can be challenging. Since both platforms offer thousands of courses of different types, comparing them with each other is not ideal.
For example, Udemy only offers simple video-based recorded courses, while edX offers simple video-based recorded courses, professional certificate courses, and degree programs at the bachelor's and master's levels.
However, based on the courses I've taken, I can give my thoughts.
Honestly, I found Udemy's content quality to be more engaging and interesting. Let me explain why.
EdX courses are prepared and offered by universities and tech companies. I audited a few free courses in Microeconomics and didn't find them engaging enough. I enrolled in a few courses and unenrolled after pursuing only a couple of modules.
Those courses felt like the instructor was teaching them with no expression. Despite the fact that these courses were offered by universities, I didn't find them engaging. Addionatally, these course includes many reading articles rather than video lectures that may bore you. However,
the presentation of the course with transcript and adding quizzes during the course is somewhat interesting.
Please note that I'm not talking about professional courses or any degree programs, as I haven't experienced those courses yet.
On the other hand, when I took the best Udemy courses on Microeconomics, I found them satisfactory and completed the course despite being prepared by an individual like you and me who have knowledge in the subject.
The best part I liked about Udemy courses is that you get ratings and reviews with every course you enroll in, which is missing in most edX courses and is quite disappointing. When you see honest ratings and reviews about a course, you can genuinely decide if the course is worth taking.
Udemy Vs edX: Cost and Certification
Both Udemy and edX offer paid courses and certificates. Let's discuss each platform to get a better idea.
edX provides free audit courses and professional certification courses. Professional certification courses are offered by top universities and tech companies such as Google and IBM. These professional courses include a series of courses that may cost you from INR 10k to over 90k, depending on which course you take and how many courses it includes.
Meanwhile, edX's free audit courses are completely free, providing you with limited-time access without any certification. If you want a verified certificate, the course will cost you around INR 8k, giving you full access. You also get a 14-day refund period with that.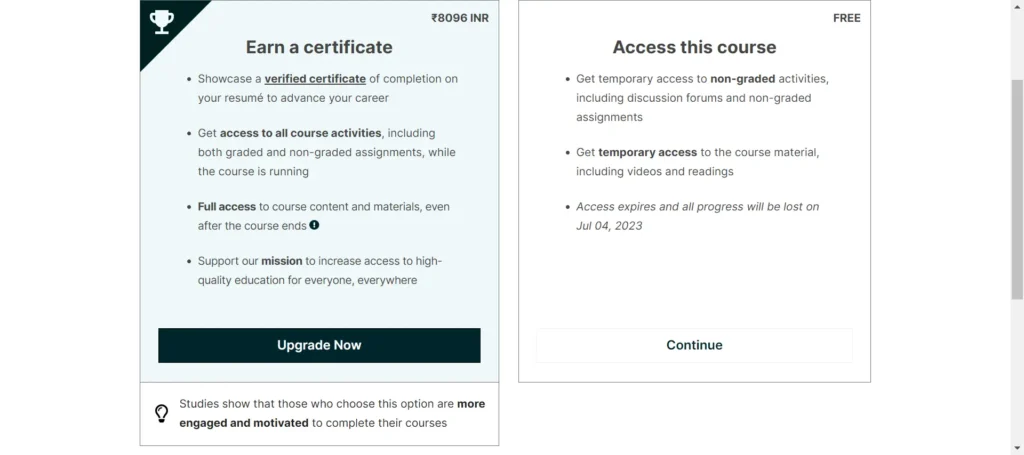 Note: EdX's professional courses are recognized and valid since they are offered by top universities and companies. While edX's free audit certification is valid, it doesn't hold as much weight. You may only add it to your resume to showcase your skills.
Udemy also offers free and paid courses. Udemy's course prices in India start from around INR 647 and can go up to INR 7900. Moreover, Udemy often releases new offers where you may get its bestseller courses for around INR 500-600 which generally costs INR 3000 to INR 4000.
Udemy also provides certificates of completion with all paid courses. However, these certificates are not recognized and valid since they are prepared by individuals like you and me who have only knowledge in a field.
In summary, when it comes to certification, edX holds more weight and value, while Udemy wins the game in terms of costs. Also, remember that edX's valid certification includes a 14-day refund, while Udemy has a 30-day money-back guarantee.
[Read also: Careerist Review: Everything you need to know]
Udemy Vs edX: Ease of Use and Support
If you have visited edX and Udemy, you must have been satisfied with their easy-to-use and easy-to-navigate dashboards. Both platforms have a filter system and search bar to help you find the courses that match your requirements.
Let me tell you how it works…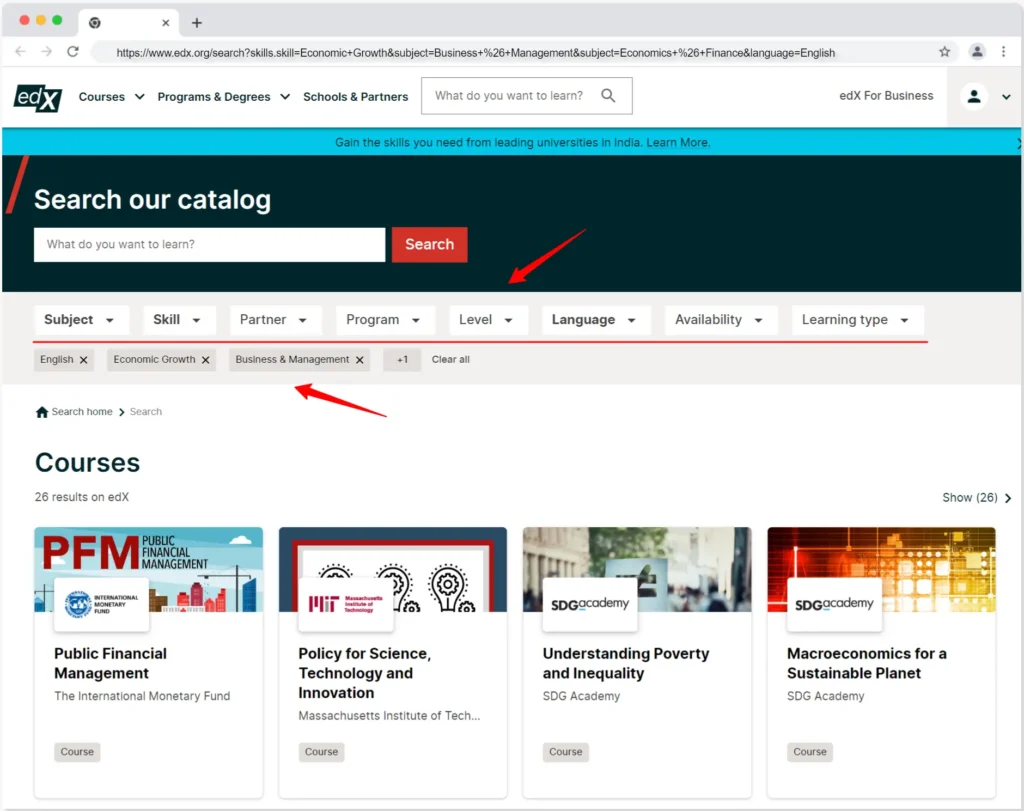 When you search for any course (in this example, I searched for Microeconomics), you will get filters to specify your course requirements. You can choose the subjects, skills, language, program type, and level of the course. Isn't this a helpful feature?
Similarly, on Udemy, you will find a filter system that allows you to find courses based on your requirements.
This is a really helpful feature in both platforms that allows you to find a course that meets your requirements easily.
Now, let's talk about their support systems.
If you need to contact edX, you can visit its "Contact Us" page and create a support ticket. Alternatively, if you have any certification, payment-related, or other types of issues, you can visit its "Help Center" page.
Likewise, if you need to contact Udemy, you can visit its "Help and Support" page, where you can find answers to frequently asked questions or select a topic to search for help. Udemy mainly provides help through articles, which guide you through a few steps to resolve your issue.
In general, both platforms take as long as 24 hours to help you with your query, which is fair enough.
Udemy Pros and Cons:
edX Pros and Cons:
(Read more: Udemy Vs Coursera Vs Udacity: Which is best?)
Conclusion:
In this comparison of Udemy vs edX, I've covered all their major points, such as courses, certifications, costs, and support. If you've been reading this article from the beginning, you've likely already decided which platform to use.
If your goal is to learn any skill or gain advanced learning to fill your knowledge gap, you may consider Udemy. If you want to improve or learn any academic subjects, you may take edX free audit course without certification. If you find the course interesting, you may verify it and choose to get certified.
If you want a valid certification to showcase your skills on your resume or LinkedIn, you may consider edX but remember to factor in the costs of the certificate. If you want to learn any skill at an affordable price, you may choose Udemy.
I hope you enjoyed this article and found it helpful. Now, I'd like to hear from you:
Which platform between edX and Udemy are you going to use, and which course are you going to take? I'm curious to know.
Alternatives to Udemy and edX:
Udmey and edX are not online learning platforms in this digital world. Let me tell you some of their alternatives that you may also consider…
Coursera: This platform is quite similar to edX which offers courses in a variety of ranges. It also offers Professional certificates and degree programs from top universities and tech companies. However, Coursera professional certificate courses are less expensive than edX. Coursera also offers free and paid courses. You may also read my detailed review of Coursera Plus.
Udacity: Udacity is more focused on leading tech courses. If you want to learn any tech skills such as cybersecurity, AI, and Machine Learning, you may consider Udacity. Udacity does not offer any accredited and valid certificates but its Nanodegree is recognized by some top companies, further, it may help in your career.
Futurelearn: This platform is also similar to Udmey and edX. It also offers mostly skill-based and academic subjects that you can access for free for a limited time. It also offers certificates with all courses at a minimal price of INR 550. Its certificates can be accredited but not that much recognized.