Looking for a Udacity UX Design Nanodegree review? If yes, be sure to read this article until the end.
When it comes to learning user experience, there are numerous courses you can consider. However, if you're genuinely committed to building a career in UX Design, selecting the best available course is crucial.
In regards to the Udacity UX Design Nanodegree program, here's a quick review from a user who has completed the course and obtained the Nanodegree. I won't disclose his name as he has chosen to remain anonymous. Nonetheless, a big thank you goes to them for sharing an honest review of the course.
The Udacity UX Design Nanodegree had a well-structured curriculum and followed industry standards.
Throughout the course, I received valuable and constructive feedback at regular intervals. However, I believe the feedback was provided by teaching assistants rather than the main instructors.
While the course covered the essentials, it leaned more toward practical aspects rather than theoretical ones. I would have appreciated a bit more emphasis on design thinking theory. Nevertheless, we did learn valuable skills, such as creating low and high-fidelity prototypes and conducting usability tests.
To the best of my recollection, that's the gist of my experience with the course. It would have been great to receive feedback directly from the instructors to address any concerns I had about the program. However, I understand that providing individual feedback to all students can be challenging.
Overall, the course was beneficial for learning, but I don't think it's sufficient for career prospects. If I were to make a recommendation, I would suggest pursuing an actual bachelor's or master's degree, if possible. Alternatively, consider obtaining additional certifications to build a more comprehensive portfolio that you can showcase to potential employers.
Read also: Udacity Vs Coursera Vs Udemy- Which is best?
If you are still unsure and want to learn all the important details about this Nanodegree program before enrolling and investing your hard-earned money, I highly recommend reading the complete Udacity UX Design review, so that you can make a well-informed decision.
Please refer to the table of contents below. This is what we are going to address…
Udacity UX Design Nanodegree Overview:
Udacity UX Design, also known as "Become a UX Designer," is a Nanodegree program offered by Udacity that provides practical experience in the user experience industry. This course is designed for beginners and does not have any prerequisites or require prior experience in user design.
On average, the course can be completed in under 3 months (by dedicating 2 hours per day) and equips you with fundamental yet crucial skills.
These skills include creating both low-fidelity and high-fidelity prototypes, engaging in iterative product design, planning user research, conducting user interviews, performing usability testing, and more. These skills collectively prepare you for an entry-level job in the field.
[Note: If you don't have any information about the UX Design industry and what UX Designers do, I highly recommend reading this article from Coursera.]
The course is instructed by leading industry experts in UX Design, many of whom hold prominent positions in major companies like Google. Additionally, you will have access to technical mentors who can assist you with challenges and offer feedback on your project work.
Beyond the technical proficiencies, this Nanodegree program also delves into crafting an effective portfolio. This portfolio will effectively showcase your skills, enhancing your prospects of securing employment and earning a substantial income within this industry.
Much like other Udacity Nanodegree programs, this course includes hands-on projects, collaborative workspaces, and a progress tracker. Furthermore, you will benefit from Udacity's career services, which encompass a GitHub portfolio review, optimizing your LinkedIn profile, and establishing your personal brand.
Important Note: Udacity Nanodegree is not accredited by educational institutions, it is issued by Udacity itself. The recognition of Udacity's Nanodegree Certificate comes from tech companies such as Google, Amazon, Facebook, and others.
>> For more information about the platform, you may read my Udacity review.
Who is this program good for?
As I've already mentioned, the Udacity UX Design Nanodegree doesn't require any prior knowledge or experience, making it accessible to anyone who wants to learn about the user experience from the ground up.
Regardless of who you are and what you do, if you possess the enthusiasm to learn UX Design and explore your creativity through design skills, this course might be suitable for you.
However, this course might not be the best fit for individuals who already possess significant experience in user design. If you're already familiar with wireframing and creating low-fidelity and high-fidelity prototypes, you might be better off considering a different UX design certification course.
Given that this course is designed specifically for beginners, I recommend it to those who lack substantial information or experience in the UX Design field and are eager to try their hand in this field.
In general, I find this program particularly beneficial for:
Individuals who wish to acquire an in-demand skill and pursue a career in UX Design.
Students seeking to explore a new career path alongside their academic pursuits.
People looking to transition their career into UX Design.
[Read also: Coursera Plus Review: Is it worth considering this year?]
What will you learn in this course?
It is the most crucial question you must ask before entering any new industry or embarking on any course.
Upon delving into the course, if you discover the syllabus and content to be intriguing and demanding, you are likely to derive enjoyment from the course. Otherwise, you might consider discontinuing it midway.
I have previously provided you with an outline of the skills you can gain from this course. However, this time, we will delve deeper to determine whether cultivating these skills can prove advantageous for your prospects in the UX Design industry.
The Udacity UX Design Nanodegree consists of four courses. These courses are:
UX Fundamentals and Design Research
Concept to Low-Fidelity Prototyping
High-Fidelity Prototyping to Post-Launch Analysis
UX Portfolio Design
These four courses encompass numerous lessons and typically take an average of 3 months (with a daily 2-hour study commitment) to complete and earn your Nanodegree. Each course incorporates a project that you need to submit, which will subsequently be reviewed by the instructors, and you will receive feedback from them.
Let's now delve into each course individually…
This course commences by providing an introduction to UX, offering you valuable insights into this industry and the significant role UX Design plays in our daily lives.
Furthermore, you will delve into user research, learning how to empathize with users and pose appropriate questions during interviews. You see, a comprehensive understanding of users is essential to initiate a user experience, and only through this comprehension can you craft designs tailored to them.
In the final lesson of this course, you will grasp how to address human emotional and behavioral needs through design, along with employing principles of design psychology to evaluate and refine design sketches.
Interestingly, you might not realize that these lessons on human design psychology resemble what you'd encounter while pursuing a BA in Psychology during your academic journey.
[Read also: Careerist Review- Scam or Legit?
Have you ever come across the term "prototyping"?
Prototyping is essentially a preliminary version of a final product design that UX Designers employ for testing before the product's official launch. There are primarily two types of prototypes you will delve into in UX Design: low-fidelity and high-fidelity prototypes.
A product undergoes multiple rounds of iteration driven by user research and feedback. The low-fidelity prototype is used in the initial stages of design.
Within this course, you will gain knowledge about the Double Diamond design model and how to facilitate collaborative work sessions to establish a shared understanding of the user.
Furthermore, you will grasp concepts such as problem definition as opportunities, UI Principles, integrating UI kits and components into a prototype, and delineating user flow and interactions to craft a clickable prototype.
The final lesson of this course delves into Usability testing. You will learn how to create a digital journey map and refine prototypes based on user feedback, a highly crucial aspect of UX design.
Unlike low-fidelity prototypes, high-fidelity prototypes require more context and also consume significant time to create.
Following the creation of the low-fidelity prototype, the next step a UX Designer undertakes is ensuring that the interface and user experience of the solution captivate and delight users to the fullest extent possible.
In this course, you will acquire knowledge about UI designs, how to identify UI trends, and the method of locating and employing UI kits and plugins in a high-fidelity design. Additionally, you will learn techniques to enhance accessibility levels, make design adjustments, and export assets for seamless handoff to engineers.
Furthermore, you will delve into subjects such as enhancing overall design performance, identifying key performance indicators, utilizing remote testing tools, and optimizing designs based on engagement data.
This is the final course of the Nanodegree, where you will learn how to demonstrate your skills by showcasing designs and processes in a portfolio. You'll understand what to include in your portfolio and what to avoid.
This course is particularly beneficial for those seeking an entry-level job immediately after completing the course.
The course consists of two lessons: 'Introduction to UX Portfolio,' which covers learning about storytelling for a portfolio and the key components of a UX portfolio. The second lesson, 'Building a Starter Portfolio,' teaches you how to create a prototype for a project case study and how to design and update a UX portfolio according to industry best practices.
Having knowledge of industry trends in UX Design not only helps you secure a job more quickly but also sets you apart from others.
How much does this course cost?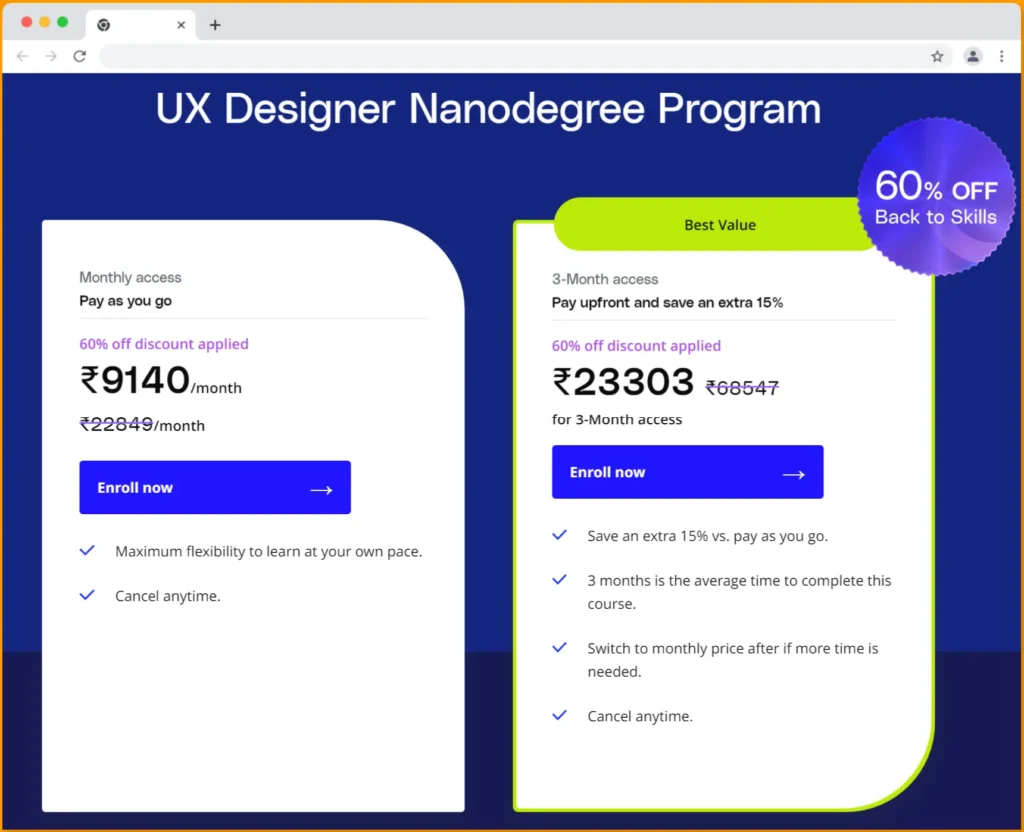 Udacity follows two pricing models across all its Nanodegree programs: the monthly subscription and the complete course bundle, which provides an additional 15% discount on average completion time.
The UX Design Nanodegree's monthly plan costs $399 (or INR 22,849), while the bundled course, which includes 3 months of access, is priced at $1,017 (or INR 58,257).
While the bundle subscription offers potential savings, I'd recommend opting for the monthly plan. After reading this UX Design Nanodegree review, you might find the course appealing and wish to enroll. However, a clearer understanding of the course and teaching style will emerge after attending a few classes.
For fast learners, completing the course in 2 months is possible, leading to even greater cost savings.
Moreover, Udacity frequently provides significant discounts (60-75% off) on all its Nanodegree programs. As of the time of writing this article, Udacity is currently offering a 60% Off 'Back to Skills' discount. This translates to substantial savings on Udacity courses.
[To stay updated on Udacity's latest discounts, consider subscribing to our newsletter. You can visit the homepage and claim your free ebook and you're done.]
Is it worth the worth money?
In my opinion, Udacity's UX Design course is worth considering for building a strong foundation in UX Design and securing an entry-level job.
The course covers essential UX Design principles, from mastering the fundamentals to crafting low-fidelity and high-fidelity prototypes. The emphasis on creating a comprehensive UX portfolio adds significant value to the learning experience.
Additionally, the course provides hands-on experience with UI Kits, Plugins, and other design systems.
A notable feature is the opportunity to complete projects, which are subsequently reviewed by Udacity instructors. However, it's important to note that these reviews are conducted by instructors other than the ones teaching the course.
While the course might appear expensive, it stands as a more affordable option compared to other online UX Design courses.
For instance, General Assembly's UX Design course carries a much higher cost even with scholarships. Moreover, Udacity frequently offers substantial discounts, asking the course accessible to a wider audience.
One aspect of the course that may leave room for improvement is the balance between practical exercises and theoretical content. Both my personal experience and user reviews, mentioned at the beginning, highlight this concern. For instance, the initial course offers insights into UX Fundamentals but falls short of delivering in-depth knowledge about the UX industry and its various job roles.
In summary, Udacity's UX Design course serves as a valuable resource for establishing a practical foundation in UX Design and entering the field. The hands-on approach, portfolio-building emphasis, and affordability make it an appealing choice.
To supplement the course's practical focus with a stronger theoretical background, exploring additional UX Design blogs and resources is recommended.
Can you get a job with this Nanodegree Certificate?
Upon completion of the UX Design Nanodegree, you might become eligible for an entry-level job in the field. However, relying solely on this course might not suffice for optimal career growth and achieving a substantial salary.
While formal degree programs specifically tailored to UX Design are limited, holding degrees in computer science, human-computer interaction, psychology, or design can significantly enhance your career prospects and earning potential within the industry. These qualifications carry greater value and often result in more lucrative packages.
Alternatively, following the completion of this course, I recommend pursuing advanced certifications in UX Design. This approach will enable you to enhance your skill set and gain further familiarity with a diverse array of tools and systems. Ultimately, success in this industry hinges on a combination of adept skills and inventive thinking.
What do I like about this Nanodegree program?
What do I dislike about this Nnaodegree program?
Alternatives to Udacity UX Design Nanodegree:
If you're interested in learning UX Design, this program is not your only option. There are many courses that can provide you with a strong foundation in UX Design.
Here are some of the best alternatives to this Nanodegree program: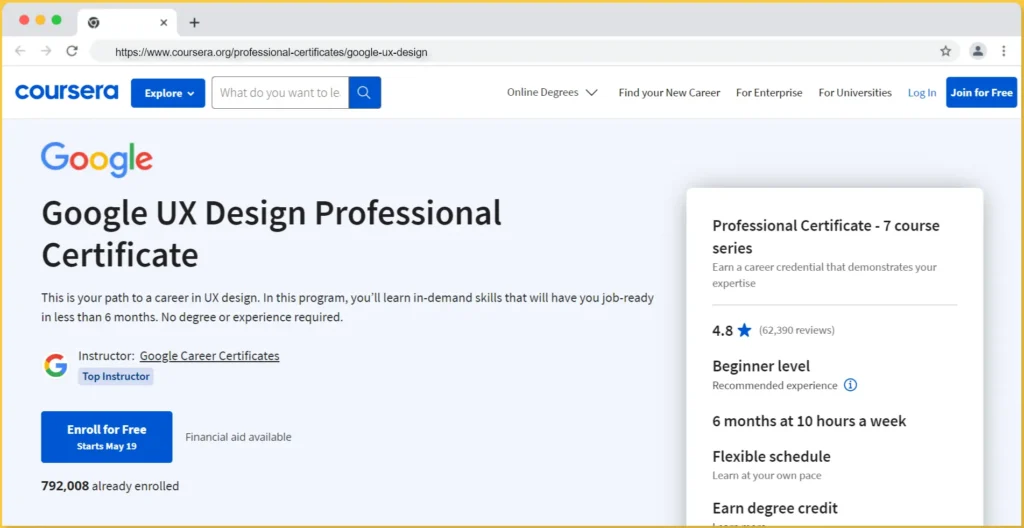 Similar to the UX Design Nanodegree, this course is specifically tailored for beginners. Developed by experienced practitioners at Google, it is accessible on Coursera for anyone interested.
In addition to providing practical knowledge, this course delves deep into theoretical concepts. Right from the outset, you'll explore topics like the roles and responsibilities of UX designers, the essential qualities required to excel in this field, and various other aspects that might not be covered as comprehensively in the Udacity Nanodegree.
The curriculum encompasses instruction on creating both low-fidelity and high-fidelity prototypes, affording you hands-on experience with tools such as Figma and Adobe XD. What sets it apart is its affordability when compared to the Udacity Nanodegree.
I have also published a dedicated Google UX Design certification review, that you can also read.
For a limited time, Coursera is offering its Plus subscription for just $1 for one month and $100 off on the annual subscription. If you're in India, you can also get Coursera Plus for ₹82.76 for one month and ₹8,267.66 off for the annual Plus subscription. For more information, please read our Coursera Plus Discount in September 2023.

Unlike Coursera and Udacity, Udemy functions more like a YouTube platform, providing individuals with the opportunity to showcase their expertise and offer courses for those interested in teaching.
On Udemy, you'll come across a multitude of UX Design courses presented by various instructors. One standout course I've encountered on Udemy is the "UX & Web Design Master."
This particular course takes you through the foundational aspects, allowing you to establish a strong understanding of UX design. Through the course, you'll gain hands-on experience with essential UX design tools such as Figma, among others.
Notably, the course is reasonably priced, making it a fantastic option for bridging gaps in your learning journey.
However, it's important to note that certificates obtained from Udemy courses might not carry the same level of validity and recognition as those from Udacity Nanodegrees and Coursera Professional Certificates.

This course is also available on Coursera for anyone to enroll. Offered by the Georgia Institute of Technology, it is tailored for beginners in the field.
Enrolling is free available in this course and provides an entry point to commence your learning journey. However, if you seek to obtain a certificate upon completion, a fee is applicable. On average, the course demands approximately 6 hours of commitment to cover. Throughout this duration, you can gain valuable insights into the core principles of UX Design and the art of prototyping.
In contrast to the Udacity UX Design Nanodegree, this Coursera course comprises a more concise curriculum. Nonetheless, it serves as an excellent introduction, allowing you to ascertain whether UX Design aligns with your interests and aspirations, all without incurring any financial cost.
Now It's Your Turn:
So, in this UX Design Nanodegree review, I have discussed everything you need to know before joining the program. I hope you enjoyed this review and found it helpful.
Now I'd like to hear from you:
Are you considering enrolling in this program?
If you have any questions regarding the program or my review, please let me know in the comments.