Looking for Study Table Accessories, you have come to the right place.
And, I'm pretty sure by the end of this article, you'll have stunning accessories that are useful and make your study desk look better and more organized.
Now here, I'm going to list 17 desk accessories for students, though, you don't need to have all of them and make your study table messy, select those that you find needy, standard, and priceworthy.
Here we go…
1. Laptop Stand
Note: Showing prices may not be accurate for all products. Amazon's product prices can fluctuate. If you're a college student, you may sign up for Amazon Prime Student and grab the best deal on these products.
A Laptop stand is a first study table requirement you must have. Earlier I would also operate my laptop without any holding stand but after purchasing this one I've realized the benefits of having it.
This stand really helps your laptop from overheating, has large cut-out vents and adjustable height options that allow air to circulate from all sides. And, the best part is you can also hold your phone with this stand.
Read also: 23 Dorm Kitchen Essentials You Must Have!
2. Books Stands Table Accessory
Do you place your books on the study table? If Yes, this Bookstand is going to be one of the best study table accessories for you. Not only it does look standard but can also hold many books that you read often. Moreover, it doesn't consume much space on your desk.
Besides textbooks, there are many books available for college students that they should read. If you're an avid reader you may consider purchasing this book rack.
In case, you're worried about its quality, it's made of wood which is sturdy enough. As I experienced it, It's quite tough to assemble, however, easy doesn't suit you also 🙂
3. Digital Alarm Clock & Timer
Again one of the super useful study table accessories for you- A Digital Alarm Clock and a Timer.
A student always tries to maintain a routine. Going to study at the right time, following the Pomodoro technique, and studying for only 25 minutes or 1 hour can be only possible if you have a digital clock on your study table.
This digital clock comes with Date, Temperature Measurements with Automatic Night light Sensor features. So it can work well at night also.
Along with this Clock, you may also consider having a Timer that can help you to challenge yourself with time, do your homework fast, solve questions fastly, and take practice for exams at home with a time limit.
Read also: 15 Study Techniques that you must try for better learning
4. Rechargeable Clip-on Light
If you also study at night or have to study in dim light, these Clip-on lights can be really useful for you. You can easily clip this lamp to your study desk or book while studying.
Here I've featured two different types of light, you may consider buying any one of them. As you can see in the image, one can clip on a book or notebook whereas the second one can clip on your desk. Both are rechargeable lamps and provide sufficient light for better studying at night.
You may check the features on Amazon by hitting the price button and do purchase one that fascinates you most.
5. Underdesk Drawer
Now, this accessory you cannot place on your study table, though, you can stick it under your desk. You may be disorganized with placing your earbuds, watch, keys, and more, and in this case, this under-desk can help you.
Don't worry, it's easy to set up and does not even visible in your line of sight giving you a certain degree of privacy to protect your items.
6. Weekly Success Planner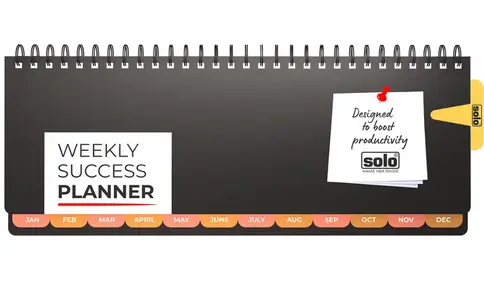 This weekly success planner every student must place on the study table. This planner provides you calendar and helps you to achieve your weekly study goals.
This success planner is designed in such a way that can help you to write your Goals, Priorities, Backlog, Important exam or test dates, Learnings, Habits, and Notes Daily Overview: Top 3 Tasks, To-Do List, and whatnot.
There is a separate and dedicated section available for all the above things. So must check it out. Is it a great study table accessory that you should use?
Read also: How to be successful in college?
7. Daily Planner for Desk (To-do list)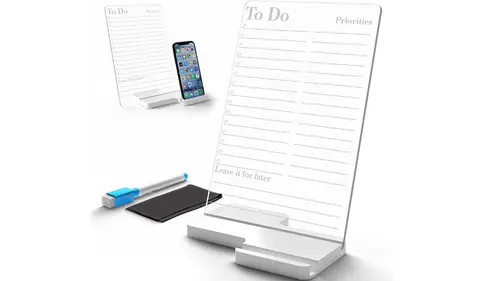 Now this planner is a bit similar to the previous one. But, this planner is reserved for daily To-do lists, writing your priorities, and later works in big fonts. It doesn't only look standard on your study table but also improves memory by focusing your attention on important tasks in a day.
I often recommend in my all study tips blogs that you must have a daily to-do that can increase your productivity and motivate you to finish all tasks on time.
This Daily planner comes with a marker, eraser, and phone holding stand. So, buy it once and you don't need to buy any other To-do's. You can use it as many times as you want.
8. Stationery Pen Stand
The pen stand is another requirement for all study tables. Here I've featured a pen stand that doesn't take up much space on your desk and can organize all your stationery items like pens, pencils, stapler, and paper clips. Moreover, you may also keep sticky notes and flash cards.
The price button above will also let you see different designs of pen stands.
9. Mini Portable Desktop Vacuum Cleaner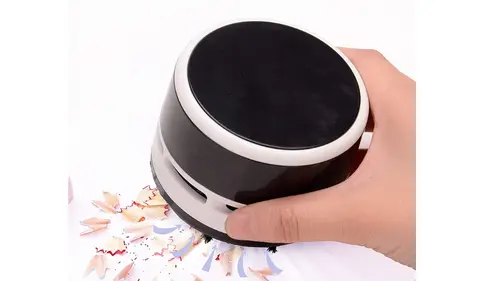 Have you seen this student gadget before? It's an amazing mini dust eraser that you can use to clean your study desk. You may also use it for cleaning your laptop, keyboard, breadcrumbs or paper scraps, pet hairs, or eraser crumbs on a desk.
Its mini-size makes it portable and handy. You can clean smaller and hard-to-reach surfaces easily. You may read its more feature on Amazon if you decide to purchase it.
10. Handwriting Board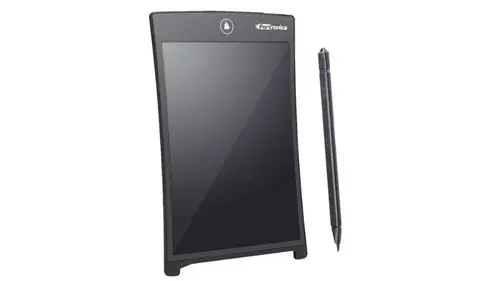 Like other study table accessories, this handwriting board is going to be super useful for you wherever you study. You solve many practice questions in your rough notebook but not anymore.
This handwriting board comes with a pen that will not only help to save tons of rough pages but also helps you to solve better questions.
The tablet displays your notes until you erase them with the touch of a button, one-touch button erases notes instantly.
Handpicked Related: 17+ Useful Products for College Students
11. Small Desk Fan
If you're reading this article in summer and perspiring a lot, this small desk fan can be really useful for you. It takes up a small space on the study table and its cooling air will help you to concentrate better on your studies.
The best part about this fan is it has a low/medium/high-speed setting. You just press the power button repeatedly to adjust the appropriate fan speed. Isn't it amazing that you can place it on your study table when you're feeling hot?
12. Wall Instant Whiteboard
Now, this amazing table accessory can do lots of work. You just need to stick it on your study table, door, or at any place you're comfortable. You can use it for solving your maths questions, making your to-do list, writing study motivation quotes, or others.
So there is no need to have a whiteboard. At INR 499, you get six pieces of this A5 transparent dry-erase board sticker that can be used repeatedly.
13. Desk Decor Small Plant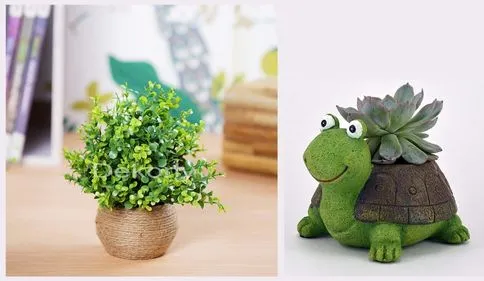 This is not useful for your study but if you want to make your study table looks standard and environment friendly you may consider these small plants.
Here I've featured two plants. On the left side is an artificial plastic fake green plant and on the right side, there is a green turtle shape mini succulent pot plant holder. Depending on your interests, you may choose any of the plants.
I personally like the turtle shape plant holder where I can plant a really small plant.
[Read also: 11 Dorm Bathroom Essentials for College Students]
14. Scientific Calculator
This Calculator is an amazing science gadget available for students. If you're a student of physics and mathematics, you can take advantage of it. It can help you with Trigonometrical, Logarithmic, Permutation, Combination, and solving many other mathematical functions.
If this calculator captivates you, you may read its more features on Amazon by hitting the above price button though, I've featured the best for you.
Read also: How to get better at math?
15. Your Profession Mug
If you're going to be a future doctor, this profession cup you must have. However, before ordering it, you may also customize the text professions like engineering, and IAS that you dream of.
This profession text-printed study table mug not only you can use to drink water, and coffee while studying but it will also motivate you to keep going and achieve what you want to become.
You may also gift it to a college friend who is pursuing a medical.
16. Noise Cancelling Headphone
I always recommend students carry noise-canceling headphones. This accessory doesn't only help you to avoid unwanted noise and focus on your online study but you can listen to music also while studying.
You might have not any idea but listening to classic music or music with no lyrics certainly helps you to improve your concentration.
You may read its all features and browse more headphones like this on Amazon.
17. Photo Frame For Desk
If you're a student leaving away from your family, you must place this photo frame on the study table. You may frame your parent's or your loved ones' photos in it.
While studying or whenever you're feeling low, or depressed looking at the photo frame will always remind you to make a call to them. Their smiles will also motivate you to keep going and make them proud.
Conclusion:
Now you have enough accessories to place on your study table. As I said in the beginning, you don't need to have everything. For the accessories, you find necessary, standard, and that don't consume lots of place on the desk, you may purchase them.
And I'm pretty sure you have selected most products from here.
Now I would like to hear from you:
Which study table accessories do you find most useful and which ones do you have already?
Let me know in the comment.
 Disclaimer: In this article, I have put some Amazon affiliate link that means if you purchase any product through our links we will earn a small commission from Amazon at no extra cost to you, this is how we produce free content for you without advertisements.