(Disclaimer: To survive our blog without advertisements, we may use affiliate links in this post.)
If you're looking for science gadgets for students, make sure you read this article until the end. In this article, we'll show you the top 10 cool science gadgets that will amaze you.
Most likely, you haven't heard of or seen these gadgets before.
These gadgets are not only fun to use but will also challenge you to think and understand how they work. If you're a student, these science-related gadgets will be worth your investment.
If you're a parent, you can gift these gadgets to your seven-year-old kids or college-going students. The surprising thing is, you can also have fun with them.
Handpicked Related: 12 Study Gadgets that are worth using in 2023
Now, it's time to showcase these 10 cool science gadgets we've been talking about. Let's get started…
1. The Swinging Sticks Kinetic Energy Sculpture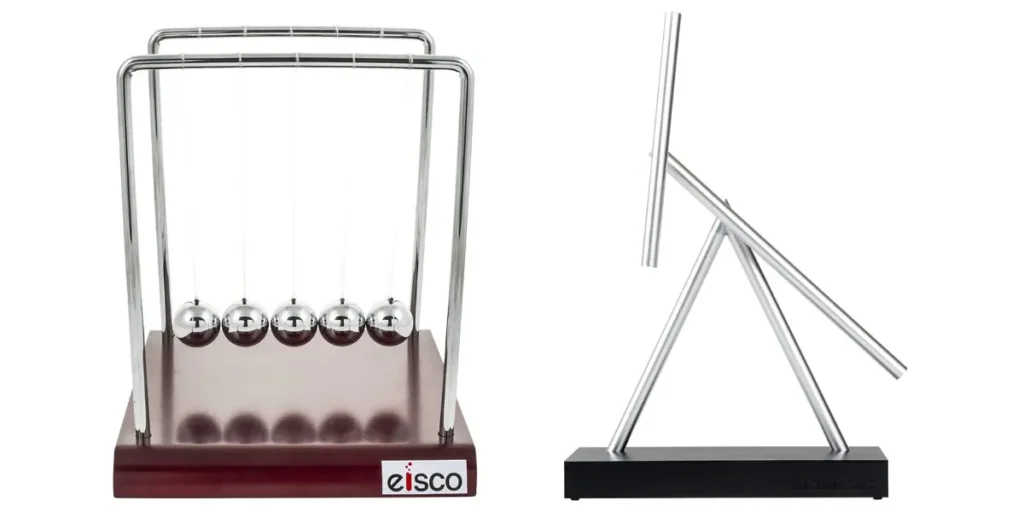 (The prices shown may not be accurate for all products. Amazon's product prices can fluctuate. However, the prices of these items are listed in US currency, and you may purchase them from any country.)
As the name suggests, this gadget has double swinging sticks, similar to a pendulum. Despite its design that changes speeds and direction without apparent reason, it offers a calming and perpetual rotation.
This gadget is a symbol of a tranquil and serene environment. It works best when placed on a study table or in a meditation space, which is why we call it a kinetic energy sculpture.
You may be puzzled by its continuous rotation, so let me explain how it works…
This scientific gadget is designed to work with only four AA batteries, and once you initiate the first movement, it keeps going. You can find more features about it on Amazon.
Note: If you're a college student, you can sign up for Amazon Prime Student and grab the best deals on these products. If you're not familiar with Prime Student, you should read our review of it to learn more.

Read more: Amazon Prime Student Review- Everything you need to know!
2. Heng Balance Lamp
If you want to observe the magnetic effect in a gadget, this may be the perfect gadget for you as a student. It's a lamp that operates by connecting the bottom ball to the upper ball vertically.
Since these two balls are magnetic, lifting the bottom ball attracts the upper ball and creates a balanced structure that turns on the light.
If you're a student who has to study at night or struggles to study in a dark room, you can use it as a desk lamp.
Not only does it look stylish, but it also provides sufficient light to focus on your studies. You can also gift it to a teacher who's about to retire.
3. PLAYABLE ART Lollipopter
This is a very cool gadget that you must try. It has a plant-like structure that showcases its magic when you spin the handle. With a quick twist, this Lollipopter transforms from a "swirl" to a "burst" and back again in one amazingly elegant motion.
This gadget is intuitive, relaxing, fun, and addictive. Students often use this gadget after studying to unwind, kids use it as a toy, and employed individuals can use it as a stress reliever.
If you ask me, I also use it as home decor. This gadget is really worth its price, and I would recommend it not just for students, but for everyone. You can purchase it in many different colors or even mixed colors.
Read also: 60+ Useful Gifts for College Students
4. AmScope Kids Beginner Microscope
This is an ideal science gadget for students – a microscope specially designed for beginners or kids who are interested in science.
While it's aimed at students, it's not necessarily easy to use. If you are a parent, you may need to educate your kids on how to use it properly and how to view small particles on leaves or other objects. If students are familiar with microorganisms such as bacteria and fungi, they may even examine these through a microscope.
MEL Science: Are Their Hands-on Kits Worth It?
MEL Science is a platform designed for students who love to do experiments, explore science concepts and have fun while learning. It is a monthly subscription box that offers hands-on experiment kits in different subjects for different age groups of students.
Read our complete MEL Science review…or
All in all, this set is great for beginner scientists. If your kids want to be a scientist, this would make a great gift. For more information on its features, check it out on Amazon by clicking the pricing button above.
5. PhiTop Physics Egg for Science Geeks
This gadget is both cheap and effective at reducing exam stress and anxiety, making it ideal for students. With a simple spin, you can enjoy mesmerizing sights and intriguing sounds that will help you relax and unwind.
If you read its features, you'll discover that it's aluminum mirrored finish and ellipsoid shape have been shown to aid in meditation and stress relief. Plus, it can also be used as a toy by kids looking to have some fun.
But what makes this gadget truly scientific? Let me explain.
The PhiTOP is a beautiful and elegant object that combines science, math, and aesthetics. When you spin it on the concave mirror, you'll witness Lissajous figures, electrodynamics, and gelatinous ellipsoids in action. It's an excellent tool for learning and appreciating science and math concepts.
6. Floating Globe with LED Lights
The magnetic levitation globe is a fascinating science gadget that can be a great addition to any student's study desk or home office.
The way it floats and rotates in midair is sure to grab anyone's attention and spark their curiosity. Its electronically controlled magnetic system makes it seem like a magic trick, but it's actually a result of the principles of magnetism and electromagnetism.
The LED light feature adds an extra cool factor to this gadget, making it a great decor piece for any room. It's also an excellent gift idea for someone who is interested in science or technology. And, since it doesn't require batteries, it can be used for long periods of time without needing to be replaced or recharged.
Related: 17+ Useful Things for College Students
7. Dash – Coding Robot for Kids 6+
If you're interested in robotics and programming and want to get your kids interested, then this gadget is worth purchasing. It could become your child's first real robot friend.
This physical robot comes with access to a virtual Dash robot that kids can program in a rich 3-D environment on-screen. The programming apps are very instructional, easy to learn, and easy to use.
However, it's more than just learning to code. The Dash robot gadget allows kids to explore loops, events, conditions, and sequences, and see how they result in Dash's real-life movements.
This robot is perfect for use in a classroom or at home with family and friends, allowing kids to work solo or come together for group coding projects. If you decide to purchase this toy for your kids, you must first read its features.
Note: If you're interested in learning Java programming from scratch, you may want to read our CodeGym review and give this platform a try.

8. Scanmarker Air
This gadget is perfect for college students who want to take better notes while reading. The scanner pen can scan directly into any computer application of your choice.
You may be surprised by its features. The scanner pen can translate into over 40 languages and also has a text-to-speech feature that reads the text back to you in real-time while scanning.
In addition to these functions, this tech gadget also helps with memorization and reading comprehension. I highly recommend it to all college students.
Read also: 15 New Study Techniques You Must Try this Year!
9. Magnetic Rings Fidget Toys
This is a fun and interesting science toy that can be enjoyed by anyone, from kids to adults. With these 3 rings, you can make different types of moves and rotations and grab others' attention.
However, in addition to the fun part, this gadget also works well for relieving ADHD and anxiety. It can divert your attention and help relax your mood and thoughts. These magnetic ring toys can develop your imagination, allow you to move your fingers, and relieve finger fatigue.
If you're a parent, you may want to consider gifting this to your kids or college-going students.
10. Scientific Calculator
Last but not least, we have a scientific calculator on our list of cool gadgets.
This calculator is capable of showing graphs of formulas. It features a large enough screen to display graphs and equations simultaneously, allowing you to see calculations and corrections in high detail.
It is an ideal gadget for high school and college students, with three operating modes: Angular Measurement, Calculation, and Display modes. Additionally, it has over 280 functions, including fractions, statistics, complex number calculations, linear regression, standard deviation, permutations, and variable solving.
Isn't this a useful science gadget for you as a student?
For more information on the features of this scientific calculator, check out Amazon by clicking the button above.
Now It's Your Turn:
So, I hope you enjoyed our cool science gadgets for students and found a couple of gadgets for yourself.
Now I'd like to hear from you:
Which gadgets do you find most useful and which gadgets do you already have?
Let me know in the comment, I'm curious.