Looking for free online learning platforms for students? You've just landed in the right place.
There was a time when you had to study in schools and college to learn some skills that can make your career and land you a high-paying job. Pursuing any college course to learn a skill costs you thousands of dollars.
But with time learning has changed a lot. Now to pursue any course you don't need to go to college, you can pursue any course online from the comfort of your home. Whether you've to gain hard skills, academic education, or any soft skills many online learning platforms offer you too many courses for free and paid also.
However, In today's article, I've come up with 9 Free Online Learning Platforms for Students. These platforms are not only well-known but also provide you with the best learning through free courses that can help to gain new skills.
So if you're a student on a tight budget or just want to learn new skills then this article is worth reading for you. Because here you're not only going to get free online learning platforms for students but I'll also tell you the qualities of free courses these platforms provide.
Are you ready?
Without further ado, let's dive into it…
1. Alison Free Online Learning: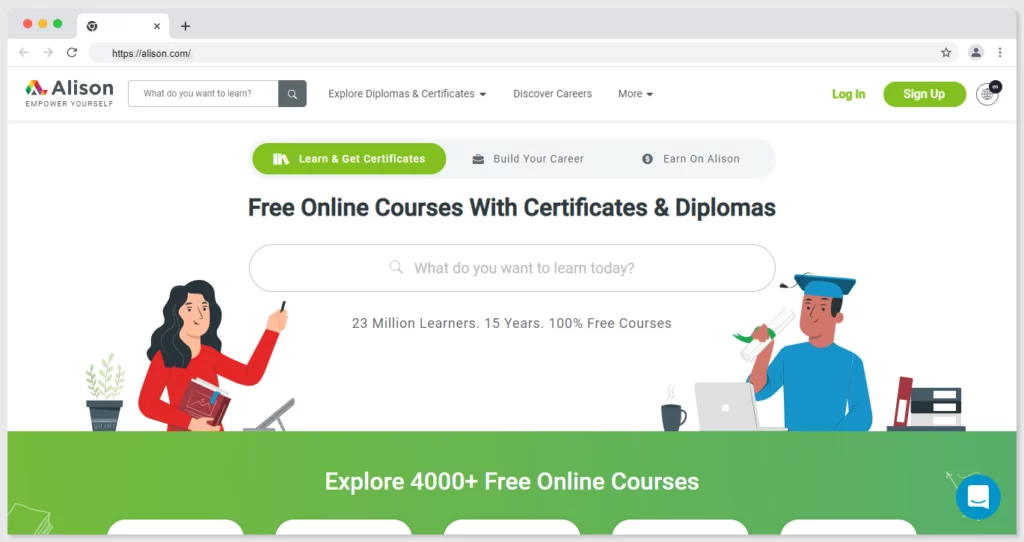 If you're looking for a free online learning platform that gives you free certification as well then this platform is just made for you.
Alison is one of the largest free e-learning platforms, founded in Ireland, in 2007 and since then, the number of learners reached more than 15 million in 195 countries.
This platform offers you two types of courses- Diploma courses and Certificate courses. However, you can find courses here in many categories from Tech to Health, IT to Business, Language to Personal development, and more.
Moreover, you can also discover a career here based in different sectors like Agriculture, Sales, Architecture, Government, Finance, Hospitality, Tourism, and more.
Quality of Courses in Alison Free Online Learning: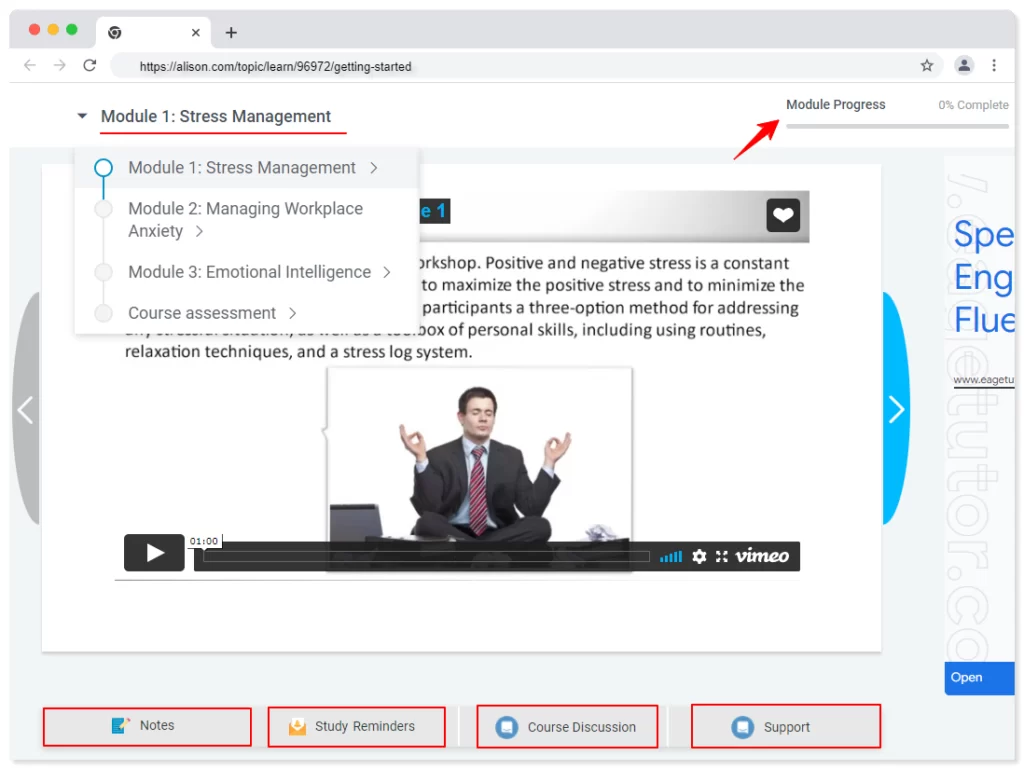 This platform courses divide into modules and topics to make your learning style easier. It also gives you a complete overview and the average time for a course that you want to learn.
Its courses are divided into different levels like Elementry to learn basic, Beginner, Intermediate, and Upper-Intermediate.
Inside a course, this free online learning platform also provides you with Note-taking, Study reminders, Course discussion, Resources, and Support that you often get in paid online learning platforms.
Sounds AMAZING?
Additionally, after finishing a course this platform allows you to claim your certificate that can add some credentials to your resume and LinkedIn profile.
Whether you want to learn something new, upgrade your skills, or just explore some hobbies this platform is worth checking out for you.
> Check out the Alison free learning mobile learning application.
> Check out: Alison.com
2. Khan Academy:
Khan Academy is an American non-profit educational organization created in 2008 by Sal Khan. Its goal is to create a set of online tools that help educate students.
Bank of America, College Board, TATA TRUSTS, and more are the key supporters of Khan Academy.
This online learning free platform is dedicated to students who want to learn their class materials and subjects like Physics, Chemistry, Biology, and Mathematics effectively. Besides these subjects, it also provides classes for Economics, Art & Humanities, and Computing.
However, many students take math classes here to improve their mathematics. Students from classes 1 to 12 can take mathematics classes here. Whether you want to build your foundation in maths or learn particular topics like Geometry, Calculus, Trigonometry, Statistics, or any other this platform you must try.
Quality of Khan Academy Courses:
This free online learning platform is filled with video lecture classes, Practice Questions, and Quizzes to make you proficient at a certain topic.
Additionally, this platform also gives you mastery points while learning a topic. The more topics you learn the more mastery points you can score.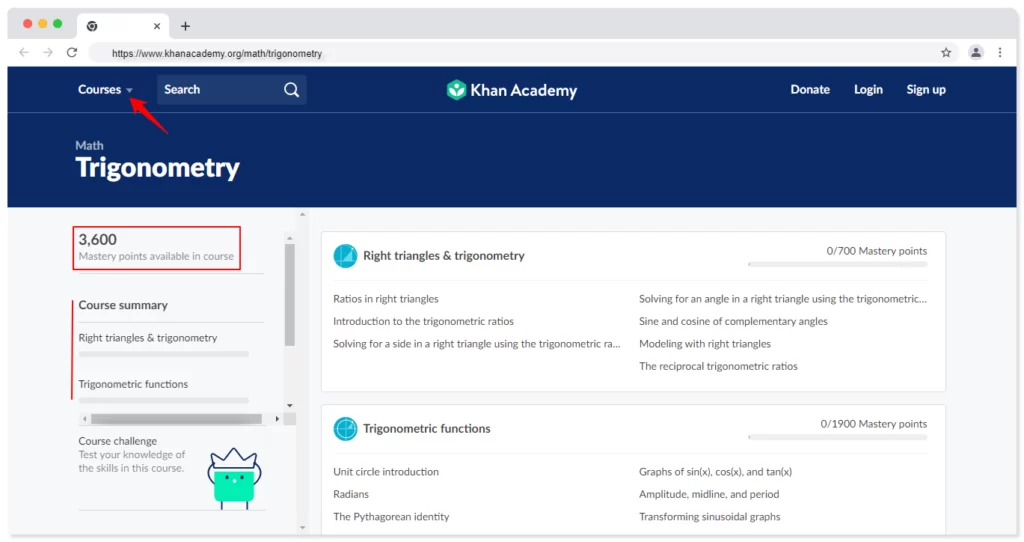 For example, there are 3600 total mastery points available for a Trigonometry course. Inside the Trigonometry course, there are 4 sections available with different mastery points- Right triangles & trigonometry, Trigonometric functions, Non-right triangles & trigonometry, Trigonometric equations, and identities.
If you belong to India and want to take classes in the Hindi language then Khan Academy offers some Physics, Chemistry, and Mathematics courses in Hindi.
And if you're preparing for SAT or LSAT exams, Khan Academy provides Test Preparation guides and lessons for these examinations also.
> Check out the Khan Academy mobile application.
> Check out: Khan Academy
3. Coursera:
Coursera is one of the most excellent platforms for free online learning platforms and courses for students.
Coursera was founded in 2012 by Stanford University computer science professors Andrew Ng and Daphne Koller. Coursera offers around 4000 total courses in a wide range from tech to health. Currently, Coursera has 45M users.
Coursera has partnered with top companies and universities like Google, IBM, the University of London, Duke University, IIT Mumbai, and many more.
Although Coursera is well-known for its online degree and professional certificate courses that come under its paid programs. However, apart from these paid programs, Coursera offers 2000 free courses for students and learners all over the world.
Sounds great?
These free courses include tech to health and language to career development categories.
The Science of Well-Being, AWS Machine Learning Foundations, Intro to Machine Learning, Intro to Python Programming, Creative Problem Solving, and Introduction to Psychology is the top and most enrolled free courses on Coursera by students.
There are many more on the list. So if you want to explore further its free courses then you must check out this article.
Quality of Free Courses in Coursera:
As I said already, Coursera offers free courses in a variety of categories. And, the course features depend on which course you want to pursue here.
So first, decide on which subject you want to pursue a course. Is it Data Science, Language Learning, Business, Health, Finance, Personal Development, or any other?
Coursera offers you its free courses on 4 levels- Beginner, Intermediate, Advanced, and Mixed. However, most of the free courses are at the beginner level and mixed. Along with these levels, Coursera has 2 types of learning programs for the free courses.
Guided Projects: In this type of project you can build job-relevant skills or learn a new skill in under 2 hours with hands-on tutorials.
Courses: Here you learn from top instructors with graded assignments, videos, and discussion forums.
So if you're a student and want to take advantage of these Coursera free courses then must explore Coursera for more. You can also take a look at our Coursera review.
> Check out the Coursera mobile application.
> Check out: Coursera
4. Udacity: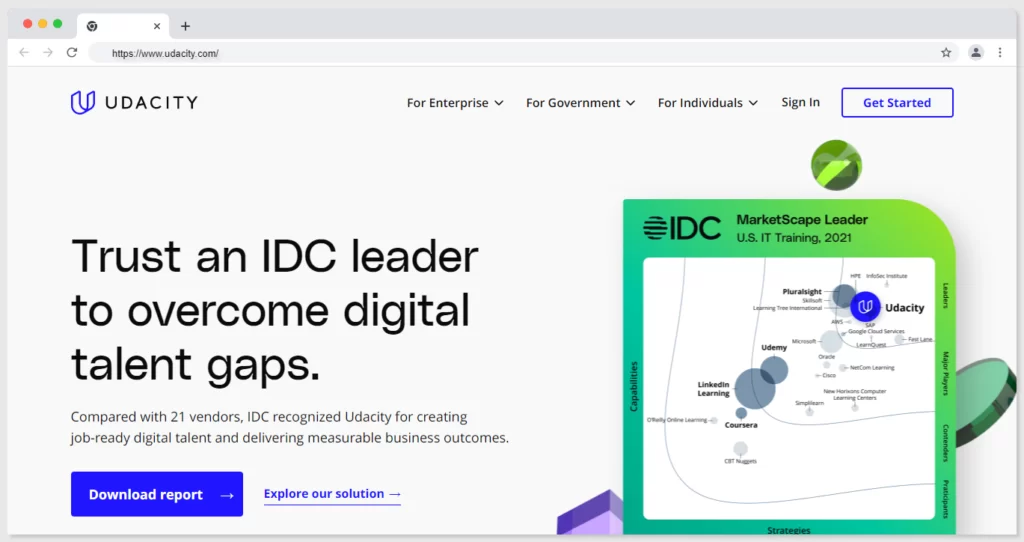 Just like Coursera, Udacity is also not a completely free online learning platform but this platform offers you enough free tech courses for students and learners that you might not find somewhere else.
Udacity was founded in June 2011 by Sebastian Thrun, David Stevens, and Mike Sokolsky. Udacity offers you 500 courses in only leading technology fields like Artificial Intelligence, Cloud Computing, and many more. Currently, Udacity has 11.5M users.
However, of 500 courses 200 courses are available for those students who are looking for free online learning platforms or courses. Here, you can't expect to get a free certification, all you get here is skills and learning.
Intro to python programming, Intro to Machine Learning, Microsoft Power Platform by Microsoft, Front End Frameworks by Google, Responsive Web Design Fundamentals by Google, and many more are the top Udacity's free courses.
Quality of Udacity Free Courses:
Udacity offers courses only in tech and business. So, if you are a student of the tech industry then you can take full advantage of its free courses. Choose a tech field that you're interested in or have some experience with.
Next Udacity offers all its free courses on three difficulty levels- Beginner, Intermediate, and Advanced. With every course, you also get an average time to finish a course. Inside a free course, Udacity also takes quizzes from time to time that keep you engaged during the lectures.
If you want to also enroll in Udacity-paid programs like Nanodegree then first you must check out our Udacity review.
> This online platform doesn't have any mobile application.
> Check out: Udacity.com
5. Udemy:
Udemy is one of the largest online learning platforms or MOOCs in the market. It was founded in May 2010 by Eren Bali, Gagan Biyani, and Oktay Caglar.
Udemy offers more than 1000 thousand courses and more than 35 million students are enrolled in its courses. Just like the above two platforms Coursera and Udacity, Udemy also has Free and Paid Content.
Udemy offers a wide range of FREE courses from Tech to Entrepreneurship, Meditation to Goal Setting, Personal Development, Programming, Blockchain, Productivity, Life Style, and many more.
Udemy courses are built by people like you and me who have some expertise in a field and want to teach others online.
Quality of Udemy Free Courses: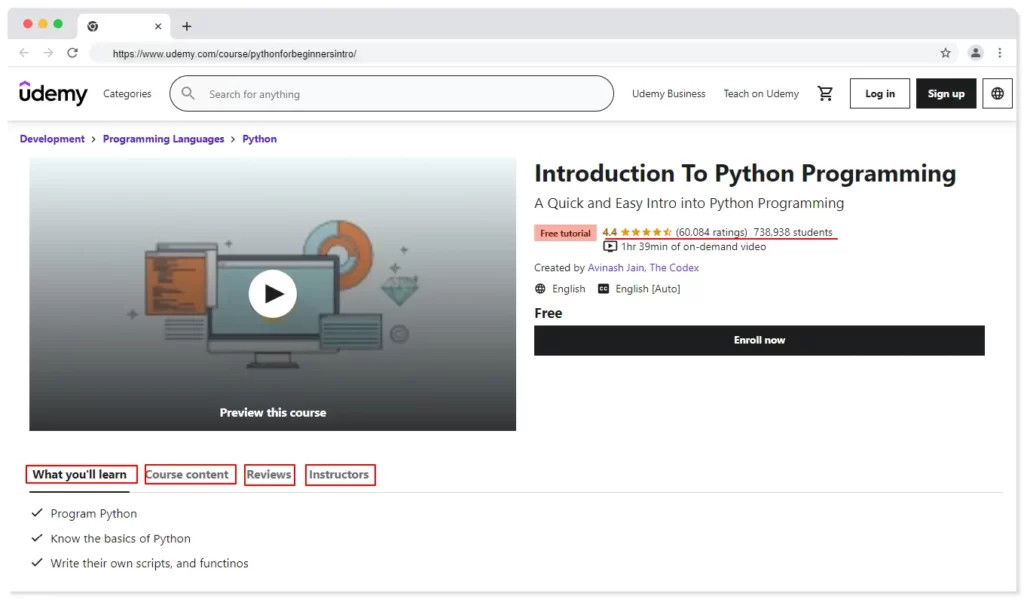 Udemy provides you a filter option to find a course in a field that meets your requirements in terms of subcategory, difficulty level, and language.
With every Udemy free course, you also get the rating, reviews, and the number of students who enrolled in the course. In fact, if you're new to any course on Udemy, it also tells you the description of the course and the benefits of learning this course.
Udemy courses are divided into four different levels- Beginner, Intermediate, Expert, and All Levels. You can also try Udemy paid courses in which besides online video content, you get additional features like Certificate of Compliance, Instructor QnA, and Instructor direct message.
> Check out the Udemy mobile application.
> Check out: Udemy
6. Codecademy:
If you want to learn coding for free with an online learning platform then Codeacademy is worth trying for you.
Codecademy is an American online interactive platform that offers free coding classes in 12 different programming languages including Python, Java, Go, JavaScript, Ruby, SQL, C++, C#, Swift, and Sass, as well as markup languages HTML and CSS.
So whether you're a student of programming or new to this coding world, this free online learning platform can give you in-demand coding and programming skills. Currently, this platform has 50M users.
Quality of Codeacademy free courses:
You learn programming and coding to give services in certain fields and make our careers in that field. Right?
Here are the subjects that Codeacademy offers to you:
Web Development
Data Science
Computer Science
Developer Tools
Machine Learning
Code Foundations
Web Design
With these subjects, you get to know exactly what you need to learn in coding and programming so that you can give your services in a particular field.
For example, if you want to make a career in Web Design, Codeacademy offers you all courses in HTML, CSS, Bootstrap, Responsive Design, Color Design, and Navigation Design that are required for Web Designing.
Similarly, you can explore any subjects in Codeacademy to have a clear direction about which course to pursue. These courses include Video lessons, Projects, Articles, Cheatsheets, and Resources. These courses can be also Free and Paid programs with three levels Beginner, Intermediate, and All.
You can also try Codecademy Pro if you want to get indulged in a coding career.
> Check out the Codecademy mobile application.
> Check out: Codecademy
7. edX Learning:
Want to join free courses from Harward, MIT, and others? edX is also a paid online learning platform but it also offers hundreds of free courses in a variety of fields.
edX is an American massive open online course provider created by Harvard and MIT. Currently, It has 40M users taking advantage of free and paid learning.
This platform offer courses in a wide range like Coursera. Agriculture, Architecture, Engineering, Humanities, Language, Law, Literature, Medicine, Music, Philosophy & Ethics, and many more are the areas where edX courses provide.
Additionally, If you're a student who wants to learn materials like Physics, Chemistry, Mathematics, History, and others then you can also get classes here.
Quality of edX Free Courses:
edX all free courses are offered by top organizations and universities like Harward, MIT, IBM, NYU, and more.
With its all free courses, you get to know about the course overview, what you'll learn, and the Instructors (with their bio), Its free courses include video lectures and reading.
However, in edX free courses you get temporary access to non-graded activities, including discussion forums and non-graded assignments. Also, after a certain period of time, your free access expires and all progress will be lost.
You can also upgrade your free programs by paying some money where you will also get the verified certificate of completion that you can add to your resumé to advance your career.
> Check out the edX mobile application.
> Check out: edX
8. LinkedIn Learning:
An e-learning site Lynda.com merged with LinkedIn and in 2017 migrated into LinkedIn Learning. Today, LinkedIn Learning is one of the growing online learning platforms for students and learners out there. It offers 17,000+ courses in Business, Creative and Technology subjects. It has 700+ million users in more than 200 countries worldwide.
Whether you want to learn soft skills like communication skills, making decisions, job skills, or hard skills like graphic design, excel, and programming this online platform you must check out.
Although this platform is paid like Coursera, Udacity, and others it also offers thousands of free courses that you can access without even signing in.
Here are some top free courses offered by Linked learning:
Introduction to Graphic Design
Communication foundations
Critical Thinking for Better Judgment and Decision-Making
Programming Foundations: Fundamentals
Social Media Marketing Foundations
Quality of LinkedIn Learning Free Courses:
LinkedIn learning offers all its free courses in bite-sized video content that break downs into different topics and subtopics. Its courses include exercise files (practice what you learn), and quizzes that you can access on your phone and tablet as well.
Moreover, after finishing some free courses you can also earn a shareable LinkedIn Learning certificate of completion that you can showcase on your LinkedIn profile under the "Licenses and Certificate" section.
> Check out the LinkedIn Learning mobile application.
> Check out: LinkedIn learning
9. FutureLearn:
FutureLearn is a British digital education platform founded in December 2012. Like other above platforms, this online learning platform has both types of courses free and paid.
This platform offers courses in a wide range of subjects. It includes Business & Management, Healthcare, Arts & Media, History, Language, Law, Literature, Psychology & Mental Health, and many more.
So, if you're interested in any of these industries and want to learn something then you must explore its free courses. Here are some top and most enrolled free courses that you can pursue:
Digital Skills: Digital Marketing
Computer Programming for Everyone
Communication and Interpersonal Skills at Work
What is Mind?
Basic English 1: Elementary
Introduction to Cyber Security
Quality of Futurelearn Free Courses:
Futurelearn free courses include Video content, Articles, Discussion, and Exercise. I like the exercise and discussion part more where you engage with the different learners and share your opinions.
You can also see your progress in terms of finishing your course and getting feedback from other learners.
Remember, with free courses, Futurelearn also gives you a limited time to finish a course and if you can't finish a course in that time then you won't be able to access the course again. To access the course forever you can take its monthly plan.
In fact, after taking a subscription you can also grab a Certificate after finishing a course.
> This online platform doesn't have any mobile application.
> Check out: Futurelearn
Over to you:
If you're a student and want to learn new skills there are many online learning platforms that offer you too many free courses.
In this article, we have listed 9 free online Learning platforms for students with their qualities. I agree all platforms are not completely free but they provide enough resources for free. Whether you have to gain academic knowledge or learn any skills these platforms serve you the best.
Now I'd like to hear from you:
Which platforms you have tried already? If you haven't tried anyone yet then from the list which platform you're going to try first?
Let me know in the comment…