Are you looking for a Coursera Plus discount or an offer on Coursera Plus? What if I told you that you can now get it for as low as $1?
Yes, you heard it right! As an affiliate of Coursera, I received a new update that Coursera is offering the first month of Coursera Plus Monthly for just $1. Alternatively, the $100 Off on Coursera Plus annual subscription.
This means you can have unlimited access to over 7,000 courses, including Professional Certificates from Google and META, for only $1 for a month and $100 Off for a year.
It's important to note that this offer is available for a limited time and is only applicable to new Coursera Plus subscribers (those who do not currently have an active Coursera Plus subscription).
If you're from India, you can also grab the Coursera Plus for one month for just ₹82.76 and $₹8,267.66 off discount on its annual subscription. It's the greatest Coursera offer in 2023, and I highly recommend it to every eligible learner.
How to grab this Coursera $1 and $100 Off Annual Subscription Offer?
The Coursera Plus offer is not available in all locations, and not everyone may be eligible for it. If you are interested in getting Coursera Plus for just $1, here are the steps you can take to
Please check this link to determine if you are eligible for Coursera Plus.
If you are eligible, congratulations! You can proceed with the sign-up process.
To sign up, you have the option to continue with either Google or Facebook. Alternatively, you can sign up using your email ID.
Once you have completed the sign-up process, you can make a payment of $1 or get $100 Off to gain access to Coursera Plus for a month. With Coursera Plus, you will have access to thousands of top-quality courses, including professional certificates and specialization programs from top universities and companies.
If you are not familiar with Coursera Plus and what it includes, allow me to explain to you…
What is Coursera Plus?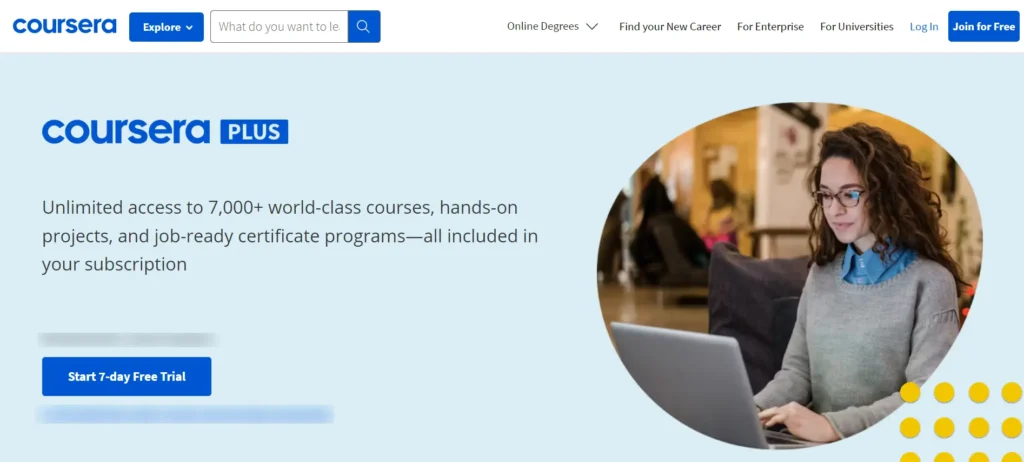 As we all know, Coursera is a widely recognized online learning platform that offers a subscription model called Coursera Plus. This subscription provides unlimited access to a diverse selection of online courses, totaling over 7,000 options. It includes access to popular Professional Certificates offered by Google and Meta.
For more information, you may read our Coursera Plus Review now.
Coursera Plus is an ideal choice for learners who wish to acquire a wide range of in-demand skills at an affordable price. If you're someone who wants to learn unlimited skills without the need to pay for each course individually, you should consider a Coursera Plus subscription.
Coursera Plus Insights and Benefits:
Unlimited access: Coursera Plus offers subscribers unlimited access to over 7,000 courses, specializations, and professional certificates available on the Coursera platform. This included both self-paced courses and those with specific start dates.
Diverse subject areas: Coursera Plus covers various subject areas, including business, computer science, data science, social sciences, arts, humanities, health, and more. The extensive catalog allowed learners to explore diverse topics and pursue their interests.
Certificates: Upon completing a course, specialization, or professional certificate included in Coursera Plus, learners receive a shareable certificate that verifies their achievement. These certificates could be shared with employers or added to resumes or LinkedIn profiles.
Flexibility: With Coursera Plus, learners had the flexibility to learn at their own pace. They could access course materials and complete assignments whenever it suited their schedule. This self-paced learning approach allowed for a personalized learning experience.
Skill development: Coursera Plus aims to help learners acquire valuable skills relevant to their personal and professional growth. The platform provided courses on a wide range of topics, including technical skills, leadership, project management, data analysis, programming, and more.
Continuous learning: Coursera Plus encourages lifelong learning by enabling learners to take multiple courses simultaneously or consecutively. This feature allowed individuals to explore different subjects, acquire new knowledge, and enhance their expertise continuously.
Cost-effectiveness: The subscription plan offered access to the entire Coursera Plus catalog for a fixed annual fee. For learners who plan to take multiple courses throughout the year, Coursera Plus could potentially provide cost savings compared to purchasing individual courses separately.
Best Courses You Mat Take with Coursera:
Machine Learning:
Machine Learning by Stanford University: This course, taught by Andrew Ng, is one of the most renowned courses in the field. It covers the fundamentals of machine learning, including supervised and unsupervised learning, as well as neural networks and deep learning.
Deep Learning Specialization" by Andrew Ng: This specialization consists of five courses and covers deep learning techniques, such as convolutional networks, sequence models, and structuring machine learning projects.
TensorFlow for Deep Learning" by Imperial College London: This course focuses on using TensorFlow, a popular deep learning framework, to build and train neural networks.
Data Science:
Data Science Specialization by Johns Hopkins University: This specialization is a comprehensive program covering data cleaning, visualization, and analysis using R and other tools. It's a great choice for those aspiring to become data scientists.
Applied Data Science with Python by the University of Michigan: This series of courses teaches data manipulation, machine learning, text mining, and data visualization using Python.
Data Science and Machine Learning Bootcamp with R by Udemy: This bootcamp covers data science and machine learning concepts using the R programming language.
Business and Management:
Business Foundations by the University of Pennsylvania: This series of courses provides an introduction to various aspects of business, including marketing, finance, operations, and more.
Financial Management Specialization by the University of Illinois: This specialization covers financial planning, risk management, and financial markets, providing essential knowledge for finance professionals.
Digital Marketing Specialization by the University of Illinois: This program explores digital marketing strategies, SEO, social media marketing, and other key aspects of online marketing.
Programming:
Python for Everybody by the University of Michigan: This course is an excellent starting point for beginners looking to learn Python, one of the most popular programming languages.
Google IT Automation with Python by Google: This program focuses on using Python for IT automation, helping you automate routine tasks and manage systems efficiently.
Full Stack Web and Multiplatform Mobile App Development by the Hong Kong University of Science and Technology: This specialization covers full-stack web development and mobile app development using various technologies and frameworks.
Artificial Intelligence:
AI for Everyone by Andrew Ng: This course is designed for individuals who want to understand the basics of artificial intelligence and its potential impact on various industries.
IBM AI Engineering by IBM: This specialization covers various aspects of AI, including machine learning, deep learning, and natural language processing.
Reinforcement Learning Specialization by the University of Alberta: This specialization dives into reinforcement learning, a subfield of AI, and explores its applications in various domains.
Health and Medicine:
Introduction to Health Informatics" by the University of California, Davis: This course provides an overview of health informatics, focusing on the use of technology in healthcare.
Epidemiology Specialization by Imperial College London: This specialization covers epidemiology, the study of disease patterns and their determinants, and is particularly relevant in the context of public health.
AI for Healthcare by Stanford University: This course explores how artificial intelligence is being used to improve healthcare outcomes and decision-making.
Personal Development:
The Science of Well-Being by Yale University: This course delves into the science of happiness and provides practical tips for improving well-being.
Learning How to Learn by the University of California, San Diego: This course offers insights into effective learning techniques and strategies for mastering complex subjects.
Mindfulness and Resilience to Stress at Work by the University of California, Berkeley: This course focuses on mindfulness and stress management techniques that can be applied in the workplace.
Languages:
Coursera offers a wide range of language courses, including Spanish, French, Chinese, and more. These courses typically cover reading, writing, listening, and speaking skills.
Coursera Plus Costs vs. Offered Cost
Generally, Coursera Plus costs you $59/month and $399/year while also offering you a 7-day free trial that you may cancel anytime.
However, you can grab the Coursera Plus at just $1 for a month and $100 OFF on its annual subscription.
The offer is valid for a few weeks. Don't miss this opportunity on big saving.
Coursera Plus Discount FAQs
Is there a way to get a discount for Coursera?
For a limited time, Coursera is offering its Coursera Plus subscription for only $1 for the first month. This special offer began on September 7, 2023, and will remain valid for a limited period.
Can I get Coursera Plus for free?
Coursera is currently offering Coursera PLUS for an incredibly low price of just $1 for the first month. This is essentially a nearly free deal, don't you think? The Coursera Plus offer began on September 7, 2023, and will only be available for a very limited time. This is undoubtedly the best offer and discount for Coursera Plus that I have ever come across.
How do I save on Coursera Plus?
If you're looking to save on Coursera Plus, now is the perfect time to take advantage of this incredible offer. Coursera is currently offering its Coursera Plus subscription for as low as $1. You won't find a better deal anywhere else. This limited-time offer started on September 7, 2023, so don't miss out. Seize this opportunity to get Coursera Plus and save significantly.