If you're looking for gifts for college students, then read this article completely to find the best gift that every college student will love.
Having been a college student myself, I understand very well what kinds of gifts students love to receive. Not only will your gift be special to them, but they may also have some fun with it while studying all day.
However, you should give something to a college student that they really need and find useful.
Therefore, in this article, I'm going to list over 50 best gifts that you should give to college students in 2023 that they will surely appreciate.
[Read also: 22 Dorm Gifts for Students That They Must Appreciate!]
The list is quite long and contains all price range gifts so without any delay let's dive into it…
Gifts for College Students:
1. Mini study desk
(Prices on Amazon can vary and may not be accurate for all products, but they are listed in US currency and available for purchase from any country.)
A study desk can be one of the best gifts for college students. I've seen many students who study in bed while lying down, which can cause back and neck pain.
In a lying-down position, they may feel sleepy and can't study effectively. By gifting them a study desk, they can study in bed while sitting upright and stay focused while studying.
Here I've featured a multi-purpose desk that a student can use as a laptop stand, travel desk, breakfast table, bed tray, bed table, and book stand. And the best part of this desk is it has an extra storage space under the desktop as you can see from the above image
Pros
Best for studying in bed.
Provide storage space under the desk.
The price is reasonable.
Cons
Its legs unlocking and folding up quickly may not work correctly sometimes.
It's made of plastic and lightweight.
Read also: 17+ Useful Things for college students
---
2. Reading Pillow
Using a reading pillow helps to prevent back and shoulder pain by promoting proper sitting posture. If you want to keep college students healthy while they study, consider gifting them a reading pillow. If they already have a study desk in bed, a reading pillow would make a great addition.
Pros
Very soft and comfy.
Great for sitting upright and working in bed.
Cons
You may face a mild chemical smell while using it.
Many users got delivered it hard as a rock.
Read also: What is Amazon Prime Student and How is it Beneficial for College Students?
---
3. Clock Watch Timer
A reliable timer is essential for college students to stay on schedule, whether they're taking tests at home or working on assignments with time limits.
You may also consider it as a dorm desk essential item that could be also useful for every student living in a dorm room.
Pros
Best product at a cheap price.
The timer is loud enough to hear.
Cons
You have to manually OFF it.
It has a compact size.
---
4. Clip on light
College students who share a room may not be able to keep their dorm light on while studying, especially if their roommate is sleeping. To avoid disturbing others and stay focused on their studies at any time, they can use clip-on lights. These small, focused lamps can be easily attached to their study table.
Pros
Rechargeable and produce enough light.
It can clip or stand on a table also.
It has a great battery life.
Cons
The button may stop working sometimes.
It cannot be long last.
---
5. The Brew Straw for Coffee and Tea
If the college student enjoys tea or coffee, this can be an ideal gift. Despite its portability, flavorful, teeth-friendly, multipurpose, and sustainable nature, it remains one of the most convenient and enjoyable ways to brew and enjoy your coffee and loose-leaf tea.
Just simply drop in a scoop of your favorite ground coffee, add hot water, pop in your JoGo, and enjoy! No more machines, waste, or hassle. Isn't it a useful gift for a college student?
Pros
Easy to use, very portable and rugged, affordable, nice camp-ware.
Good for coffee and loose tea with a nice bombilla.
Cons
The filter surfaces are not easy to thoroughly clean with the supplied brush.
---
6. Extra Long Cable Cord
In college life, students often face problems when it comes to charging their phones or any other electronic gadgets. Not only are phone charging cables often too short, but it can also be challenging to find a charging socket near the bed or study table in a college dorm. Therefore, gifting an inexpensive, long cable cord could be very useful for students in college.
Pros
Worth the money that comes with 2 packs.
Fast charging and long enough (10ft).
Cons
It may stop working after 6 months.
Only useful for USB C-type devices.
---
7. Phone Docking Station
From the above image, you may already understand the usefulness of a phone docking station. Students often misplace items such as wallets, keys, watches, and other small items.
Therefore, gifting a docking station to students can be a great idea that they would surely appreciate.
Pros
Made of wood of great quality.
Works great for organizing small items.
Cons
Glasses might not stay properly.
---
8. Rubik's Cube
Whether you want to have fun while studying or simply pass the time while improving brain function, a Rubik's Cube can be an excellent tool.
It's a common gift that is often given to students, and I assume that your college student has already played with the 3×3 cube. That's why I'm suggesting the 5×5 cube, which is more challenging.
Pros
Good quality product.
Easy to turn right out of the box.
Cons
The size is comparatively small as you may think.
---
9. Globe Squeeze ball
College life can be fun, but it can also be stressful. According to the American College Health Association, 48% of college students reported moderate or severe psychological stress, 53% felt lonely, and one in four had considered suicide.
Consider gifting a globe squeeze a stress ball to a college student, which can be used while studying and helps to relieve stress.
Pros
Good value for the price.
The color didn't wear off.
---
10. Extension:
In College dorms, students often face the problem of having fewer charging points and they may have to charge their many electronic gadgets like a laptop, Tab, Phones, Chargeable lamps, or others.
Sometimes, they may have to share the charging points with others. So, gifting an extension to a college student can fulfill their need and appreciate your idea.
Pros
This 5-outlet power strip is built in one-piece copper strip technology with multiple protection.
This 10A power outlet is made of high-quality ABS+PC fire-retardant material.
Cons
The rated wattage is as much as 1250 W.
The power strips are placed very close to each other.
No wall mounting screws are included.
---
11. Buddha Statue
You may have seen meditating Buddha statues in many places. I myself have more than four at my home and workplace. It is believed that the Buddha statue brings peace to the surrounding environment and can also be used for decorative purposes.
Therefore, gifting a Buddha statue to a college student can help create a peaceful atmosphere in their dorm while also serving as a decorative piece.
Pros
Good quality and looks amazing.
Cons
The price may look a little expensive.
---
12. Noise-Cancelling Headphones
Students often get distracted while studying due to the noisy environment around them. By gifting noise-canceling headphones to college students, not only will they be able to block out unwanted noise while studying, but listening to music can also improve their concentration.
Here I've featured one of the best noise-canceling headphones that I've been using for a long time.
Pros
Reduce Ambient Noises By Up to 90%.
Best quality at a cheaper price.
Good battery life and the build quality is also great.
Cons
Ear cups may fit or may not fit your ears.
The price may increase when you change the headphone color.
Read Also: 12 Best Study Gadgets That Are Worth Using for Every Student
---
13. Small desk fan
If you're reading this blog during the summer season, then you must be in need of a fan. Here is one of the best cooling fans that a student can keep on their study table while studying, in bed while sleeping, and also carry along with them.
Pros
Great flow of air and cooling.
Low cost and long-lasting.
3-speed settings with controls and a 90-degree variable tilt head.
Cons
Make some noise.
Not having a rechargeable feature, It works only when electricity is available.
---
14. College Cookbook
This College Cookbook is a great guide for students that makes it fun and accessible to cook fresh, healthy, and tasty food for themselves in college and for life. It involves more than 100 tasty and affordable 5-ingredient recipes for busy college students.
Pros
The given recipes are easy and quick.
You get a lot of helpful basic kitchen instructions.
Cons
Lack of visuals and pictures of foods.
[Related: Dorm Kitchen Essentials for College Students]
You may love to read: Best books that college students should read
---
15. Clever fox planner
Many students find it difficult to manage their time and learn other necessary skills. A Clever Fox Planner is a weekly or monthly planner designed to help increase students' productivity, achieve their goals, and improve their time management skills. If you gift this to a college student, he or she is sure to appreciate it.
Pros
Works more amazingly than other planners.
Have separate sections for Calender, Goals, Notes, to-do lists, How to improve, and much other stuff.
Cons
Small and limited writing space.
Not enough monthly calendar boxes.
---
16. Laptop Stand
If the college student already has a laptop, then you should definitely consider gifting them a laptop stand. Using a laptop in bed while keeping it on their lap can be harmful to their health. Gift them this cooling, desktop-organizing aluminum stand instead. Not only does its design look cool, but it also helps them operate the laptop more comfortably.
Pros
It's made up of made from aluminum and has solid construction.
Good battery life and the build quality is also great.
Cons
There is no way to adjust the height of this stand.
---
17. Fitness Tracker Watch
Some research has shown that college students never take care of their health, and it's absolutely true. So, gifting a fitness tracker watch could be very beneficial for college students. This water-resistant watch tracks your real-time heart rate, all your workout routes and distances, and your physical status during exercise, providing a comprehensive analysis of your sleep quality, and much more.
Pros
It functions flawlessly and is easy to use.
Cheapest price having a good battery life.
Its sleep tracking and heart rate monitor also work fine to care for your health.
You can swing also while using it.
Cons
The steps it shows may not incredibly accurate.
In the daytime with sunlight, the display is hard to read.
---
18. Cute Pen Stand:
Students often forget where they keep their pens, pencils, erasers, and other study materials, and when they need them, they struggle to find them. So, gifting them this cute pen stand with a phone holder would be very useful. Even I have one at my workplace.
Pros
A multifunctional item that can hold multiple items.
It's easy to assemble and put together.
The Phone holder works great.
Cons
The design is cool but the built-in material quality is not so good.
Lack of stability may fall apart sometimes.
---
19. Cell Phone Armband Holder
Along with studying, college students engage in many activities like jogging, running, cycling, mountain climbing, cross-training, mountain biking, and going to the gym to keep themselves healthy and fit. This phone armband holder is perfect for these activities. This amazing holder also provides enough space to hold earphones.
Pros
The touchscreen through the transparent screen of the armband works fine.
Separate space for earphones.
Cons
Designed for limited phones like iPhone 14 13 Pro 14 Plus 12 11 XR XS and a few more.
---
20. Screen Magnifier
If you're on a tight budget and can't give a laptop or tablet to a college student, this screen magnifier can be the best gift. I used to work with it myself when I didn't have a laptop. With the screen magnifier, they can read or watch video lectures better by making the screen bigger.
Pros
Very comfortable reading or watching videos with it.
It has a crystal clear lens and can enlarge your device up to 3x.
Cons
It works best in darkness only.
You may face a distortion in the corners.
---
21. Blue Light Blocking Glasses
Students have to use many gadgets like laptops, tablets, phones, and televisions, and we all know how blue light from these gadgets can affect our eyes, causing headaches. So, gifting them blue light-blocking glasses will keep their eyes safe, and they will be thankful to you.
Pros
Works best without costing much.
Lightweight and very comfortable to wear.
Cons
It may not work for a long time.
---
22. Neck Reading Light
This is an amazing light for studying at night or in a dark room. This light helps you concentrate better while reading textbooks or notes. However, you can also use it for repairing, knitting, camping, and more. If you want to know more about the features of this light, you can check it out on Amazon.
Pros
Goods at reading at night or in a dark room.
It comes in 3 colors and has 3 brightness levels.
Cons
It may fall off or may not be comfortable around your neck.
---
23. Wallet to Hold Cards, Student ID, and Cash
After looking at this image, you can understand how useful a wallet can be for students. They may have to carry cash, cards, student ID, mess ID, or any other papers, and keeping all of these items in a bag won't be easily accessible. So, gifting them this inexpensive but useful and unique wallet would be a great idea.
Pros
It's made up of good quality.
It has multi-pockets that can carry all your cards.
Cons
It may or may not fit in your front pocket.
Read also: 21 Dorm Room Essentials for Guys that They Really Need!
---
24. Flash Drive
As our studies are becoming increasingly digital, students now receive soft copies of assignments, notes, PPTs, and more from college. Storing all of these soft materials on their laptop or phone can exceed their storage capacity. Gifting them a flash drive would be a great idea, as it can also be useful for sharing soft documents from one system to another.
Pros
It comes with two pack-best values for money.
The capacity is nice and large.
Cons
The transfer rate is not satisfying.
---
25. First Aid Kit
In college life, students have to take care of themselves. They might face some minor illnesses like fever or cold, or they may need bandages at any time. Therefore, it's important for them to keep a first aid kit in their dorm. If they don't have one, you can gift them this first aid kit which contains everything they might need.
Pros
It contains all the basic medication.
It's good for traveling and keeping at your dorm.
Cons
It doesn't include some important medications like antihistamines (Benadryl), sunburn spray or others.
---
26. Pain Relief Gadget
Parents can't always be with their college-going children, and as I mentioned before, college students have to take care of themselves. While studying, running, or exercising, students might experience neck pain, back pain, shoulder pain, or other body pain. Gifting them a pain massager would be a great idea, as they can use it to relieve their pain easily.
Pros
Very convenient and effective to get quick pain relief.
It has 8 different modes and intensities that come with 2 larger pads and 2 smaller pads.
Works best for menstrual cramps.
Cons
It may not be long-lasting.
---
28. Water Bottle with Time Marker & Straw
Staying hydrated is crucial for college students, as it not only helps keep them fit and healthy but also helps their brain function faster and improves concentration. This water bottle with grading texts can encourage students to drink a good amount of water regularly, ensuring they stay hydrated throughout the day.
Pros
It may help or motivate you to drink more water.
You can carry it anywhere to stay hydrated.
Cons
The cap quality is not so good.
---
29. Sunrise Alarm Clock
An alarm is a very useful thing that helps you wake up early. If a college student is not a morning riser, you should consider gifting them a sunrise alarm clock. This alarm has 7 color features, natural sounds, FM radio, and special features such as sunrise and sunset simulations.
Pros
It comes with great natural features and many customizations.
Not only it helps you to wake up but you may also have great sleep at night.
It has a reasonable price.
Cons
Instructions are not given properly to use it.
There is no room for connecting internet.
---
30. Exercise Set
Research has shown that college students often neglect their health and fitness. Regular exercise can improve both physical and mental health. This exercise set contains everything a student needs to do a small workout in their dorm.
Pros
All equipment you can easily use at home or dorm.
You may have a full-body workout with this exercise set.
Cons
The resistance band may not be strong.
---
31. White Noise Sound Machine
Background noise can be a significant distraction for students trying to study or sleep in their dorms. As a former college student, I can attest to this problem. This white noise sound machine can absorb all background noise while providing natural sounds such as thunder, ocean waves, rain, summer nights, white noise, and more.
Pros
It produces a range of soothing sounds, including white noise, rain, and ocean waves.
It has an automatic shut-off feature so you don't need to off it manually while sleeping.
Cons
The volume can be a little louder.
---
32. Portable Blender
A portable blender can be one of the best gifts for college students. With a portable blender, they can easily make a variety of beverages, including protein shakes, mixed drinks, and creamy frozen lattes, as well as milkshakes, slushies, dips, dressings, sauces, juice, yogurt, and so much more whenever they want or need.
Pros
It works great for shakes and smoothies.
It has USB Rechargeable feature, 6-Point stainless blade that works great.
Cons
The size is small.
It may not be ideal for fruits like banana.
---
33. Popcorn Maker
Spending time with friends or studying while snacking on popcorn can be a fun experience. Consider gifting this popcorn maker to college students so they can easily make popcorn whenever they want. I personally have this popcorn maker at home and highly recommend it.
Pros
It is great healthy alternative to microwave for making popcorn.
You can make popcorn without oil also.
It can collapse also to store anywhere.
Cons
Since there is no vent holes in the lid and the steam is trapped inside the popper, so the popcorn may be less crispy.
---
34. Electronic Cable Organizer
Organizing electronic cables such as phone chargers, laptop chargers, power banks, flash drives, and more can be a hassle. You can't just throw all these things in your college bag. Consider gifting a portable cable organizer bag to a college student to keep everything organized and in one place.
Pros
It works to organize cables and have multiple pockets.
Cons
The size is small as one may expect.
---
35. Sports Shoes
Shoes are a common gift for college students, but while they may have many formal shoes, they also need sports shoes for running, playing sports, traveling, and other activities. Here is one of the best sports shoes you can gift them.
Pros
Good quality and comfortable enough to wear.
The design looks cool and amazing.
It can a multipurpose shoe.
Cons
It's made out of cheap hard plastic.
---
36. Weighted Blanket
I bought this weighted blanket during the winter season when I was in college and I highly recommend gifting it to college students. It can be very helpful in cold weather and can also promote good sleep at night.
Pros
The blanket is warm and comfortable.
It's made of great quality, soft to the touch.
---
37. Laptop Bag
This bag is not just for carrying a laptop but can also be used for travel. It's water-resistant, has ample space and pockets, and even includes a USB charging port. Gift this to a college student and they're sure to appreciate it.
Pros
It's made up of good material and having light weight.
Your laptop (15.6 inch) can be easily fit.
It's multipurpose bag that you can for travel also.
Cons
Your water bottle may not fit in the side pocket.
---
38. The Naked Roommate and Deep Work
If you want to gift books to a college student who has just joined or is going to join college, then I recommend two books for them to read: 'The Naked Roommate', which is based on college life, and 'Deep Work', which can help them improve their focus in a distracting world.
Pros
First book is great for freshers college students to read.
Cons
The naked roommate may not be a good option for regular college student.
---
39. Bluetooth Speaker
College can be stressful, so it's important for students to have some fun and relaxation time as well. A speaker can help set the mood for a fun and stress-free environment.
Pros
Water resistant and its charge lasts for a long time and the sound quality is great.
The price is worth paying.
Cons
The led colors keep changing.
---
40. A Funny Mug
Text-printed mugs are a great gift idea, especially for college students who can relate to the text and look forward to their future. For example, if your college student is going to be a doctor, you can gift them a mug with medical-related text. You can browse more mugs like this by clicking the button below.
Pros
The text printing looks cool on it.
It can motivate students towards their career goal.
Cons
The size could be increased.
---
41. Bean Bag
Bean bags are one of the best dorm room chairs when it comes to comfortable seating while studying or taking a nap. Gifting a bean bag to a college student to keep in their dorm is a thoughtful idea that they are sure to appreciate.
Pros
The bean bag chair is a good size and pretty comfy.
Cons
Difficult to wash and clean.
---
42. Wireless Earbuds
Earbuds are a great way to listen to music or spend some alone time while studying. Recently, I bought a pair of earbuds that work really well, so I highly recommend gifting them to college students to bring them happiness.
Pros
Excellent sound quality.
It does not fall off from ears if you are walking or jogging.
Cons
The price looks expensive.
---
43. Hands-Free Book Stand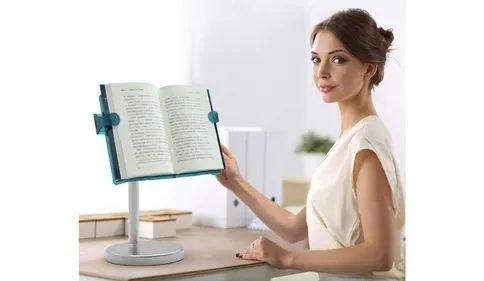 Once again, a hands-free book stand is a useful and practical gift for college students. Bending your head down to read a book can lead to neck pain, so this stand can make a big difference. By gifting this item, you can help students read their books in a comfortable and ergonomic way.
Pros
It may help or motivate you to drink more water.
It works great if you face neck pain while studying or reading.
Cons
The stand (tray) that holds the book is short.
44. Canon DSLR Camera
College life is the most precious time for a student. Remember how much fun you had during your college days? And the best way to save those memories and fun moments is through photos. So, why not gift a camera to your college student? It will give them the chance to explore and capture their own experiences.
Pros
It's great start for beginners.
The pictures quality is good enough.
Cons
It may not be ideal for an experienced photographer.
The price seems expensive.
---
45. Motivation Wall Art
Most of the time, students feel a lack of motivation and confidence. During exam times, after getting bad grades, they need someone who inspires them. Gifting this motivational art would be the best gift for a college student that will keep him/her motivated.
Pros
Great price and print quality is good.
Can be motivational and a great dorm/ room/ office décor.
Cons
The wood frame quality is not so good.
---
46. Mini Fridge
A fridge is a necessity in every household, and it can also be useful for a college student to keep fruits, vegetables, and cold drinks safe. If a college student doesn't have one, I would recommend gifting them a mini-fridge. It would be a really useful gift for them.
Pros
It has a temperature control feature and shows the current inside temp at all times.
Cons
It doesn't last long enough for the price.
---
47. Small Plants for Desk
Creating a calm and eco-friendly space can really help with focus and productivity, don't you think? Small plants are a great way to add a touch of green to your work area. Consider gifting some plants to a college student – they'll love the fresh vibe it brings to their dorm or apartment!
Pros
It looks realistic enough.
Cons
The packing may not be satisfying.
---
48. Blazer Jacket
If you are looking for a gift for a college boy, then this blazer jacket would be the best gift for him. He can wear this blazer at college events, functions, and parties. If you want to explore more colors, you can browse more options by clicking the price button below.
Pros
It has good material and stitching.
Slim fit and size may be fit perfectly.
Worth the money.
Cons
The shoulder pads are too thick.
---
49. Flip flop
College students can't wear shoes all the time in college dorms or when going to the market. So, gifting a pair of flip-flops to a college student wouldn't be a bad idea. These flip-flops are very comfortable to wear and walk with. They have a soft and water-friendly synthetic nubuck upper strap. You can check out more features by clicking the button below.
Pros
These flip-flops do not slip when wet.
The quality is fair enough and well made.
Cons
The toe strap may come loose.
---
50. Colorful Pens
These colorful pens are not only used for painting or designing, but also students use them for note-taking and creating organized notes. This stationery item can be a useful gift for college students.
Pros
Super durable and move smoothly on paper.
The colors are bright and do not dry easily.
---
51. Sound Absorbing curtains
In college, students often get distracted because of noise and are unable to focus on their studies due to unwanted noise coming from outside their dorm. In this case, these sound-absorbing curtains can be a very useful gift for a college student.
Pros
It works great to soundproof rooms.
---
52. Udacity's Nanodegree Subscription:
Udacity (35% off now!) is a great online learning platform that helps you learn and upgrade leading tech skills. During holidays and free time, college students don't care much about learning. So, you can gift any of Udacity's Nanodegree programs to a college student that will not only improve their tech learning but also add an extra credential to their career. Besides Udacity, you can also try a Coursera professional certificate, which will be less expensive than Udacity.
(Make sure you read our Udacity review and Coursera review to make a better decision before purchasing a course. You may also check out our Udemy Vs Coursera Vs Udacity– a detailed comparison to find the best.)
---
Now it's your turn:
So, in this article, I have shown you the 50+ best gifts for college students that you can give them. And, I hope you have satisfied with our list.
Now, I'd like to hear from you:
Which gifts did you like most from our list? Or, did you like the dorm room gifts for college students like the Buddha statue, Docking station, Bean bag, and others?
Let me know in the comment.