If you're looking for the best dorm chair, especially for effective studying, trust me, you will love this guide. In fact, by the end of this article, you'll have selected the best chair for your dorm.
You might not believe but using the right chair can help you to stay focused better on your studying even for long hours. Additionally, it can provide you with better support to avoid any back and neck pains.
And the best thing is, when you're coming from your college and feeling exhausted, it may provide you with better comfort and relaxation while sitting.
Would you like to have this kind of chair for your dorm?
Surely, anyone would want one, and in this article, I'm going to feature 10 best dorm chairs that are not only limited to providing effective studying but can also be useful for other purposes.
Let's dive right in…
Best Dorm Chairs for Effective Studying and Comfort:
Well, there are many different types of chairs, and you may already be familiar with a few of them, such as futon chairs, desk chairs, rocking chairs, saucer chairs, swivel chairs, and more.
Based on the chair's structure and my personal experience, I've found that swivel chairs and desk chairs (or office chairs) are better suited for long hours of studying. These types of chairs are designed for extended periods of sitting and often come with ergonomic features like lumbar support and adjustable height, making them suitable for studying or working at a desk.
However, in this list of the best dorm chairs, I'll also feature some other types that you may want to consider for effective studying.
Here we go…
1. AmazonCommercial Lumber Support Desk Chair:
Note: Showing prices may not be accurate for all products. Products prices can be increases or decreases on Amazon. Remember, the prices of these items are in United States' currency, however, you may purchase from any country. If you're a college student, you may sign up for Amazon Prime Student and grab the best deal on these products.
This is one of the best dorm chairs for focused studying. In fact, I have been using the chair for my office work for the last six months, and it works great for long hours of work.
Like other swivel chairs, it comes with 360-degree rotation, a tilt angle, and you can also adjust its height. However, it also provides excellent lumbar support that you might not find in other desk chairs. With its lumbar support, not only can you avoid back pain, but you can also study effectively for endless hours.
In addition to this, the chair also includes a plush headrest and a padded seat to provide you with better comfort while studying. Isn't it a great chair for your dorm room?
Read also: Dorm Desk Essentials You Must-Have!
2. Winsrise Lumbar Support Desk Chair
Similar to the previous one, this is once again a comfortable chair for dorm rooms, designed for college students who want to study effectively at their desks. As mentioned earlier, this is a swivel or desk chair designed to provide better back support, making it ideal for long hours of work.
It can adjust in height, and its armrests can be rotated up to 90 degrees, allowing them to be conveniently placed under the table when lifted. Furthermore, the chair can tilt at a 30-degree angle and has a 360° swivel function, allowing you to change your sitting position while studying from time to time.
The mesh fabric quality and build quality of this chair are also excellent, which helps prevent sweating. Additionally, you receive a 1-year warranty with the product, which is fantastic.
If you find the chair attractive, you can explore more of its features on Amazon by clicking the price button above.
3. Armless Desk Chair
If you don't keep your arm on rest while studying, you may consider an armless chair, which also allows you to push all the way under the desk when not in use.
As you can see above, I have featured two armless chairs for effective studying in a dorm.
Both chairs include adjustable height, can tilt, and have a swivel rotation function to move from one place to another without moving your legs. However, the chair featured on the right side is designed in a way that provides a more comfortable seating posture. Moreover, it supports your back better, which explains its higher price.
If you don't care much about comfort while studying and are looking for a budget-friendly dorm chair, you may go ahead with the left one featured above.
However, if comfort matters to you, I highly recommend going with the chair on the right-hand side. Trust me; you'll find it very comfy and the perfect chair for your dorm room with limited space. Again, you can check all its features by clicking the price button above.
4. Primy Drafting Footrest Ring Chair: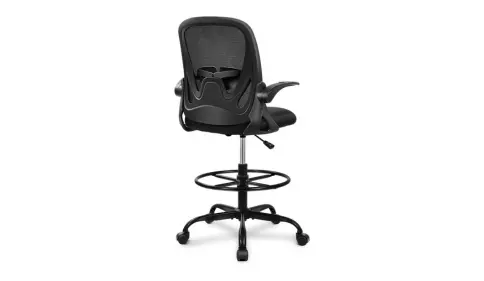 I have seen many students prefer tall chairs or chairs that can also provide a footrest.
Well, if you also prefer to use that kind of chair or if your study desk is significantly high, you may consider this chair for your dorm room.
Along with a height-adjustable footstool, you also get better lumbar support in this chair. The chair can smoothly rotate 360 degrees and provide you with a straight armrest position while studying at your desk.
After reading its features and many user reviews, I found that the chair's durability is significantly high and it provides amazing comfort. Again, if you prefer to sit on tall chair to rest your feet on, then I highly recommend this chair; otherwise, you may explore more options on this list of the best dorm chairs.
Read also: Dorm Room Essentials for Guys
5. Yaheetech Swivel Accent Chair:
This is once again one of the best and most comfortable dorm chairs for effective studying. The chair's shape has been designed in a way that provides you with better comfort and relaxation.
Unlike other swivel chairs, it does not have wheels but features a 360-degree swivel pedestal base, which allows for effortless sitting, getting up, and changing your sitting position without moving the base.
Additionally, you can also adjust the height while studying according to your comfort. By adjusting the size, you can store it under your vanity table or study desk and make the most of your dorm space.
6. Ergonomic Foldable Chair: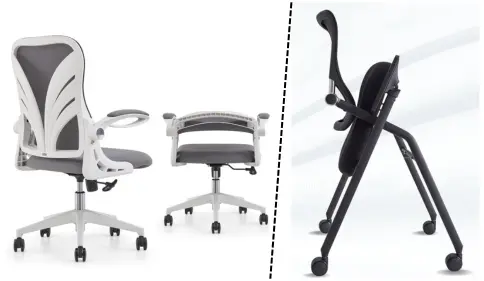 If you are living in a dorm room with very limited space, a foldable chair would be a great option for you.
Unlike other chairs, this type of chair can be adjusted anywhere without taking up too much space. As you can see in this image, I have featured two different types of foldable chairs, both of which are great for focused studying.
The chair on the left can easily be hidden under your desk, while the one on the right can be leaned against any wall without taking up much space. Both chairs have wheels for mobility, but the left one can also rotate 360 degrees and has a height-adjustable feature.
However, both provide excellent lumbar support, better comfort, and armrest positioning for studying. You can choose the one that meets your requirements for your dorm room. For more features like warranty and others, you can check them on Amazon by clicking the button above the price.
7. Flash Furniture Simple Dorm Chair
This chair may appear simple to you, but it's perfect for those looking for a simple and cost-effective chair does not find any need for wheels and armrest features.
This type of chair is either used for guests or students who want to stay focused at their desk while studying. The chair has great built-in quality. Its legs are made of wood but can hold a significant amount of weight.
In my opinion, if you're looking for just a simple chair for your dorm, this can be one of the best dorm chairs you may purchase.
8. HollyHOME Modern Velvet Fabric Lazy Chair: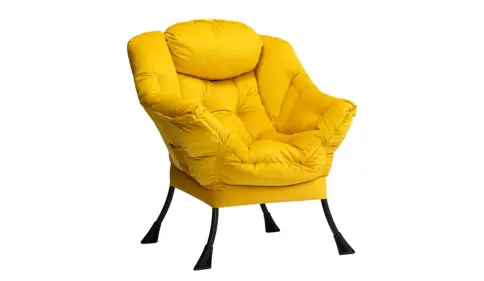 This is one of the most comfortable chairs I have ever come across. If you often feel tired after coming out of college or just want to take a nap while studying, you will love this chair.
Reading a book before going to bed while sitting in it would be a wonderful experience for you. The chair is very easy to assemble and can be shifted anywhere you want. Moreover, it won't take up much space in your dorm, making it perfect for small places.
The chair also has a small pocket on the right side, which can be useful for holding your phone, earbuds, newspapers, and other items. If you want to experience the best comfort while studying, you may consider getting this chair. I'm sure you won't regret it.
Read also: Dorm Bathroom Essentials You Must-Have!
9. Faux Fur Saucer Chair
Soucer chairs are generally have more space than other chairs. These chairs are very soft and comfy that provides you great comfort and relaxation. You may also sit by crossing your legs.
These chairs might not ideal for studying on desk, however, its perfect for reading a novel, academic books or other. You will surely enjoy it.
(Read more: 19 Best Books That Every College Student Should Read!)
Here I have featured two Soucer chairs- one with round head and other with a rectangle head. Both have faux fur as a fabric material. You may choose whatever you want but I must tell you on thing the round Soucer chair has higher dimension which is more ideal for college students living in a dorm room.
10. Dorm Bean Bag Chair: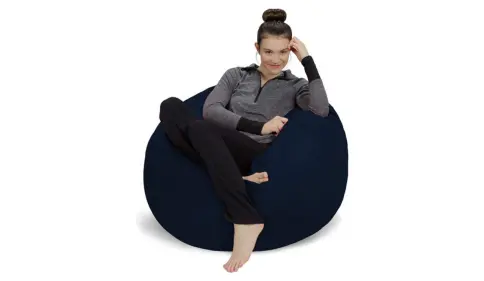 Similar to a saucer chair, a bean bag would be a great addition to your dorm room. If you want to read a book effectively while getting some relaxation, you must have a bean bag for your dorm.
Imagine coming back from college feeling tired, but when you reach your dorm, you see your bean bag ready to provide you with comfort. Isn't that fascinating?
Having been a college student myself, I understand the need for relaxation while studying and at other times. This bean bag can serve multiple purposes for you at any time. If you're a parent looking for dorm gifts for students or the best gifts for college students, you may also consider gifting one.
The one I featured above is one of the best bean bags for studying that I came across. However, make sure to read its features and specifications before making a purchase.
Now It's Your Turn:
There you have it, friends! In this article, as promised, I have listed the 10 best dorm room chairs that I believe are great for effective studying and relaxation.
I have featured various types of chairs. Chairs such as desk chairs and swivel chairs, which are placed at the top positions, will undoubtedly help you stay more focused while studying. On the other hand, chairs like faux fur and bean bags are excellent for reading a book or when you want to relax while studying.
I hope you enjoyed the article and found it helpful. Now, I'd like to hear from you:
Which dorm chair are you planning to buy?
Is it an armless chair, a lumbar support desk chair, or do you find the lazy or saucer chair more attractive? Let me know in the comments.