If you're looking for study strategies for college students or college study tips for freshmen then make sure you read this article till the end.
Because in this article, I brought you 11 Study Strategies for college students that must be helpful for you to succeed in college studies.
Our college life is far different from our schooling life. On the one hand, where our syllabus gets increases in college, on another hand we can't study as much as we would study in school. Isn't?
I remember my college days. I had been always a top student at my high school but after moving to college, I turned into an average student who always used to study before one month of exams.
With having so much fun in college, we often ignore our studies and performance in college, and as result, we get bad grades and so many regrets, and sometimes depression also.
But you don't need to worry at all. After getting poor grades in my first semester, I got back on track with these 11 study tips that I'm going to discuss here. And I wish, If I found and followed these tips earlier then my first sem result would be amazing.
So don't repeat my mistakes, read and follow these study strategies. One thing that I wanna make you clear, All students have their own way to study and learning, maybe something that works for me might not work for you. But I'm pretty sure, most of the tips must work for you if you follow them.
Read also: 17+ Useful Things that every college student should have
So, without any further delay let's dive into…
11 Study Strategies for College Students:
1:

Make your basics strong
In your college studies syllabus, you meet with some new subjects and some familiar subjects at an advanced level.
Now, you have to make sure the subjects you have already studied in high school, you are good at them still now. And, you can solve basics problems when you have to study the subject at an advanced level.
I have seen many students who don't have strong basic and when they study the subject in college again they can't solve the problems. This happens just because they didn't study well that subject in their schooling days.
So, if you meet any subject in college in which your basics are not good enough or you were weak at then don't take much time to improve your basics in college. If you have to read your back classes notes then don't take your steps back to study them. Whatever you know, be confident about that.
2:

Plan your semester
A semester plan is a great study strategy for college students.
Your professors might provide you a semester plan for each subject. Although, you should make your own semester plan. Because your professors make syllabus and plan a semester with their comfort. They know very well when they have to complete the syllabus whether students study or not.
So, make your own semester plan and syllabus, and remember, complete each syllabus when you understand the subject from all sides.
You might not complete the syllabus on the time but whatever you learn and understand you will be confident about it.
3:

Make a routine:
A third and very useful tip for college freshmen is- Make a routine. We all know how a routine is useful for college students.
A routine always keeps you on a schedule and manages your time for study and enjoying in college. Having a consistent routine means blocking out chunks of your day for specific tasks. When you set up a time to get something done, there's less chance of procrastination. Getting things done becomes a habit and your mental health will thank you.
However, we all know how it's difficult to stick with a routine. Isn't it?
So I have an alternative for you. Here is the deal:
Instead of making a routine and follow same as every day, plan your single day or day by day. Just before sleeping or after waking up, write a plan about how you will spend your whole day and what are the tasks you have to take and accomplish today.
For me, it works really well. What works for you?
If you can be consistent with a routine just go with it.
4:

Find a best time for your study
Every student has their own time to study. Someone can be good at studying at night while someone likes to wake up early and study.
Now you have to decide and find the time in which you can study effectively. Also, find your study duration but make sure don't study longer than two hours continuously. It doesn't matter how long you want to study, how long you study with a focus that's matters.
If you have a routine or you follow an alternative then it might be very easy for you to find time for your study. But must include study before bed and study after bed in your study time.
I mean you should study for at least half-hour before you sleep at night and 1-2 hours (with breaks) after waking up in the morning. Because both times are great for study.
According to Scott Cairney, a researcher from the University of York in the United Kingdom, "When you are awake you learn new things and when you are asleep you refine them, making it easier to retrieve them and apply them correctly when you need them most.
5:

Quick review in college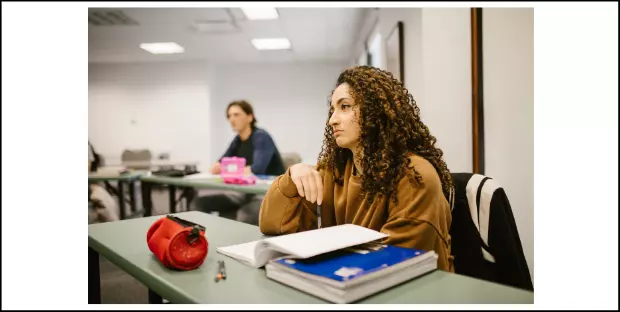 This can be a great strategy for college students. You may have many classes in college (including practicals) and it might be very difficult for you to keep remember all lectures, you might forget some concepts and theories of any lectures.
So, the best way to keep remembering what your professor teaches is to take better notes in class and review the notes in college, during lunch break, or any other breaks.
You can also record the information that your professors teach you and listen to them in breaks. These two are the best ways to study in college. Through this strategy, you can easily clear your concepts and find doubts in college.
Always remember don't forget to take notes in college, you don't need to make fair notes, you just need to write to key points or important information that don't mention in your textbooks.
6:

Spend some time in the library
If you have a library in college then nothing can be good than it. And a good college student always spends some time in the library. I'm not saying you should bunk class and study in the library.
A library is a great place to study, with so many books it can make one's mood to study. So, instead of studying in a room every day, you should study someday in a library also. Whether you have to complete your homework or want to read some books other than your textbooks you can visit the library.
So find a time for the library also and add it to your daily routine.
7:

Stay consistent on study
One of the big problems of all college students is they don't study consistently, they attend all lectures but they always take a gap for 2-10 days from self-study. They want to complete a bunch of tasks at a time or they study only when their exam dates releases.
So if you don't want to pull night and cramming then you should study consistently. Not only this will help you to understand the concepts also it won't make your syllabus a burden.
Your fun and parties with friends in college should be one-sided, but don't forget to study any day. Whether it's revising materials or studying any textbooks for 2-4 hours would be enough.
8:

Participate in Group study
Studying in a group or discussing some information with your roommates is one of the great study strategies for college students.
In a group study, you not only share your knowledge however you get an opportunity to grab others' knowledge that you don't know. And if you ever heard about the learning pyramid then you must know while teaching or sharing information with others you can retain 90 percent of the information.
So, if you want to study for long hours and have friends who listen to you and support you then must plan a group study with them around any topic someday. But make sure all students should be active there. In case you don't have many friends then you can also discuss some concepts with your roommates but focus more on listen to them.
9:

Focus more on visual learning
Visual learning can be a great strategy for college students to learn information easily and retain it for a longer time.
Learning with video lectures, flashcards, Images, Graphs, and maps are great sources of visual learning. Even honestly speaking, instead of understanding a concept by reading a book, I like to understand that by video lectures. And it's proven, in visual learning, we can focus more.
So when you reading something also find it's any visual learning source and when you make notes don't forget to add visual images.
10:

Weekends reserves for revision
An ideal college student never forgets to save time for revision. To keep remember something for a long time, you should revision daily.
But with so much homework and finishing the syllabus on time, it might not be easy for you to save time for revision. And, you also have to have fun in college life.
So, the better solution is you have to reserve half of your weekend's.time for revision. Whether it's reviewing your flashcards or revising your notes, weekends would be great for it.
To make your revision effective and interesting you can try Retrieval practice.
Retrieval practice is a strategy in which bringing information to mind enhances and boosts learning. Deliberately recalling information forces us to pull our knowledge "out" and examine what we know. The best 3 ways to try the retrieval process are- Take an honest Practice test of the topic, Create questions by yourself around the topic, and Use flashcards
11:

Study for exams in college

This is where most college students made mistakes. They don't know how to study for exams or I can say, they just study for exams only. They pull all night before exams and cram a lot. But, you should know cramming never works.

And, If you have studied the whole semester very well then I don't think you need to cram at all. Here are some exam tips that you should follow…
Clear all your concepts- be confident about what you know
Study according to your syllabus
Take practice tests
Solve previous year question papers
Don't study day before exams
12:

Deep Work (

Bonus Tip

)
If you're like me who love reading books then here is an amazing book that must be useful for every college student.
The book's name is DEEP WORK and it's written by Cal Newport. In college students' life distraction is very common, they can't stay focused on their studies in this distraction world. So this book will teach you exactly how to perform deep work with distractions.
The four best lessons from this book that can change your life:
Work deeply (with practical tips)
Embrace boredom
Drain shallow works
Final Words:
So in this article, I have shared 11 study strategies for college students. And I hope you really enjoyed all the study tips.
Now I want to hear from you:
Are you gonna try all the study strategies for being a college student or as a college freshman?
Also, let me know in the comment which studies strategy have you liked most?